Definition
Related Definitions
Customer Service
What is customer service?
The act of offering assistance to both prospective and existing clients is known as customer service. Recent advancements have centred on automating customer service systems, although the human element is still necessary for some circumstances. Good customer service is very critical for customer retention. Many businesses also offer self-service assistance, allowing customers to obtain answers at any time of day or night. Customer service is much more than answering questions; it's an essential aspect of delivering to customers what a brand believes in and stands for. Customer satisfaction is delivered with good customer service, too- it is indispensable for the growth and sustainability of any business.
Summary

The act of offering assistance to prospective and existing clients is known as customer service.
Customer service is important to enhance revenues by retaining existing customers and creating a good reputation.
Customer service is enhanced when representatives have empathy, provide timely response, know the product well, provide personalised services, creatively solve problems and proactively work to meet the customer needs.
Frequently Asked Questions (FAQs)
Why is customer service important?
Customer service is very crucial for all types of businesses, big and small alike. It helps a business earn better revenues- this is possible because customers prefer firms with good customer service. As a result, existing customers repeatedly purchase from the business if they are happy with the service. The churn is much lower when customer service is up to the mark. Churn is a measure of the number of customers who move away from a seller or business. As more and more buyers prefer a seller, the seller's reputation becomes better in the market. A good reputation is a means to attract new customers, more investors and business partners.
Customer lifetime value is the money brought in by a customer over the entire period when he/she buys goods or services from a business. When customer service is satisfactory, and there is chance of repeat purchase and increase in customer lifetime value. A better customer lifetime value can be achieved when customer engagement is high. This leads to increased revenues and net profit.
Better customer services also prompts word of mouth publicity that has a compounding impact on other advertising through other means.
Businesses with unsatisfied customers would collapse in the long run. When competition is high, better customer service could contribute to a higher comparative advantage to players. For any industry, the preferences always tilt towards products with better product/ service and better customer service. These help players capture a larger market share and make higher profits in the industry. Sometimes, better customer service could become the reason why consumers agree to pay a premium price for a product/service.
The essence of customer service cannot be stressed enough. Good product along with customer service adds value to the brand. The positive branding and brand loyalty enjoyed by a firm is also essential to attract investors for any business to grow and expand.
What can companies do to provide good customer service?
Customer service executive must be well versed with the product/ service being dealt with. Knowing minute details like the model number or functionality of the components can help the customer get a preliminary idea before being guided to more technical natured support.
Companies can ensure good customer service by ensuring active listening from the side of customer service executives. Concerns of the customers must be dealt with empathy and most politely and helpfully. Based on the issues faced by customers, companies must ensure quick response and an effective one- this could mean going the extra mile to provide solutions.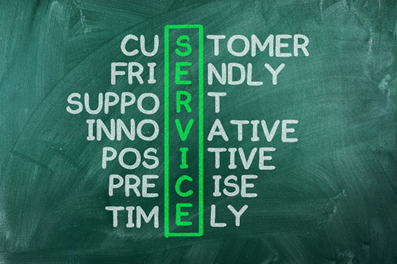 © Ivosar | Megapixl.com
While the customer service teams may be trained in standard procedures to solve problems, it is essential to understand that human behaviour is what the teams are dealing with. A positive attitude and a creative approach to problem-solving are essential, along with case-specific personalisation. Human behaviour and mind are very dynamic; a customer service executive cannot be rigid as it will defeat the cause of the position he/she holds.
In the current times, physical face to face customer service is not sufficient. Businesses must deliver customer support through multiple means and round the clock. Services can be provided using mediums like phones, emails, live chat, social media, video assistance, self-help manuals, chatbots, web forms and web calling.
Based on the various queries received, the companies must take measures to correct common repetitive ones. Also, customer feedback must be acted upon to enhance services and, in turn, customer satisfaction.
What are some common examples of good customer service?
A few examples of good customer services are listed below-
Hotel staff ensuring things left behind after checkout are safely handed over to the management so that the customers do not lose it.
Guiding customers regarding the placement of items at a supermarket.
Aircraft cabin crew helping a mother manage a crying toddler.
Helping customers find the right size of clothing in a store.
Assisting customers to fill bank forms.
Providing any physical assistance to customers who may be old or have special needs.
A cab driver ensuring the shortest route to the hospital in case of medical emergencies.
Restaurants customising food flavours on special requests.
Allowing a separate check-in queue at airports for pregnant women
Issue resolution within 24 hours
Calls to collect feedback on customer service provided earlier
Updating customers when sold out goods are restocked
Make suggestions based on the purchase history of the customers
Offering discounts on birthdays or send out wishes via emails