Highlights

Air Canada (TSX: AC) stock clocked a new 52-week low of C$ 15.57 on Tuesday, July 5

The air carrier increased its passenger revenue to C$ 1.91 billion in Q1 2022

AC stock dropped by almost 39 per cent in the past 52 weeks
Chaos driven by increased travel demand in summer and relatively less staff to handle the rush seems to have triggered worries among investors about airline stocks. Air Canada (TSX: AC) stock, for one, clocked a new 52-week low of C$ 15.57 on Tuesday, July 5.
Growing air travel demand and insufficient staff have seemingly resulted in flight delays and congestion at Canadian airports, according to a Statistics Canada report from June 30. The Canadian government reportedly introduced some steps to ease these operational challenges and plans to continue working with industry partners, including Air Canada, to quickly address bolstered travel demand.
But amid these challenges, is this industrial stock worth exploring? Let's take a glance.
Air Canada (TSX: AC)'s Q1 FY2022 financial results
The air carrier said its passenger revenue increased to C$ 1.91 billion in Q1 2022, five times higher than the previous year. The mid-cap company also posted a growing operating revenue of C$ 2.57 billion in the latest quarter, 3.5 times more than Q1 2021.
Air Canada lowered its net loss to C$ 974 million in Q1 2022 compared to C$ 1.3 billion a year ago.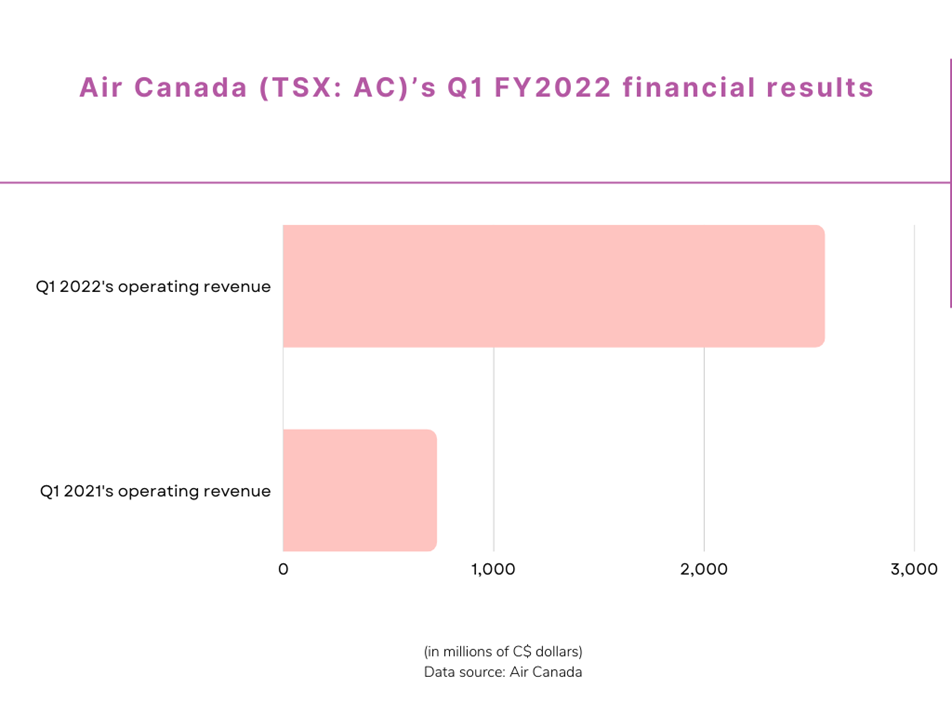 ©Kalkine Media®; ©Garis Studio via Canva.com
Air Canada's stock performance
The Canadian flag carrier saw its stock drop by almost 39 per cent in the past 52 weeks. AC stock noted a year-to-date (YTD) loss of about 22 per cent and was up by nearly six per cent from its latest 52-week low (July 5).
As per to Refinitiv, Air Canada appears to be on a downward spin, with the Moving Average Convergence/ Divergence (MACD) indicator below the zero line, the lowest level in 12 months. AC stock had a Relative Strength Index (RSI) of 34.68 on July 6.
Bottomline
Market factors like high fuel and operational costs can keep affecting airline businesses and their stock performance in the short term, amid the current market instability stemming from surging inflation and interest rate, which have triggered recession fear among investors worldwide. However, Air Canada could offer significant risk-reward in the long-term horizon as it is available at discounted prices right now.
Please note, the above content constitutes a very preliminary observation based on the industry, and is of limited scope without any in-depth fundamental valuation or technical analysis. Any interest in stocks or sectors should be thoroughly evaluated taking into consideration the associated risks.