Summary

Diamond drilling commenced at the high-grade Smarts underground deposit.
Remaining three to four holes targeted to determine the final upgraded Mineral Reserve Estimate, expected to be released in Q4 2020.
Previous drilling program recorded gold grades up to 15.5 g/t. Drilling program targets mineralisation beneath existing mineral resource at Smarts.
The drilling program at Ohio Creek to recommence soon with other priority targets to be explored.
Experienced gold developer and miner, Troy Resources Limited (ASX:TRY) announced the recommencement of diamond drilling at the prospective Smarts underground Area of the Karoui gold Project in Guyana, South America.
Drilling campaign to assess Underground mining prospect at Smarts pit
Troy has recommenced the diamond drilling program at the Smarts Underground deposit, intending to complete the remaining three to four holes of the infill drilling campaign required to finalise the upgraded mineral reserves estimates at Karouni. The upgraded Mineral Reserve Estimate is anticipated to be released in Q4 of 2020.
Interesting Read: Troy's Karouni a mega time opportunity as gold shines
The previous drilling programs at the Karouni gold project have returned high-grade gold intersections with the mineralisation open at depth and along the strike to the north-west. An extensive drilling program is further expected to follow in the project area. The program includes a geotechnical drilling campaign for assessment and planning of the underground development at the Karouni project.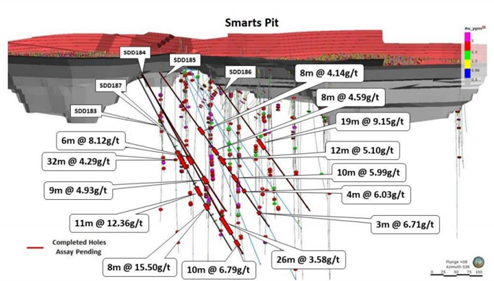 Source: Company Filings
As per Troy, the Smarts Underground holds a potential to improve production and cost profile of the Karouni Gold Project due to the high-grade nature of the mineralisation. In July 2020, Troy had commenced an 8-hole diamond drilling program at Smarts Underground to target the mineralisation beneath existing mineral resource at Smarts pit. Currently, the Smarts pit holds mineral resources (all categories) of 3 million tonnes with a grade of 3.0 g/t gold at a cut-off grade of 1 g/t gold containing over 290,000 ounces of gold.
The previous drilling had recorded numerous high-grade gold intersections including-
19 metres with a grade of 9.15 g/t Gold
11 metres with a grade of 12.4 g/t Gold
32 metres with a grade of 4.2 g/t Gold
8 metres with a grade of 15.5 g/t Gold
26 metres with a grade of 3.58 g/t Gold
10 metres with a grade of 6.79 g/t Gold
Also Read: Troy Resources' Exploration in High Spirits with Glittering Bonanza at Karouni Gold Project
The assay results so far, have confirmed the occurrence of a substantial mineralisation system at Smarts Underground deposit showcasing strong potential for high-grade bulk gold mineralisation.
The coronavirus situation related to logistical issues has greatly improved in Guyana and Troy is planning to recommence exploration programs at additional high priority targets such as Ohio Creek and Goldstar within it's portfolio.
The RC drilling program is estimated to recommence soon at the Ohio Creek East soil geochemical target and will continue to target infill and extensional work at Goldstar, with the objective to convert mineral resources to reserves category as soon as possible.
Troy Resources closed at $0.105 per share on 8 September 2020, with a market capitalisation of $69.53 million.
Also read: Get Acquainted with the Management at Troy Resources
Disclaimer: All the currencies mentioned are in AUD unless specified.