Summary

Troy's wholly owned Karouni Gold Project operates since 2015 holding mineral reserves and resources of 75,000 and 986,000 ounces respectively
Karouni gold mine produced over 7,235 ounces and sales of 8,656 ounces of gold during the June quarter
Tory traded at $0.125 a share, exploration programs within the Karouni project area are underway to upgrade mineral reserves and resources
Troy Resources Limited (ASX:TRY) is an experienced gold miner with a strong background of developing and operating gold mining operations across South America and Australia for more than three decades. Currently, the gold player is cashing in on the wholly owned Karouni Gold mine in Guyana, South America.
Focuses on the Karouni Gold Project: Resurgence of the Next Big Gold Operation
Troy resources has developed five mining operations within 12 years with the bolstered focus on the flagship Karouni Gold operations which stretches over 849 square kilometres land package in the prolific Guiana Shield of the Proterozoic Greenstone belt in Guyana.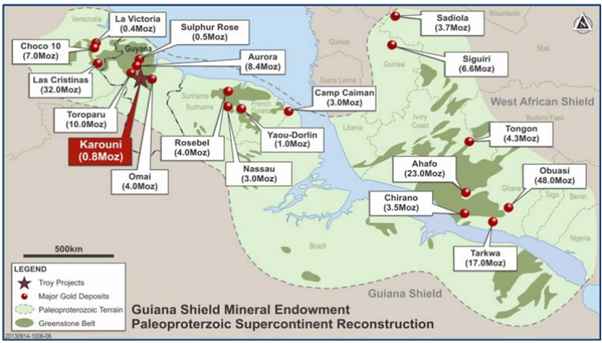 Karouni gold project in the neighbourhood of mega gold plays in the Guiana Shield Source: Troy Resources
The Karouni gold exploration shares the Guiana Shield with mega orogenic gold deposits including Newmont's Merian deposit(4.6 million ounces Au), Iamgold's Rosebel (10 million ounces AU) in Surinam, Montagne d'Or (5 million ounces Au) in French Guiana and Las Christinas (20 million ounces Au) and Choco 10 (~15 million ounces Au) in Venezuela.
The exploration tenements located in the Karouni project area spreads over three interpreted structural corridors on the regional Makaba-Kuribrong Shear zone. The corridors are the Smarts-Hicks Shear Zone, the Goldstar Shear Zone and the Tallman Shear Zone.
Interesting Read: Glance at Troy Resources' Exploration Endeavours at Flagship Karouni Projects amid Pandemic
Karouni gold mine's robust operational performance & substantial growth potential
Following the A$188 million merger with Azimuth Resources in 2013, Troy Resources accelerated the development of the Karouni Gold Mine with the first gold pour recorded in 2015. The Karouni Gold operations is located 36 kilometres along the strike from Omai which hosted the mega gold mining operations producing 3.7Moz Gold between 1993 and 2005. Troy's landholdings stretched on prospective region adjacent to the Omai gold fields.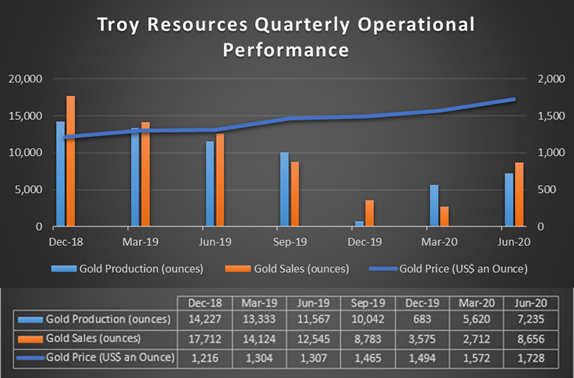 Data Source: Troy Resources Quarterly Reports
Note: The Mining operations were shut for the majority period of Dec-2019 quarter
Troy operates a processing plant at Karouni mining operations with a nameplate capacity of one million tonnes a year of ores with gold metallurgical recoveries in excess of 95%. Ever since the recommencement of mining and milling operations at the Hicks deposit in January 2020 and has been focusing on exploration in priority targets at Karouni. Karouni gold mine produced over 7,235 ounces and sold 8,656 ounces of gold during the June quarter.
At present, Troy holds mineral reserves of 75,000 ounces of gold at 1.9 grams a tonne Au and mineral resources of 986,000 ounces of gold with a gold grade of 1.9 grams per tonne.
Further, the project area holds enormous Exploration potential within Troy's landholdings and has been progressing with exploration programs including drilling programs at the prospective targets.
Troy Resources last traded at A$0.125 on 26 August 2020. The market capitalisation was A$82.17 million.
Also Read: Troy Resources' Exploration in High Spirits with Glittering Bonanza at Karouni Gold Project