Summary

In the competitive world of business, employee recognition, loyalty and rewards are more relevant and embraced by organisations determined to succeed.
SaaS-based solutions designed to encourage daily interaction, connect teams and appreciate employees can expand and enrich employee capabilities, as well as overall organisational performance.
REFFIND's simple peer-to-peer recognition platform, WooBoard is loaded with features that help organisations to build a strong culture of recognising their staff.
RFN has enhanced WooBoard offerings to facilitate a safe and productive working environment during and post COVID-19.
In contemporary times, technology is playing a pivotal role in enabling transitions across various business aspects. Technology has further pushed limits for businesses in an unimaginable manner. Several tech companies have emerged as significant players in developing cutting-edge technology that has sweetened the deal for businesses.
Software as a Service (SaaS) solutions provider, REFFIND LIMITED (ASX:RFN) employs latest technological innovations and solutions to revolutionise the ways of creating, managing and rewarding customer loyalty and employee incentives.
More about RFN at: Meet REFFIND's Highly Proficient Leadership Team Driving its Vision Forward
With the identification of major un-met opportunities existing in the employee rewards, recognition and loyalty space, RFN has a targeted strategic focus on cloud-based SaaS solutions in the related space and other supply chain stakeholders.
Before digging deep into RFN, let us first understand SaaS
Software as a Service (SaaS) is a category of cloud computing that allows users to connect to and use cloud-based applications over the internet rather than installing and maintaining them while service providers deliver these applications over the Internet as a Service (IaaS).
Simply stating; the user of a SaaS application does not need to worry about the management of complex software or hardware and can simply access it through the internet, and that is why a SaaS application is also termed as on-demand software or web-based software.
SaaS applications run on servers of the SaaS provider, so the responsibility of managing access to the application, and overcoming challenges like security, availability and performance lie with the service provider.
Using a SaaS application is as simple as using an internet-based email service/application like Yahoo! Mail or Outlook, wherein you log into your account over the internet and your messages are stored on email software of network of the service provider.
SaaS has gained immense utility in various business aspects with increasing dependence of businesses on technology. SaaS offers several advantages for businesses as well as individual users. Some of them are highlighted in the picture below: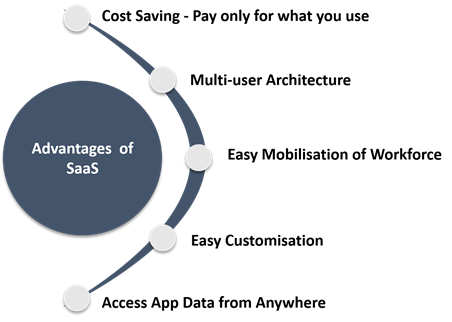 These advantages have driven the growth in utility of SaaS applications by businesses, and strong growth is predicted for SaaS technologies, as more companies are anticipated to adopt SaaS solutions for an array of business functions, including core engineering and sales applications.
REFFIND's Employee Experience Technology Platform - WooBoard
Technology sector player, REFFIND LIMITED focuses on cloud-based SaaS solutions for businesses that help them in managing customer loyalty and employee engagement.
RFN offers a simple peer recognition platform for employee engagement, WooBoard, which is used by enterprises for keeping employees happy and engaged through peer-to-peer recognition, integrated rewards, social media, and gamification.
Related: REFFIND Leveraging WooBoard Platform to Seize Opportunities Amid COVID-19
WooBoard is said to be the modern way to appreciate employees, connect teams, retain top talent, and increase productivity while fostering a positive culture of recognition in the workplace.
Why WooBoard?
Even after transformational modernisation of workplaces and employee satisfaction schemes, the need for consistent employee recognition remains unmet at workplaces. Anyone would agree to the fact that a good recognition strategy shall improve business success, as employees who feel valued are happier and more engaged in their jobs towards achieving the goals of a business.
As an innovative solution built for a contemporary workforce, which is dominated by Millennials who do not engage with traditional recognition programs, WooBoard offers a fun, simple and lightweight solution that drives meaningful recognition and increases engagement.
WooBoard is loaded with some interesting features that position the platform uniquely, making it a compelling choice for businesses by providing instant, public and meaningful employee recognition.
Some of the features include:
Authentic Recognition with peer-to-peer recognition that mimics real-life without quotas
Social & Fun as employees can like and comment on recognition posts and add emojis and hashtags
Company Values are brought to life through tagging, promoting and tracking the organisation's values.
White labelled to add colours of your choice and branding to make it feel like client's own software
Gamification through a points system, badges and leader board to help drive daily recognition
Mobile Apps to ensure employees are motivated, engaged and recognised, wherever they are
Integrated Rewards through optional rewards system where employees can redeem gift cards within the platform
Reports & Analytics through the platform's activity reports, search functionality and custom reports
TV Mode to view the latest recognition posts in large-screen mode on a TV in offices
Special Announcements can be created by administrators that are pinned to the top of the feed for max visibility
Team Segments by easily setting up and managing teams based on department, location, activity, or interests since teams deserve recognition too
In totality, WooBoard offers visibility to all the amazing jobs that employees carry out at the workplace while motivating more of the same, thereby increasing the positivity in organisational culture and enhancing overall vibe around the workplace.
Recently, REFFIND entered a product licensing agreement with InterBIO, enhancing the features of WooBoard and its applications to remote working and other verticals. The seamless integration of InterBIO's capabilities into WooBoard would boost the latter's existing offerings to include data security, authentication, secure employee time and attendance, and tracking for remote workers, where appropriate.
More about WooBoard's enhanced offerings targeted to capture the growing demand for secure remote work solutions can be read at: REFFIND Enters Licensing Deal with InterBIO for WooBoard Expansion, Stock Up 3x
With WooBoard, REFFIND aims to help businesses improve workplace culture and employee engagement, thereby aiding them to stay ahead of the increasingly competitive market for talent.