Gold exploration company, Ora Banda Mining Limited (ASX: OBM), engaged in advancing its district scale Davyhurst Gold project covering 1,336 km2 along a 200- km strike on the highly-prospective greenstone belt in Western Australia's Eastern Goldfields, has announced high-grade results returned from the Sand King resource model infill validation reverse circulation (RC) and diamond core (DD) drilling program as:
5.0m @ 13.7 g/t from 79.0m (Including 4.0m @ 16.9 g/t)
4.5m @ 10.4 g/t from 73.0m
6.6m @ 6.1 g/t from 5.2m (Including 4.8m @ 8.1 g/t)
9.0m @ 4.2 g/t from 41.0m
5.0m @ 5.7 g/t from 37.1m (Including 4.0m @ 6.9 g/t)
16.1m @ 3.0 g/t from 165.4m (Including 8.1m @ 3.7 g/t)
A total of 16 holes (6 RC and 10 DD) were completed under the drilling with a specialized low angle (hole dips to 34 degrees) drill rig to:
Validate ore lode geometry interpretations and gold grade projections.
Further reduce drill hole spacing in areas near the base of the optimum open pit (designed using a gold price input of AUD 2,000 per ounce) which was used to calculate the current Ore Reserve released to ASX on 30 October 2019.
The drill hole logs, and assay results received from these holes have confirmed that both lode geometry and gold grades are in accordance with inputs and values that were modelled earlier. Thus, the Sand King resource model has also been upgraded to incorporate results from this drill program and the upgraded resource model would now be used to update the Sand King optimum open pit mine design and Mining Reserve.
"It is pleasing to see that the survey and assay results returned from this drill program at Sand King were largely consistent with the pre-drilling expectations of our technical team in terms of both grade and geometry. This outcome has strengthened our confidence in the viability of Sand King as a future open pit gold mine." - David Quinlivan, Ora Banda Managing Director.
The Sand King Deposit – Overview
Sand King is one of the several deposits within the Siberia Project Area, which is located ~ 37 km south east of the Davyhurst Processing Plant (@1.2 Mtpa). The historic gold production during 1897 to 1930 was spread over numerous reefs in the area while the four largest historically mined reefs where close to a regionally significant mafic and ultramafic contact. Some other prospective targets within the area include the Pearling Grounds and the Sand King North. Moreover, all these occurrences fall within a mineralized corridor that is located within mafic lithologies bounded by granites in the west and ultramafic in the east (referring to the figure below).
Sand King deposit, one of five key priority mining targets at the Davyhurst Project, has current Mineral Resource of 2.45 Mt @ 3.4 g/t Au for 268,000 ounces.
Siberia Area Location Plan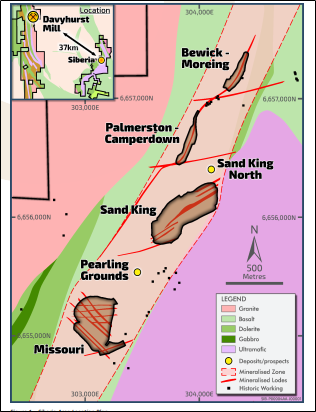 Modern Mining has primarily focused on four open pit deposits including Sand King, Missouri, Palmerston-Camperdown and Bewick – Moreing, that are hosted entirely within the mafic basalts, west of the contact and remain open at depth. Of all these, Sand King is the largest producer having mined ~747,000t @ 4.0 g/t for 88,000 ounces* between 1980 and 1991.
The Open Pit Mining Reserve estimate for the Sand King deposits stands at 1,100,000t at a high grade of 2.6 g/t Au for 93,000 ounces Au, which it an attractive development target.
Ora Banda has also stated that all assay results have now been received from the Davyhurst Gold Project resource definition drilling program which was primarily conducted at five well-analyzed and advanced deposits being – Riverina, Waihi, Callion, Siberia and Golden Eagle located within different sub project areas (referring to the table below). Also, the Company's Definitive Feasibility Study (DFS) into the restart of mining and processing operations at Davyhurst Project is now on schedule.
For an eye over the company's principal activities including mineral exploration, evaluation and development related to the flagship Davyhurst Gold Project, Read: Ora Banda's Half Year 2020: Exploration, Evaluation And Development Of Davyhurst Gold Project.
Ora Banda Mining's Project Portfolio
Stock Information: The OBM stock closed the market trading on 27 April 2020 at AUD 0.195. OBM has generated positive returns of 69.57% in the last one month, 14.71% in the last three months and 5.41% Year-to-date.