Gold exploration company and near-term aspiring miner, Ora Banda Mining Limited (ASX: OBM), focussed on unlocking value from its "District Scale" Davyhurst Gold Project on the greenstone belt, has released its 121 Online Investor Presentation giving a detailed overview of the exploration activities and road ahead for the company.
Investor Presentation April 2020- Highlights
The Company embarked on a new phase upon its relisting in June 2019 and commenced an aggressive exploration drive at its Davyhurst Gold Project that has a significant infrastructure in place including admin buildings, core shed, workshops, airstrip, bore fields, pipelines which would enable a rapid and low-cost path to production.
There is also a 1.2Mtpa Processing Plant with a low capital cost requirement of ~$ 8.52 million EPCM (estimated by GRES) for recommissioning. Ora Banda is working on a fast track schedule for the same.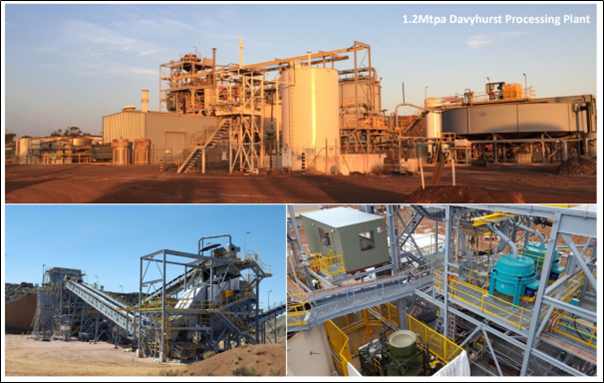 Source: Company's 121 Online Investor Presentation
The whole project now has a robust resource inventory of 23.8Mt @ 2.6 g/t for 2 Moz Au which is continuing to grow as the infill drilling has substantially increased high confidence Indicated Resource base and a regional exploration program has been testing a number of advanced high-grade prospects. The Mining Reserve base stands at ~ 2.8Mt @ 2.3 g/t for 213,000 oz Au and building. This resource base is contained in the five advanced and high-priority targets – Riverina, Waihi, Callion, Siberia and Golden Eagle, located within different project areas.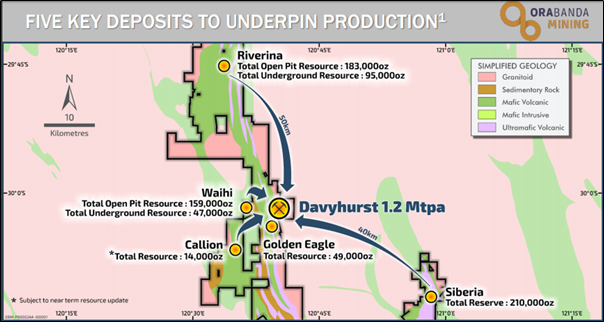 Source: Company's 121 Online Investor Presentation
Source: Company's 121 Online Investor Presentation
Key Resource & Reserve Milestones Achieved Post Re-Listing:
Resource Upgrade at Riverina: Around 13,942 metres of RC & diamond drilling program completed at Riverina and resource increased by 36% to 3.8Mt @ 2.3g/t Au for 278koz Au (64% in measured and indicated category).
Resource Upgrade at Waihi: Around 11,730m RC & diamond drilling program completed at Waihi and resource increased by 190% to 2.46Mt @ 2.6g/t Au for 206koz Au (82% in indicated category).
Resource Upgrade at Golden Eagle: 2,973m RC & diamond drilling program completed at Golden Eagle and its underground resource increased to 0.39Mt @ 3.6g/t Au for 49koz Au (67% in indicated category).
Reserve Upgrade at Siberia: The Mining Reserve at this deposit updated via 2,455m RC & diamond drilling validation / infill program and there has been a base case 42% lift in mining reserves to 2.8Mt @ 2.3g/t for 210koz Au.
High-grade mineralisation at Callion: Around 10,583m RC & diamond drilling program completed at Callion and significant results included 10M @ 8g/t Au and 4.8m @ 34.4g/t Au.
For details, Read: Ora Banda's Half Year 2020: Exploration, Evaluation And Development Of Davyhurst Gold Project
Apart from these, there remains significant opportunity to further increase resources and reserves near key deposits. The Company is currently pursuing a Definitive Feasibility Study (DFS), which will underpin project development with "capital light" production restart and is on track. The commencement of production from Davyhurst (with a 5+ year mine life at 90-100kozp) is targeted for Q1 CY2021. For the near term, the DFS input deliverables include:
Final Riverina, Waihi & Siberia (Missouri & Sand King) Open Pit Designs.
Callion Open Pit & Golden Eagle Mining Reserves.
Consolidated Mine Production Schedule.
Detailed Process Plant & Site Infrastructure Remedial Works Plan.
Having major milestones in a short span of time across such a huge and prospective landholding, Ora Banda is well-positioned to move ahead on this path to production CY2020 with its following Forward Work Program schedule: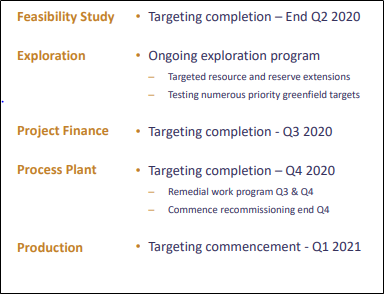 Source: Company's 121 Online Investor Presentation
Stock Information: With a market capitalisation of around $ 114.53 million and ~ 587.32 million shares outstanding, the OBM stock closed the trading on 28 April 2020 at $ 0.190. OBM has generated positive returns of 21.88% over the last one year, 11.43% in the last three months and 62.50% in the last one month.