An aspiring near-term gold producer, Australia-based Ora Banda Mining Limited (ASX: OBM) is actively engaged in carrying out high-impact exploration & mine planning at its district scale Davyhurst Gold Project (covering sub project areas as tabulated below), which spans nearly 1,336 square kilometre across a 200 strike kilometre on the Greenstone Belt in the bountiful region of Eastern Goldfields in Western Australia.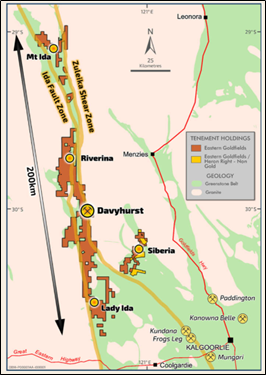 Source: Company's Website
Of the multiple prospective deposits, Ora Banda Mining has been conducting exploration drilling at five well-analysed and advanced priority targets over the last few months, comprising Riverina, Waihi, Callion, Siberia, and Golden Eagle, with the combined resource inventory of 11.3 Mt @ 2.7g/t Au for 995,000 oz Au and total Mining Reserve of 2.8 Mt @ 2.3g/t Au for 213,000 oz Au at the Siberia Project. All five depict a near-term production opportunity with a major exploration upside and located close to the Davyhurst processing plant (@1.2 Mtpa).
As per the March Quarter 2020 report, around 19,132 metres of drilling has been completed (14,507 m RC and 5,081 m Diamond) at the five targets while the drilling and assay costs were broadly in line with the Company's set budget. Ora Banda Mining is encouraged by the high-grade results and resource upgrades, which is keeping the Company's momentum at full tilt as it further moves towards entering production shortly.
Golden Eagle – Drilling Overview & Progress To date
One of the key exploration targets, Golden Eagle is only 3.2 km from the Company's processing plant at Davyhurst.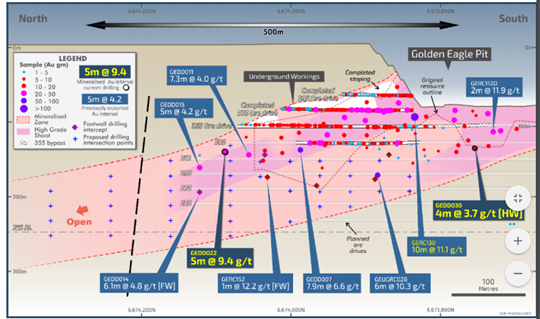 Source: Company's 121 Online Investor Presentation
Ora Banda Mining recently announced, in early April 2020, that the mineral resource at Golden Eagle has been upgraded to 393 kt at a higher grade of 3.9 g/t Au for 49,000 ounces of contained gold, demonstrating the potential to use conventional underground mining methods. The upgrade, based on a gold price of AUD 2,400 per oz Au and a cut-off grade of 2.0 g/t, was derived from drilling results since the quoting of previous resource and the recent underground face sampling information, combine with application of various constraints.
For details, Read: Ora Banda Mining completes Resource Upgradation at Priority Target Golden Eagle
Besides, the Company also completed surface drilling at Golden Eagle during December 2019 and February 2020 for testing the northern down plunge extension of the mineralised structure. As of 31 March 2020, around five diamond tails, in addition to three from last quarter, have been completed for 1,173.8 metres. Assay results are awaited from this program and would be reported in due time.
Owing to the last underground mining operations at Golden Eagle undertaken during August 2017-August 2018, the mine is well-established along with ore development at four levels (395, 375, 355 & 335), and stope production complete on three of these levels (395, 375 & 355).
The Company has now started with detailed mine design work at this deposit, aimed at defining a Mining Reserve with all environmental permitting approvals in place.
The recently completed high-impact resource and reserve definition drilling programs at Davyhurst have successfully expanded and upgraded the resources at different targets, which are being utilised to develop a robust 5-year mine plan, envisaging both open pit and underground mining operations. Presently, Ora Banda Mining is conducting a Definitive Feasibility Study (DFS), which is on schedule, to devise a sound business case to return the Davyhurst Gold Project back into production.
Stock Information: The OBM stock closed the market trading on 11 May 2020 at AUD 0.180., with a market capitalisation of ~ AUD 108.65 million.