Summary

Ora Banda Mining has concluded a Definitive Feasibility Study (DFS) with a view to re-commence production at its Davyhurst Gold Project.
The DFS has returned significant maiden JORC (2012) Probable Ore Reserve for various targets and results for OBM indicate strong economic returns.
OBM looks forward to commencing development activities at the project immediately and undertake drilling programs across its significantly prospective 1,350 km2
Gold-focused exploration company, Ora Banda Mining Limited (ASX:OBM) has concluded a Definitive Feasibility Study (DFS) to re-start production at its Davyhurst Gold Project. The results from the DFS validate that a rapid and low-capital path can be undertaken by Ora Banda to achieve sustainable gold production at the project. This is underpinned by pre-existing infrastructure, including a conventional CIP process plant.
Previous Update: Ora Banda Mining Announces underground Mineral Resource at Callion, Updates Total Mineral Resource to 2.13M ounces
The significant existing infrastructure enables a rapid and low-capex path to production. Moreover, from a combination of open pit and underground mines all located within a radius of 50 km, the ore shall be delivered to the process plant.
The DFS further demonstrates that the Project is anticipated to deliver robust cash flows and financial returns over a mine life of 5.2 years, with average estimated pre-tax annual free cash flows of A$33.6 million (A$68.8M at A$2,550/oz), following a payback period of 7 to 14 months, further leveraged by carried forward tax-losses of A$258 million as at 30 June 2019.
Related: Tracing the Progress of Ora Banda at Waihi Project in 2020
Results from DFS
Through the DFS, OBM declared maiden JORC (2012) Probable Ore Reserve for various targets like:
1.5 Mt @ 2.3 g/t Au for 108Koz for Waihi open pit
0.24 Mt @ 2.6 g/t Au for 21Koz for Callion open pit
6.1 Mt @ 2.4 g/t Au for 460Koz for the Davyhurst Project
However, Riverina underground ore reserve requires more time for concluding, therefore is not included in current DFS. Additionally:
Estimates from DFS show a pre-tax, free cash flow of A$175M over a 5.2-year mine life using a A$2,100/oz gold price
Life of mine (LOM) average annual gold production is 81 koz with low C1 cost of A$1,427/oz and all-in sustaining costs (AISC) of A$1,566/oz
Several metrics regarding the project from the DFS are shown below: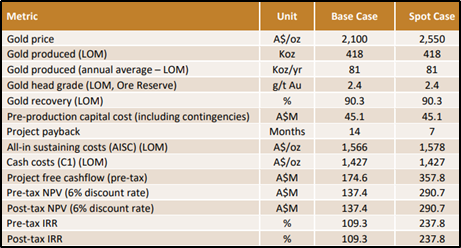 (Source: Company's Report)
Ora Banda has obtained all major approvals and permits and is expected to obtain any remaining in the next two months. Moreover, the immediate commencement of the first phase of development activities has been approved by the Company's Board and shall be funded through OBM's existing cash reserves.
Related: Ora Banda Reports 46% Increase In The Underground Mineral Resource At Riverina Project
The Company shall finance the residual pre-production capital and continuing exploration costs through an equity capital raising of up to A$55 million, with the option of a stand-by debt facility
Considering the relatively low capital requirement and expected short time frame to the first production, OBM is optimistic that the Project shall be financed on attractive terms.
Moreover, OBM has been engaged in discussions with interested financiers and has made decent progress with significant preparation already proceeding for the formal financing process that is anticipated to be completed in the third quarter of CY20.

Planned Activities
OBM looks forward to immediately commencing development activities at the project with an emphasis on the final piece of the refurbishment of the Davyhurst plant along with early works for mine development at Golden Eagle underground mines and Riverina open pit. Followed by, to optimise cash flow over the life of the project, one underground area and five open pits will be conducted in stages.
In addition to this, OBM expects to commence commissioning of the plant during Q4, CY20 with first gold pour targeted for Q1, CY21. Besides this, OBM also plans to continuously undertake drilling programs across its highly prospective 1,350 km2 landholding, covering 200 km of strike, with a focus on the following:
Follow up drilling programs on near-mine prospects, including Riverina South
Regional targets, for which Ora Banda has already identified a number of high priority prospects
Resource infill
Moreover, with a view to refining its plans, involving trade-off studies and addition of the latest technical information, OBM looks forward to continuing optimising the DFS over the next few months.
Related: Ora Banda Mining reports 60% upgrade in Davyhurst Gold project Ore Reserve; stock mounts 8.51%
Also, OBM expects to finalise a competitive tender process for contract mining by Q1 FY 2021, preparations for which is presently underway. OBM is in final stages of discussion with GR Engineering in relation to the plant refurbishment and expects to conclude the same in Q1 FY 2021.
On 30 June 2020, OBM stock was noted at a price of $ 0.270 with a market capitalisation of $179.13 million.