Gold exploration company and aspiring miner, Ora Banda Mining Limited (ASX: OBM), focussed on unlocking value from its "District Scale" Davyhurst Gold Project on the greenstone belt in WA, has announced an updated open pit Mineral Resource for the Callion deposit, a key part of the Company's Davyhurst Gold Project.
The upgraded Mineral Resource at the Callion Project has increased by 114% to 269 Kt @ 3.5 g/t for 30,000 ounces of contained gold (up from 169 Kt @ 2.6 g/t Au for 14,000 ounces of contained gold) and includes an Indicated Resource of 241 Kt at a substantially higher grade of 3.7 g/t Au for 28,700 ounces of contained gold.
The Callion open pit Mineral Resource estimate has been updated after completion of the additional drilling and application of various constraints including modifying factors such as gold price of AU$ 2,400 per ounce, a lower block cut-off grade of 0.5 g/t Au and a physically constrained area within an optimum AU$ 2,400 per ounce open pit shell that extends to a depth of 85 metres. Additionally, the Company also informed that the new Mineral Resource Estimate for Callion is reported within a AU $2,400/oz optimised pit shell and includes Indicated and Inferred categories.
Ora Banda Mining is now working on estimating the underground Mineral Resource at Callion.
The above increase in the Callion open pit Mineral Resource and the underground Mineral Resource under development follow the successfully completed 66-drill hole program for 10,445 metres including 42 RC drill hole (5,773 metres) and 24 Diamond drill holes (4,672 metres).
Furthermore, the Company is also occupied on detailed mine design work to define an open pit Mining Reserve at Callion.
"We were initially drawn to Callion due to its relatively high grades and impressive production history. The Callion Mineral Resource is the final resource to be evaluated as part of the Company's reserve definition program for the Definitive Feasibility Study (DFS) and delivery of this study remains on schedule." - David Quinlivan, Managing Director, Ora Banda Mining
The Callion Deposit - Overview
As one of the advanced targets promising near term gold mining and production, the Callion deposit is located just 13 km southwest from the Davyhurst processing plant (@ 1.2 Mtpa).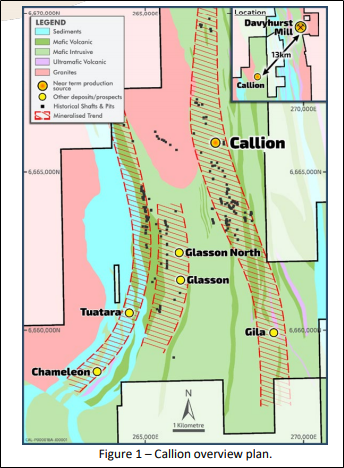 Historically, since the early 1990s, various operators undertook underground mining at Callion, with more substantial development undertaken by Western Mining Corporation between 1934-1959. Also, in the late 1980s, the Callion JV undertook additional underground and open pit mining followed by a second round of open pit mining by Croesus during 2004-2005.
The current open pit at Callion is nearly ~650 m by ~40 m and the underground workings extend vertically down up to 220 m below the ground level. Historically, the total production for the open pit was ~135Kt @ 4.1g/t for 17.6koz, 146Kt @ 15.8g/t for 74Koz produced by underground mining of the total production of 280Kt @ 10.2 g/t for 91,650 ounces of contained gold.
The recent 114% increase in the resource estimate follows on from the resource definition drilling, both extensional and infill, aimed to improve the geological understanding and provide additional drill support for a robust Mineral Resource Estimate (MRE).
Stock Information: The OBM stock closed the trading session on 15 May 2020 at AU$ 0.200, climbing up by ~8.12%, with a market capitalisation of ~ AU$ 108.65 million.