Highlights

MediKane aims to become a dominant player in the safe plant-based 'Food-as-Medicine' health space.
The company's products target common global chronic health conditions.
MediKane is guided by a highly skilled and experienced team.
MediKane is an Australian company developing Food-as-Medicine products. The company's products target some of the common global chronic health conditions such as diabetes and bowel disorders, joint health and inflammatory conditions.
Amid the rising prevalence of lifestyle diseases, consumer interest in non-drug treatments has been growing. MediKane states that the company has the science and clinical proof to show its unique plant-based food products do what they say without any side effects.
MediKane's flagship product is NutriKane D, under the umbrella brand NutriKane. Other products of the company include NutriKane R and Sugarcane Fibre.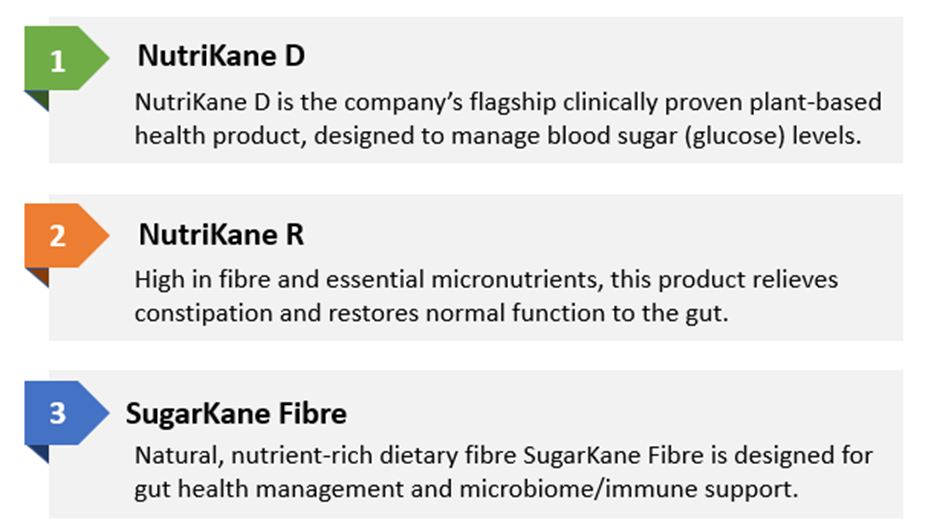 Data source: MediKane website
The growth and development of a business largely depend on its leadership team. As MediKane is advancing to make a mark in its target markets, its dynamic and seasoned leadership team is engaged in taking prudent decisions.
Let us get acquainted with the MediKane team that is leaving no stone unturned to drive the company forward.
Image source: MediKane website
Rod Lewis – Director & CEO
Rod has more than three decades of experience leading technical, operational, and engineering roles in both large global corporations and small emerging firms.
During his service years, he has guided many organisations including Cadbury Schweppes, Foster's Brewing Group, BOC Gases and Legrand in senior executive positions.
Rod is focused on generating value from innovation, talent development and customer sales growth.
Dr Malcolm Ball – Director & CTO
Malcolm oversees the product development, innovation, and creation of Intellectual Property.
Holding expertise in the medical device, food, bioanalytical and pharma sectors, he has designed and secured regulatory approval for more than 40 products.
Malcom has been a lead researcher for the Cooperative Research Centre for Eye Research and Technology. He is a visiting fellow of Macquarie University, and Queensland University of Technology.
David Slatyer – Director & CFO
David holds expertise in project management, strategy execution and financial structuring. He has more than three decades of experience at senior levels in finance, accounting and corporate administration, spanning a range of industries.
He has served in senior management roles with firms such as The Greater Union Organisation, Kimberly Clark Australia, Stuart Alexander & Co., and Challenger Financial Services Group.
Michael Stovin-Bradford – Director & Marketing Director
Michael has vast experience with global companies such as PepsiCo, Simplot, and Unilever.
At MediKane, he guides the team with branding and marketing activities. Additionally, he reviews the sales and profitability of all products in all regions and is focused on customer needs and preferences.
Peter W Baker – Director & Executive Vice President Commercial
Peter oversees major customers and contracts for distributors and selling agents. He heads up the Governance Committee and has executed compliance regimes for the group.
Peter has previously worked for James Hardie, TNT Sydney Monorail. He commenced operations in Italy and Argentina for TNT Logistics and led successful trade missions on behalf of the Governments of Bangladesh, India, and Fiji.
MediKane boasts a highly skilled and qualified leadership team aiding in its intent to become a leader in the safe plant-based 'Food-as-Medicine' health space.