Highlights

Invictus Energy has completed the preliminary wireline programme at Mukuyu-1 well that is being drilled in its SG 4571 licence in Cabora Bassa Basin.
As per the ongoing log analysis, there are several potential gas bearing reservoir units at the wellsite.
A wireline formation testing tool will be used for pressure and fluid sampling to test presence of moveable hydrocarbons.
Oil and gas exploration company, Invictus Energy Limited (ASX:IVZ) has shared an update on the Mukuyu-1 well that is currently being drilled at SG 4571 licence (80% owned) in Zimbabwe's Cabora Bassa Basin.
The company has concluded a wireline evaluation programme that was being conducted across the entire 8½" hole section at the wellsite. According to the preliminary formation evaluation of the wireline logging data including gamma ray, resistivity, density and neutron tools, there lie numerous potential gas bearing zones coincident with intervals which displayed elevated gas shows during drilling.
Positive log analysis
Invictus considers that the preliminary logging analysis from the wireline programme in the 8½" hole section at Mukuyu-1 wellsite as encouraging. As per the announcement, the ongoing log analysis is expected to be finalised after the wireline formation testing. For the wireline formation testing, formation pressure and samples will be obtained from the zones of interest.
The log analysis is subject to further calibration using core and fluid samples which be acquired using a wireline formation testing tool from the well. The tool is currently enroute to the well site.
Management commentary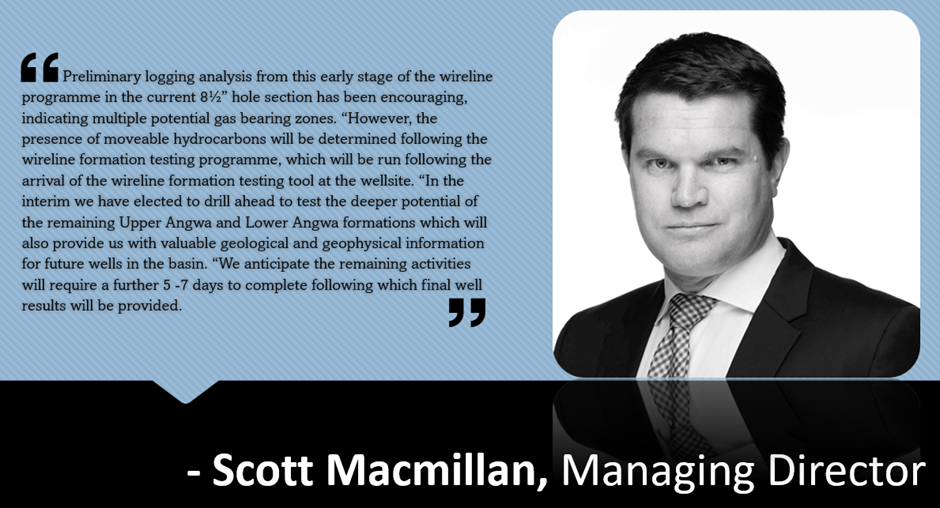 Image: © 2022 Kalkine Media®, Data: Company Announcement
Standpoint for future
Invictus is preparing the Exalo Rig 202 for drilling at Muluyu-1 wellsite for testing the deeper potential of the remaining Upper Angwa and potentially Lower Angwa formations.
The company is planning to run another wireline logging evaluation suite, including wireline formation testing, seeking in-depth geological information. This will also confirm the presence of moveable hydrocarbons.
IVZ expects to complete the remaining drilling and logging operations in about five to seven days, depending upon the borehole conditions.
IVZ shares were trading at AU$0.330 on 18 November 2022.