Highlights

Total Depth of 3,618m Measured Depth reached
IVZ came across multiple zones with fluorescence and elevated gas shows (up to 135 times above background levels) in Upper Angwa primary target
Working conventional hydrocarbon system confirmed in Cabora Bassa Basin
IVZ shares up 39.58% on the ASX (on 14 November 2022, 3:35PM, AEDT)
Shares of oil and gas exploration company, Invictus Energy Limited (ASX:IVZ) are up 39.58% to AU$0.335 after the company reported that it observed elevated mud gas peaks, up to 135x above background gas baseline while drilling through a depth of 3,171 mMD, with marked increases from C1 to C5 compounds (methane, ethane, propane, butanes and pentanes) at Mukuyu-1 well.
Read: Invictus Energy (ASX:IVZ) shares jump ~159.52% on highly encouraging observations at Mukuyu-1 well
An insight into recent developments
The Mukuyu-1 well is being drilled in the company's SG 4571 licence (80% owned) in Cabora Bassa Basin, Zimbabwe. As of now, drilling restarted in the 8½" hole section and the well reached 3,618 metres Measured Depth where the preliminary Total Depth (TD) was called.
Elevated mud gas peaks have been noticed with visible increases from C1 to C5 compounds.
In addition, several more zones with elevated mud gas and fluorescence were encountered across the intersected Upper Angwa reservoir intervals which also have associated drilling breaks.
Expanding background gas with heavier hydrocarbon components have been noted with the growth in depth to TD post the repair of the mud gas chromatograph system from around 2,820 mMD.
Logging While Drilling resistivity was not available before drilling recommenced because of a tool integrity issue. It was excluded from the deployed bottom hole assembly.
All zones of interest will be broadly analysed following a planned wireline logging programme permitting the identification of any potential hydrocarbon pay.
IVZ's future action plan
A complete wireline logging evaluation suite is planned to be acquired throughout the whole 8½" hole section to offer exhaustive geological information validating the occurrence of moveable hydrocarbons.
The company expects that the wireline logging and evaluation to be completed within three to six days to conclude depending on logging conditions. There is possibility that Invictus may elect to deepen the Mukuyu-1 well for testing the deeper potential of the remaining Upper Angwa and Lower Angwa formations after the wireline logging completes.
Management comment: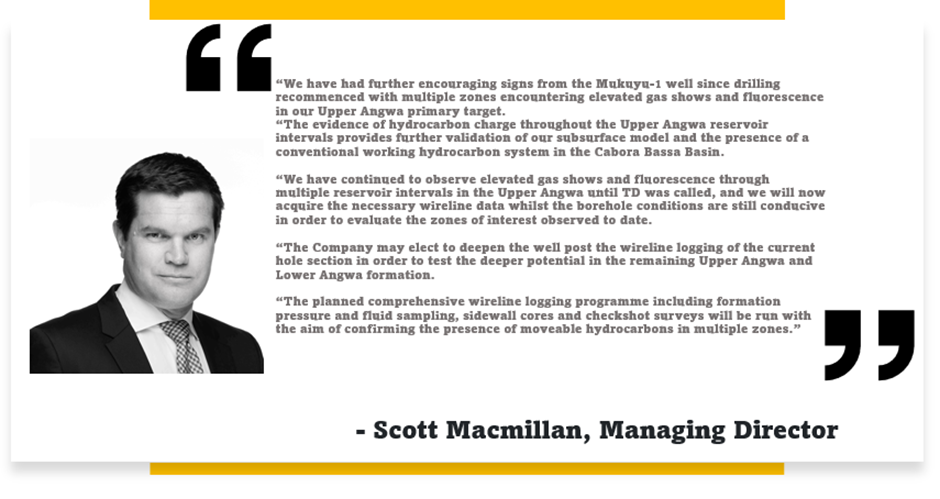 Image: © 2022 Kalkine Media®, Data: Company Announcement