Highlights

Invictus Energy has received highly encouraging indications while drilling Mukuyu-1 well at its 80% owned SG 4571 licence in Cabora Bassa Basin, Zimbabwe.
The elevated gas levels and fluorescence at the well have confirmed a working hydrocarbon system at the project site.
IVZ shares reacted positively to the update and zoomed up more than 159.52% on the ASX at around 3:41 PM AEDT today (10 November).
Shares of oil and gas exploration company, Invictus Energy Limited (ASX:IVZ) shot up by over 159.52% to AU$0.272 today after the company shared an update on the Mukuyu-1 well which is being drilled in its 80% owned SG 4571 licence in Cabora Bassa Basin, Zimbabwe.
There have been early indications in the company's Upper Angwa primary target which have proven a conventional working hydrocarbon system in the Cabora Bassa Basin. Fluorescence and elevated gas shows of up to 65 times above background levels have been observed at the site.
The company considers it to be an exciting development validating its subsurface model.
In-depth details about the exciting development
Elevated mud gas peaks (up to 65 times above background gas baseline) have been observed while drilling through a depth of 3,070 mMD with marked increases from C1 to C5 compounds (methane, ethane, propane, butanes, and pentanes).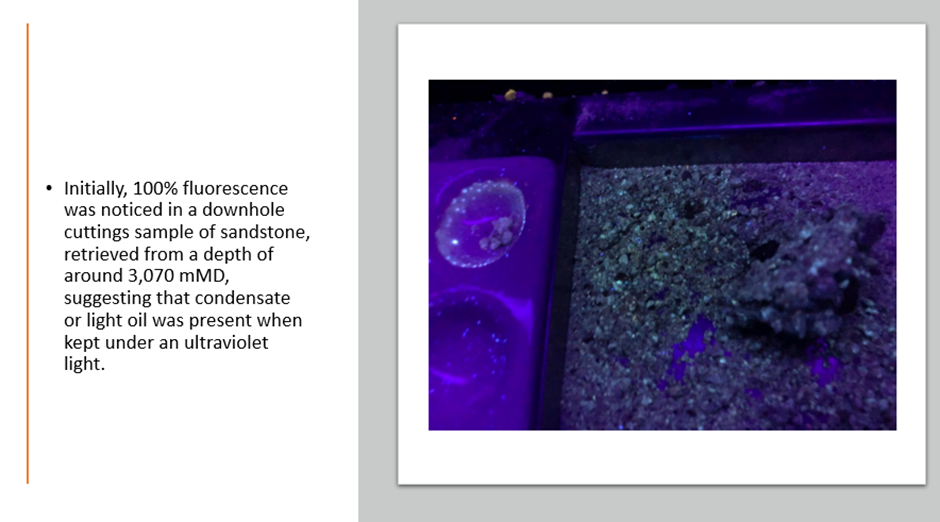 Image: © 2022 Kalkine Media®, Data: Company Announcement
As per the Logging While Drilling (LWD) analysis, further shallower zones of interest within the Upper Angwa have been identified. Furthermore, LWD resistivity and elevated mud gas readings are being observed. Higher LWD resistivity have been noted at additional potential zones of interest in the Pebbly Arkose and Forest formations.
However, because of numerous equipment failures of the gas chromatograph systems, mud gas composition data is not available at depths shallower than ~2,820 mMD through the Dande, Forest and majority of the Pebbly Arkose horizons. Since the repair of the mud gas chromatograph system, an elevated level of background gas with heavier hydrocarbon components has been observed with the increase in depth.
A comprehensive evaluation will be done for all zones of interest via a planned wireline logging programme. The programme will be conducted after Mukuyu-1 reaches total depth, allowing identification of any potential hydrocarbon pay.
There will be changeout of the downhole drilling motor before drilling can be carried forward through the Upper Angwa formation for the total depth of around 3,500 mMD.
What's next?
After the changeout of the downhole motor and drill bit, the Exalo 202 Rig will start drilling again through the primary targets in the 600 and 650 horizons (Upper Angwa Alternations Member) reaching ~3,500 mMD.
The company has planned to acquire a comprehensive wireline logging evaluation suite across the whole 8½" hole section to offer complete geological information that would confirm the presence of moveable hydrocarbons.
Overall, the company is on track to deliver Mukuyu-1 as per the guided timeframe.
Image: © 2022 Kalkine Media®, Data: Company Announcement