Highlights

IOUpay's sales, growth and profit strategy derives heavily from its partnerships with multiple renowned players.
Focusing on BNPL services, the company launched its flagship BNPL platform myIOU in June 2021.
The company is putting its focus and efforts into leveraging the lucratively booming cashless economies of South East Asia (SEA).
An Islamic Financing segment offering, myIOU Islamic, has been introduced via partnership with PayHalal, following certification of Shariah compliance.
IOupay's strategic partner list comprises leading payment gateways and banks, such as PayHalal, Pine Labs, senangPay and Bank Simpanan Nasional, plus its investment partner IDSB and KA$Hplus card issuer, Virtualflex.
IOUpay Limited (ASX:IOU) is a fintech services provider in South East Asia (SEA) with 20-years' experience in the authentication and processing of digital payments under its belt.
The company is working towards tapping the fast-emerging cashless SEA economies to achieve its vision as a leading digital transaction processor in the region.
In addition to mobile banking and payment technologies, the company offers 'Buy Now, Pay Later' (BNPL) services, with its flagship BNPL platform myIOU launched in June 2021.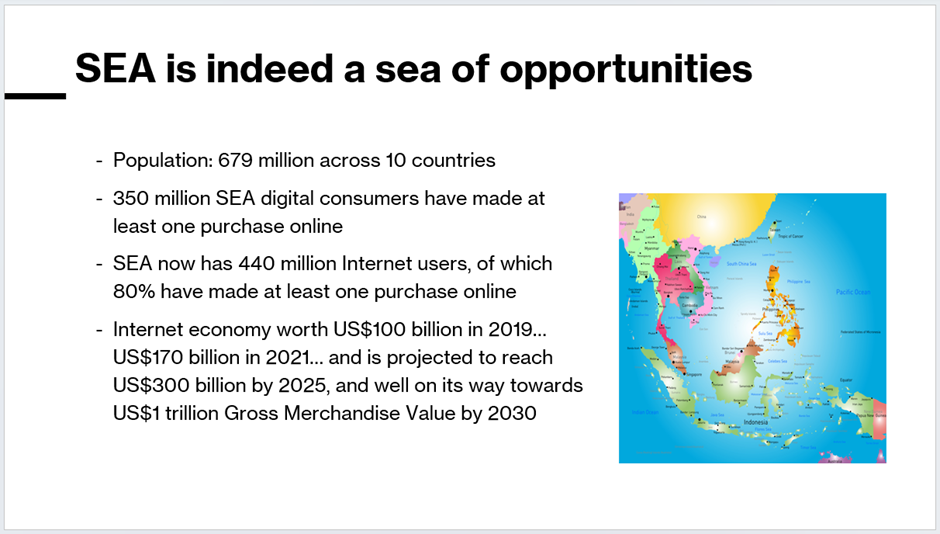 Data source: IOU update referring to latest UN data and other reports
Image source: © Olira | Megapixl.com
The initial focus of the company is on the Malaysian BNPL market, which is forecast to grow by 24.6% to 4 million users by 2028 from 600,000 active users in 2021, says IOU referring to data from The Edge Markets.
IOUpay's partnership strategy revolves around forging relations with renowned companies that have large communities of quality merchants and consumers that are credit worthy.
Partnership with PayHalal: Shariah compliance prioritised
IOU has introduced a new offering into the Islamic Financing segment, myIOU Islamic, whereby payments can be split for a maximum of 6 months with no interest and in a profit-free manner with merchants that are Shariah compliant.
For that, the company has entered into a partnership agreement with PayHalal (Islamic fintech and payment gateway), a Shariah-compliant payment gateway boasting ~7,000 merchants.
© 2022 Kalkine Media®, data source: Company update dated 18 November, image source: © Ababil12 | Megapixl.com
The completion of certification took place in July. In fact, the first Shariah-compliant BNPL transactions were processed early September, well ahead of schedule.
Integration of KA$Hplus & myIOU 'co-brand' VISA prepaid card into myIOU BNPL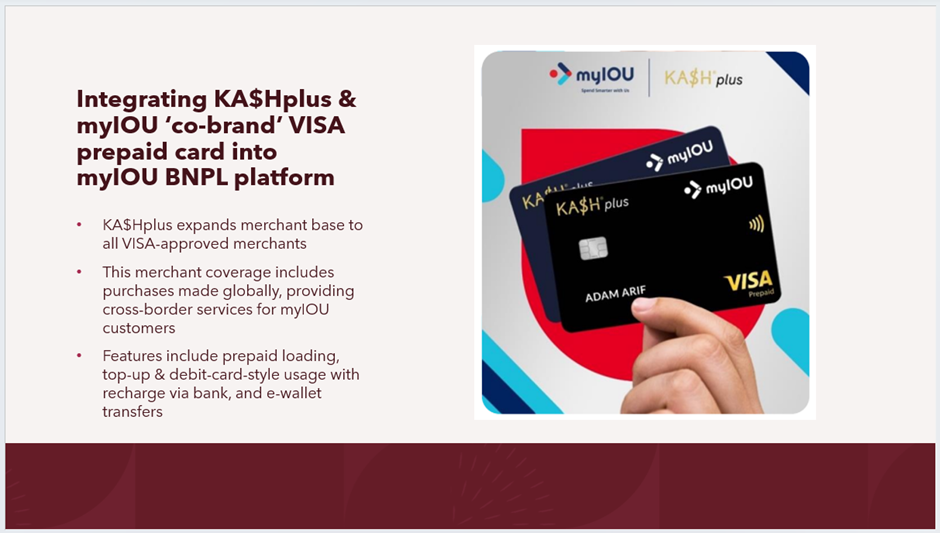 © 2022 Kalkine Media®, source: Company update dated 18 November
This integration of the co-branded VISA card into myIOU BNPL platform will be performed in these stages:
Stage 1 – Provide cards to existing customers of IDSB and selected customers of myIOU
Stage 2 – Integrate myIOU KA$Hplus card into myIOU BNPL platform in order give customers more flexible options for shopping and payment
'Cross-selling marketing' via partnership with IDSB
IDSB is a seasoned instalment-based finance player company for banks with civil servant customers (1.5 million in Malaysia).
This partnership of IOU with IDSB is targeted towards Malaysian Federal Civil Servants ('FCS') working in various government ministries like education and health. These customers generally require short- and long-term finance options and have high-credit quality too.
Source: Company update dated 18 November 2022
IOU's investment in IDSB positions the company for diversified growth. Joining hands to take advantage of each other's strengths is a step towards a broader base of consumer finance offerings with recurring streams of revenue.
IOU sees this partnership delivering cross-sell marketing into 'captive' consumers with high-credit quality and proven track records of servicing instalment plans. New distribution models can be developed, and IOU looks forward to leveraging IDSB collections with its IOUpay automated front- and back-end processing.
Other strategic partnerships
© 2022 Kalkine Media®, source: Company update dated 18 November
Some of the other strategic partnerships include
Marketing collaboration with Bank Simpanan Nasional: A key Malaysian retail bank, BSN serves an upwards of 6.5 million card members and has a total of 390 branches. To know more, click here
senangPay: More than 15,000 online merchants use this payment gateway and e-commerce platform.
Pine Labs: This is a prominent merchant commerce platform across India and SEA.
The company leverages these strategic partnerships to access the large communities of merchant and consumer customers managed by the partners. This provides IOU with low-cost, efficient customer acquisition and facilitates streamlined technology integration via the established payment gateway platforms.
IOU shares were trading at AU$0.048 in the early hours of 23 November 2022, up more than 2% from the last close.