Highlights

IOUpay's myIOU BNPL offering is set to further penetrate Malaysia's financial landscape, thanks to its agreement with Bank Simpanan Nasional (BSN).
BSN is a Malaysian government owned entity, with millions of customers and hundreds of branches across the country.
The marketing collaboration agreement between the two enterprises would serve as a major boost for both, adding to brand awareness of myIOU and targeting BSN's most valued card members with direct marketing and promotions.
Fintech player IOUpay (ASX:IOU) has marked another important and significant milestone as part of its strategic growth plans to collaborate with the well-established bank and finance industry.
In a major development, IOU's wholly owned subsidiary IOU Pay (Asia) Sdn Bhd has teamed up with Bank Simpanan Nasional (BSN), a Government of Malaysia owned bank. The two entities have signed a marketing collaboration agreement, set to provide a significant boost to IOU's myIOU BNPL services in the Southeast Asian country.
BSN has over 6.5 million cardmembers in the country, thanks to the bank's 7,000 plus employee network and 390 branches.
Meanwhile, IOUpay has an extensive merchant network of over 3,000 merchant outlets across Malaysia.
Agreement gives access to high-credit quality customers
The target audience of the campaign will be the high-credit quality customers of BSN that have been pre-qualified for IOUpay services. These customers would be targeted directly through promotional activities to encourage take-up and use of the myIOU service.
Additionally, BSN is also set to promote myIOU to its thousands of employees through internal communication channels and staff portal. The marketing campaign would see additional benefits and offers accruing to BSN cardmembers if they choose to download and use the myIOU BNPL offering.
BSN has agreed to use a variety of ways, including promotion through social media channels and direct emailing to high-value cardmembers, to make the marketing campaign effective, results driven and aligned to IOUpay's strategy of pursuing high credit quality consumers.
Also read: IOUpay (ASX:IOU) jumps 13% on strategic partnership with IDSB targeting Malaysian civil servants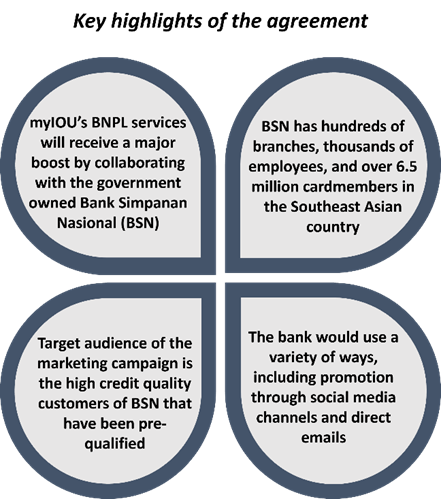 Data source: IOU update
Agreement to benefit IOU and BSN
IOUpay and BSN will leverage their existing network of customers and partners to encourage consumers to apply for and utilise both myIOU and BSN Credit or Debit cards.
IOUpay, a stock market (ASX:IOU) listed entity, has a clear goal of generating incremental sales through the agreement reached with a government-owned bank. This would also boost myIOU's brand awareness besides adding more value to BSN's services in the country.
IOUpay's extensive customer and merchant network would be leveraged to help BSN acquire more cardmembers for its banking services and encourage card usage through activity with the myIOU app.
The agreement with IOUpay commences with effect from 12 September 2022, as part of which the marketing campaign would run for six months from 1 October 2022 to 31 March 2023.
The outcomes from the initial six-month period will pave the way for extension of the collaboration with a view to future expansion into BSN's high-value customer communities.
About BSN
The bank was incorporated in 1974 as a state-owned entity and The Bank Simpanan Nasional Act 1974 facilitated the commencement of operations. With this, the Post Office Savings Bank, which had served since 1948, was replaced by a new and modern banking entity. In FY20, BSN reported revenues of RM2.0 billion (~AU$656 million) and profit after tax of over RM204 million (~AU$67 million).
Also read: IOUpay (ASX:IOU) announces revised terms to IDSB investment completion