Highlights

ASX-listed IOUpay has partnered with Simplepay Gateway to make available its myIOU BNPL offering via the senangPay payments platform.
senangPay caters to more than 15,000 online merchants in Malaysia.
The agreement enables merchants using senangPay to provide myIOU as a seamless payment option to consumers.
Southeast Asia-focused financial technology services provider IOUpay Limited (ASX:IOU) has announced a yet-another boost to its BNPL offering. This time, it is about enabling myIOU BNPL services for merchants that use the senangPay payments platform in Malaysia.
To facilitate the service, IOUpay's wholly owned subsidiary IOU PAY (ASIA) Sdn Bhd and Simplepay Gateway Sdn Bhd have entered into a master merchant agreement. The deal is set to make myIOU available to the customers of merchants operating on the senangPay platform, run by Simplepay Gateway.
It has been reported that IOU has not paid any consideration to enter into the deal. On its part, Simplepay Gateway would initiate applications from merchants wishing to offer myIOU BNPL as a payment option and provide support, alongside ensuring promotion of IOU's brand across the merchants' locations.
The latest development follows a very productive financial year 2022 for IOUpay as highlighted in its annual report.
myIOU available to senangPay's growing merchant base
The master merchant agreement has an initial period of one year. The agreement would renew automatically for another year after the first year, except in a situation where either party calls for termination through a three-month advance notice in writing.
While Simplepay Gateway is responsible for onboarding of merchants to the myIOU BNPL service, IOUpay Asia exercises complete control over the approval of applicant merchants. The agreement provides for referral fees to be paid to Simplepay Gateway for margin income that accrues beyond the agreed rates applicable to any specific payment plan.
Significant progress has already been made and IOUpay has finished the integration work and testing. Simplepay Gateway merchants that have been onboarded can now seamlessly process consumer transactions with myIOU as a payment option.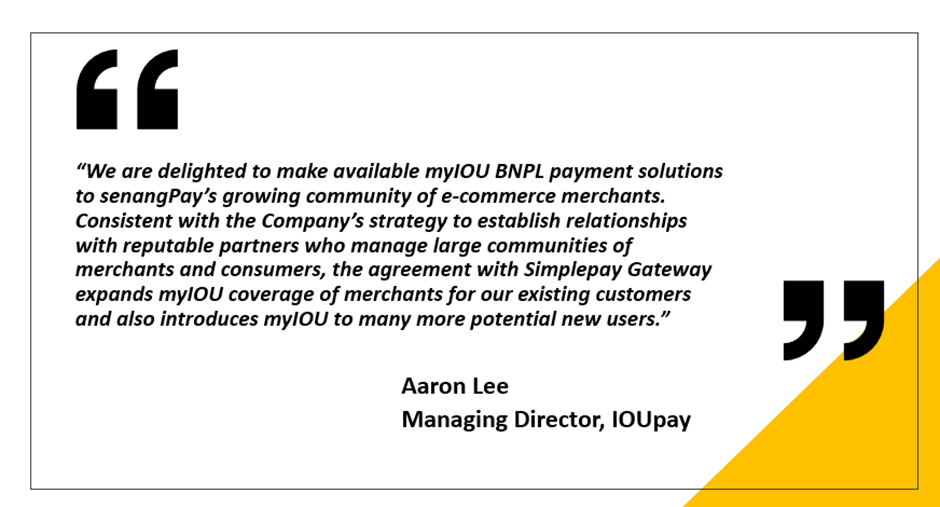 senangPay caters to over 15,000 online merchants
Simplepay Gateway is based in Malaysia and its core business activity is payment services. This includes payment gateway services and a proprietary platform for e-commerce transactions to online merchants and stores.
senangPay is the brand identity for the company's payment gateway offerings. More than 15,000 online sellers use the senangPay service to provide their customers a seamless payment experience.
IOU shares on the ASX traded at AU$0.054 on 12 October 2022.