Highlights

IOUpay witnessed significant achievements during FY22.
First year of the flagship myIOU BNPL offering with rapid early growth.
Establishing a strong and growing merchant and consumer base.
Dedicated execution on the company's strategic plan with new product initiatives, technology enhancements and strategic partnerships.
Digital marketing strategy launched with high profile brand ambassadors secured.
Closed IDSB deal for strategic investment, ready to tap significant opportunities to diversify growth along the consumer finance value chain.
Digital payment services company IOUpay Limited (ASX:IOU) has released its annual report, covering financial data and key operational highlights for the period ended 30 June 2022. The period marked the decisive beginning of IOUpay's 'best-in-class' BNPL service that enables short-term consumer finance.
Besides, there were other major developments including investment in I'Destinasi Sdn Bhd (IDSB), and entry into Shariah-compliant Islamic Finance via the 'myIOU Islamic' offering. The company's onboarding of two new brand ambassadors -- actress Priscilla Wong, and actor and model Syafiq Kyle -- to promote the myIOU brand was a notable boost to brand awareness in Southeast Asia.
The company in its annual report has highlighted its ongoing 'Pathway to Profitability' in phases that is characterised by a focus on IOUpay brand building, investments in technology, widening of customer base, and strategic investments and partnerships. The last element includes IOUpay joining forces with names like Razer Merchant Solutions, PayHalal, and Pine Labs among others, to access established communities of digital economy consumers.
myIOU BNPL offering registers rapid growth
The service that was launched in mid-June last year effectively kick-started during FY22. Even though continued lockdowns impacted the economy and hampered infield business development, transaction volumes grew rapidly out of the gate and the income margin through the year rose above IOUpay's internal estimates.
The total transaction value (TTV) was more than AU$29 million during the year, and this figure represented gross merchandise value (GMV) of all transactions done by customers using myIOU. The net transaction revenue amounted to over AU$2 million, delivering a 6.8% income margin for myIOU. For more information, read here.
With respect to delinquencies, FY22 was a good year with a modest NPL ratio of 0.61%. This owes to IOUpay's measured approach to growth including a focus on sophisticated credit checking and independent verification of customers' credit profiles. Now, the company has entered FY23 in the second phase of its 'Pathway to Profitability' growth model.
The platform reported 108,749 consumer app downloads and 33,871 activated consumer accounts as at 30 June 2022.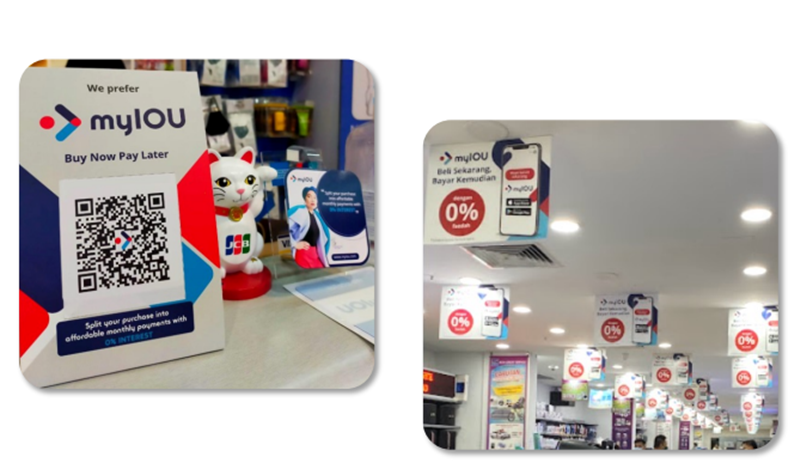 Image source: IOU PPT
Strengthened team to aid in the next phase of development
IOUpay reported an increase of 107% in its staffing levels during FY22. Moreover, the company appointed Dato' Wan Asmadi Wan Ahmad as the new non-executive chairman with effect from 30 June 2022. During his extensive investment banking and corporate advisory career, Kuala Lumpur-based Mr. Wan Ahmad has worked with some of the leading financial institutions of Malaysia.
Partner relationships offer growth opportunities
In order to become a major participant in the BNPL sector, IOUpay is strategically pursuing a partnering approach for efficient merchant acquisition, access to consumer communities and origination of its myIOU offering. This included forging a relationship with Razer Merchant Services (RMS) with more than 200 RMS merchants onboarded during FY22, so that myIOU could be the preferred payment option for their customers. Meanwhile, RMS has also agreed to the inclusion of the full complement of standard instalment payment plans of myIOU, which will boost the adoption of the service by merchants.
The partnership with Malaysia's leading retailer SOGO Departmental Store was another major highlight of the March quarter of FY22. By June, myIOU was available for the store's purchases through point-of-sale transactions. The next phase would include use of myIOU in SOGO's e-commerce payment platform.
Another key agreement was with Pine Labs Group in June 2022. The India and Southeast Asia-focused merchant commerce platform has introduced myIOU services via its merchant payments platform. Here, merchants can opt for IOUpay's deferred payment offerings through an automated process for efficient merchant acquisition and onboarding. Importantly, Pine Labs' growing footprint in Southeast Asia positions IOUpay for future territory expansion.
Image source: IOU PPT
Growing merchant base
The period witnessed approximately 3,500 outlets signing for IOUpay's services, a significant boost for the company's relations with merchants. IOUpay has said that as at the balance date, the company counts 877 merchant relationships (amounting to 2,390 outlets) across Malaysia. This includes both physical and online commerce. The myIOU offering can be used to purchase products and services from 13 industry verticals including beauty & wellness, electronics & gadgets, and home & living.
Some of the big brands that have been onboarded include Advanced Apotheke (Jurlique), Brightstar Computer (which brings Dell and Lenovo), and selected distributers of electronics giant Samsung. Aside from focus on new merchant acquisitions, IOUpay is also ensuring that active merchants adhere to the company's brand values and financial expectations.
IDSB strategic investment
One of the biggest highlights during FY22 was IOU's investment in I.Destinasi Sdn Bhd (IDSB), a Malaysian company that works to provide instalment-based credit solutions to civil servants. IDSB is a service provider to Malaysian banks, and long-term consumer finance to high-credit quality government employees is one of its key business areas.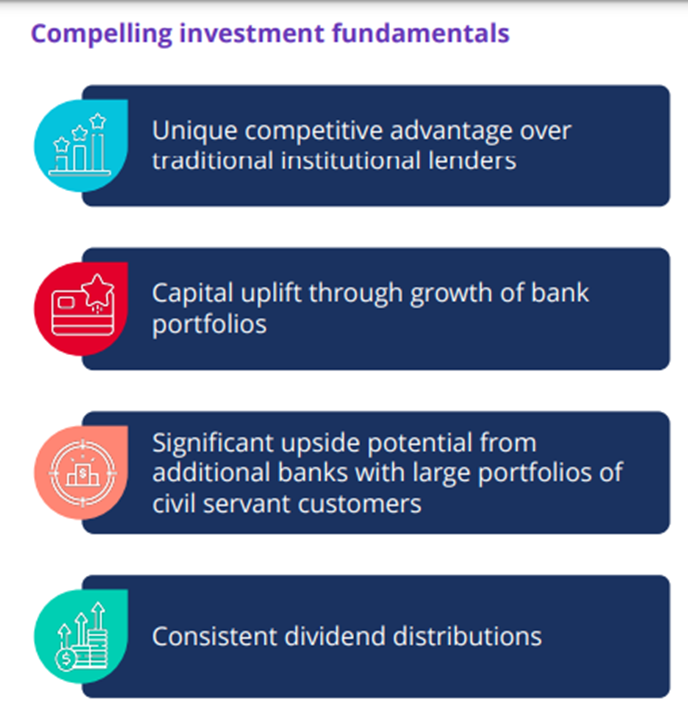 Image source: IOU PPT
For more information, read here.
Technology advancements, KA$Hplus card, and myIOU Islamic
The period was marked by major advancements in the technology platform of the company and its offerings. New features like loyalty rewards and OTC cash payments were added to myIOU app. The user interface design of IOUpay's website, app and other portals were upgraded to add more speed and efficiency.
Mobile SDKs (software development kits) were announced in April this year so that merchants can easily integrate myIOU with their own apps. By June, IOU Pay (Asia) had earned the internationally-recognised PCI DSS compliance certification required by major payment card brands and acquirers. For more information, read here.
In June 2022, IOUpay and Virtualflex Sdn Bhd collaborated to provide 'myIOU KA$Hplus Visa prepaid cards' to customers. Once full integration is achieved, IOUpay's customers would be able to widen their shopping choice and make purchases at any merchant that accepts a visa card. Such purchases can then be converted into myIOU BNPL transactions.
In another major announcement in June, IOUpay confirmed the development of a Shariah-compliant service, myIOU Islamic, which is set to serve the large Islamic population of Malaysia. This significant development will also help position the company to expand its services into other Southeast Asian countries.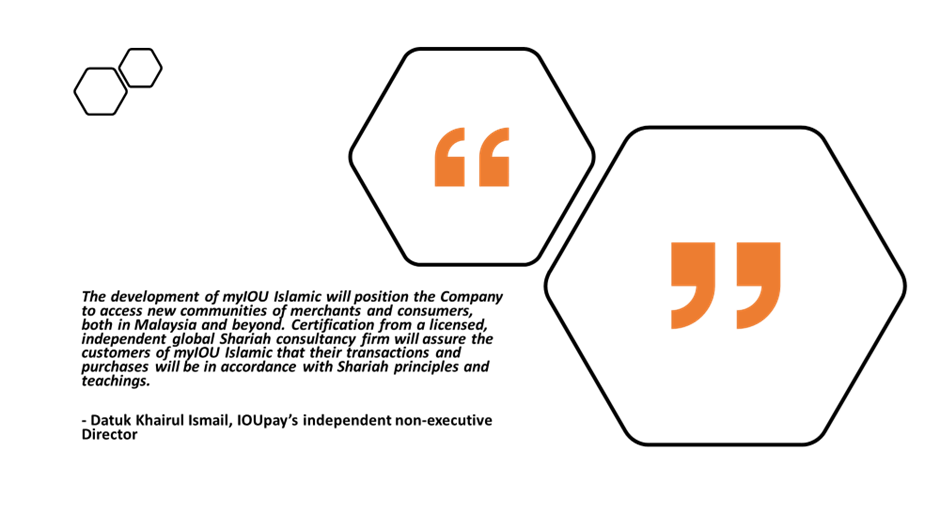 Revenue growth amid growing customer engagement
The revenue of the company increased by 17% in the financial year ended 30 June 2022. With a number of strategic initiatives planned for phase two of IOUpay's 'Pathway to Profitability', the company believes that it is positioned for further revenue growth during FY23. The net assets of the consolidated group stood at over AU$48 million.
The ongoing financial year makes for a close watch considering the developments in FY22.
IOU shares were trading at AU$0.061 midday on 6 October 2022.