Highlights

IOUpay Limited (ASX:IOU) has achieved two key milestones in its journey to mature its offering into a meaningful digital payment platform in the South East Asia region.
The company has secured a Shariah Compliance certification for its buy now pay later (BNPL) service offering in Malaysia.
IOU has joined hands with Souqa Fintech or PayHalal to acquire merchants and process BNPL transaction payments.
ASX-listed fintech IOUpay Limited (ASX:IOU) has marked two key milestones in the development of its instalment-based consumer finance product suite.
In two major developments, the company has secured a certification of Shariah Compliance and entered into a Merchant Acquiring Services Agreement (MSA) with Souqa Fintech Sdn Bhd.
The Shariah compliance certification and Islamic finance product capabilities open the doors to numerous opportunities for strategic growth, including the following: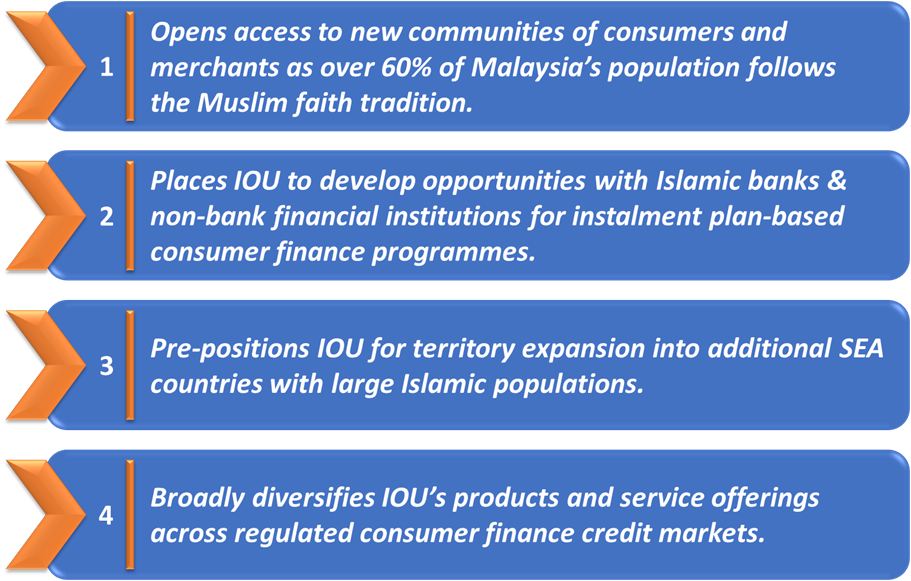 Data Source: IOU Announcement 13/07/2022
Share price jumps over 16%
Driven by the upbeat company announcement, IOU shares edged up over 16.6% to AU$0.084 in the early hours of trade on 13 July 2022. The shares have gained nearly 68% in the last one month.
Shariah Compliance certification for BNPL service offering
An independent global Shariah advisory firm, Tawafuq Consultancy Sdn Bhd, has awarded a certification of Shariah Compliance to IOU's fully owned subsidiary, IOU Pay (Asia) Sdn Bhd (IOUpay Asia). The annual certification of Shariah Compliance, effective from 12 July 2022, remains subject to annual compliance audits for renewal each year.
IOupay is currently engaged in the development of a Shariah-compliant BNPL offering to be marketed under the name 'myIOU Islamic'. The company needed a certification from a Shariah advisor licensed by the SCM (Securities Commission Malaysia) to access BNPL and Islamic financing opportunities within industry best practices for Shariah principles in the Asian country.
As IOU has gained the certification, the company is now gearing up to provide conventional as well as Islamic financing, which requires the following:
Partitioning of the myIOU portfolio
Integration with an Islamic Payment Gateway
Islamic Bank Account for all Shariah-compliant transactions
Separate documentation, procedures and policies
IOU signs MSA with PayHalal Islamic Fintech Payment Gateway
IOUpay Asia has inked an MSA with Souqa Fintech Sdn Bhd (trading as PayHalal) on a non-exclusive basis for a three-year term, effective from 12 July 2022. Once the initial term expires, the agreement will automatically renew for additional periods of one year, each on the same terms and conditions unless otherwise agreed.
PayHalal provides Islamic financial technology solutions to around 7,000 Shariah-compliant merchants across Malaysia.
The MSA enables PayHalal to acquire and refer to IOUpay Asia merchants who follow Shariah principles and want to provide BNPL payment options to their customers consistent with Shariah principles and the practices of Islamic finance.
The MSA will see PayHalal take on the following responsibilities:
Data Source: IOU Announcement 13/07/2022
With the completion of integration works, PayHalal merchants can now process myIOU Islamic BNPL transactions through PayHalal's Shariah-compliant payment gateway.
At present, the merchant portfolio of PayHalal is being reviewed by IOUpay Asia to develop a list of merchants that may be suitable for referral as myIOU Islamic merchants. Further, PayHalal will promote the myIOU BNPL payment option to the shortlisted merchants and refer to IOUpay Asia the merchants eyeing to apply for the service.