Highlights

Black Canyon (ASX:BCA) has continued to focus on developing its flagship Flanagan Bore Manganese project.
A recently completed Scoping Study for the Flanagan Bore Project has delivered encouraging results, indicating substantial financial value from the potential mine development at the project.
The Company intends to produce manganese concentrate for the manufacture of steel and to produce high-purity manganese sulphate monohydrate for the growing electric vehicle battery market.
BCA is backed by a highly qualified team of professionals who have a depth of experience across various critical functions.
With a large exploration footprint, Black Canyon Limited (ASX:BCA) is committed to becoming the dominant ASX-listed manganese focused explorer/developer in the Pilbara region. The company is advancing its highly prospective projects covering eight tenements totalling 1585 km2 (7 granted and 1 under application) in the region.
The project areas being explored are prospective for mineralisation similar to that of operating manganese mines at Woodie Woodie and Butcherbird.
The project portfolio indicates potential for developing minerals that are further used in steel manufacturing as well as emerging energy storage space.
BCA ticking the right boxes at Flanagan Bore Manganese Project
BCA has enhanced its focus on the advancement of its Flanagan Bore Manganese Project, which forms part of the Carawine JV between BCA and Carawine Resources Ltd.
Strong results from the recently completed Scoping Study for Flanagan Bore have boosted the company's confidence in the potential development of the project.

For detailed report on scoping study, read here
Moreover, the company has completed an infill drilling across the project, delivering even thicker zones of higher-grade manganese enriched shale. The results highlight the potential to expand the FB3 Mineral Resource Estimate (MRE) and grow the global mineral resources at Flanagan Bore.
In April 2022, the company announced mineral resources of 104Mt @ 10.5% Mn (Indicated) containing 11Mt of manganese.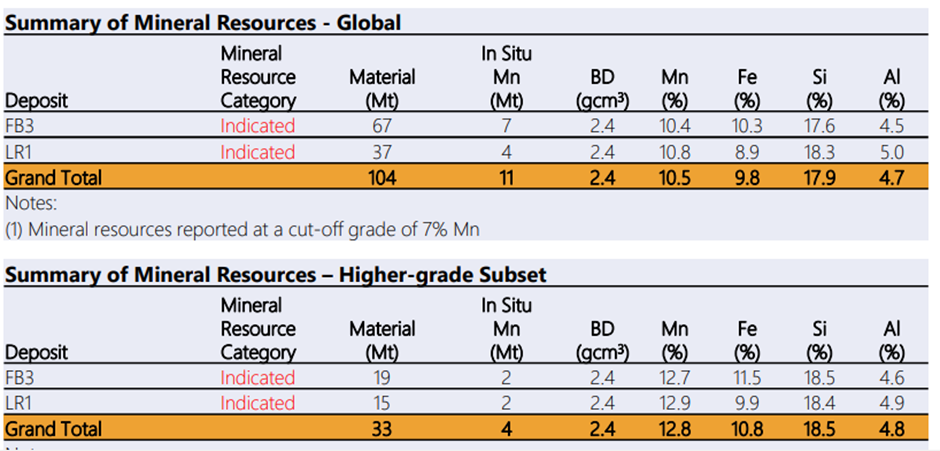 Mineral Resource Summary at LR1 and FB3 (Source: BCA update)
© 2022 Kalkine Media®
Metallurgical Studies at Flanagan Bore
Black Canyon has longer-term plans for downstream processing. The company plans to undertake initial manganese concentrate leaching test work as part of an overall strategy to add value through downstream processing.
The aim is to potentially produce high-purity manganese sulphate monohydrate for the growing electric vehicle battery market.
Meanwhile, the company is also planning a scoping level study to evaluate the economics of processing manganese fines into high-purity manganese sulphate monohydrate.
Highly qualified management team guiding the journey
BCA is led by a highly qualified team of professionals who have rich technical as well as commercial experience. Mr Graham Ascough, the Non-Executive Chairman of BCA, is a resource executive and geophysicist with over 30 years of experience.
Mr Brendan Cummins, the Executive Director of BCA, boasts an experience of more than 25 years. Throughout his career, Mr Cummins has been engaged in the exploration and related activities across various commodities, including precious and base metal, iron ore and industrial mineral projects throughout Australia as well as overseas.

Mr Simon Taylor and Mr Adrian Hill are both Non-Executive Directors at BCA and have more than 25 years of experience. During his career, Mr Taylor has been actively engaged in activities like exploration, project assessment as well as development. Mr Hill's career includes his engagements in strategy and finance roles across various industries, including resources, energy infrastructure and investment banking.
All in all, the leadership team at BCA reflects a strong record of exploration success and project development activities.
Black Canyon plans to undertake significant exploration programs across its projects including Flanagan Bore in 2022/23 covering mapping, MRE updates, heritage surveys, GAIP on selected targets and follow-up resource or discovery drill programs.
BCA shares were trading at AU$0.210 on 28 September, 11 AM AEST, 2022.