Highlights

Black Canyon (ASX:BCA) has received highly encouraging Scoping Study results for the potential development of its Flanagan Bore Project.
The results suggest a mine life of 20 years, strong cash flow and robust returns, with a low capital start up for production.
BCA has commenced several works and has also proposed a conservative 30-month high-level schedule to develop the project subject to completion of a detailed feasibility studies.
The company ended the June quarter with AU$4.8 million, indicating strong financial footing to accelerate the project development.
Black Canyon Ltd (ASX:BCA) recently announced its much-awaited Scoping Study results related to the potential development of the Flanagan Bore Manganese Project.
The exploration company has completed the scoping study within 4 months of announcing its Maiden Mineral Resource in April 2022 of 104Mt @ 10.5% Mn, demonstrating the strong financial and technical viability of the project.
Located in the eastern Pilbara region, this project forms part of the Carawine JV between BCA (51% interest, earning up to 75%) and Carawine Resources Ltd.
Scoping Study points to robust economics
The scoping study is based on developing a mine around 115km north-east of Newman at Flanagan Bore. The aim is to produce a manganese concentrate that can further be used across the steel industry or manufacturing of high purity manganese sulphate (HPMSM) and batteries used in electric vehicles.
The economic evaluation in the Scoping Study shows a mine life of 20 years at an average production rate of 1.8Mtpa, strong cash flow along with robust returns.
Additional metrics include a low capital start up requirement to deliver manganese concentrate mined from a significant Indicated Mineral Resource of 104Mt @ 10.5% Mn containing 11Mt of manganese. This further comprises a higher-grade subset that involves an indicated Mineral Resource of 33Mt @ 12.8% Mn throughout the FB3 and LR1 deposits.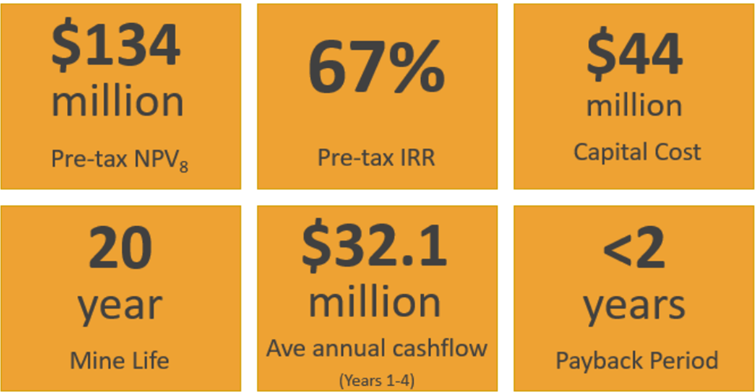 Source: BCA Announcement
The study suggests LOM revenue of AU$2,282 million and EBITDA of AU$420 million with an average annual free operating cashflow of AU$32.1 million for the first 4 years of mining operations.
BCA remains encouraged for further work
BCA remains confident that the study results highlight substantial value from an upcoming mine development at Flanagan Bore. Moreover, the strong key financial metrics align with the BCA strategy to discover and deliver via de-risking the project as the Company advances the schedule to develop the project.
This is supported by the recently completed infill drilling to enhance the Mineral Resources classification across LR1 and FB3. Currently, assays are pending for this drilling.
Data Source: BCA Announcement
BCA further looks to evaluate the employment of lower-risk conventional dense media separation as a primary separation technique. This evaluation will take place with the processing of life-of-mine composite metallurgical samples and several variability composites.
Financing for the project
The Scoping Study has helped in estimating a pre-production funding requirement of AU$44 million. BCA intends to source this capital requirement through a combination of traditional equity and debt instruments from various stakeholders.
Besides this, the capital can also be sourced via strategic offtake partnerships as there is a substantial interest in project financing for infrastructure and mining projects.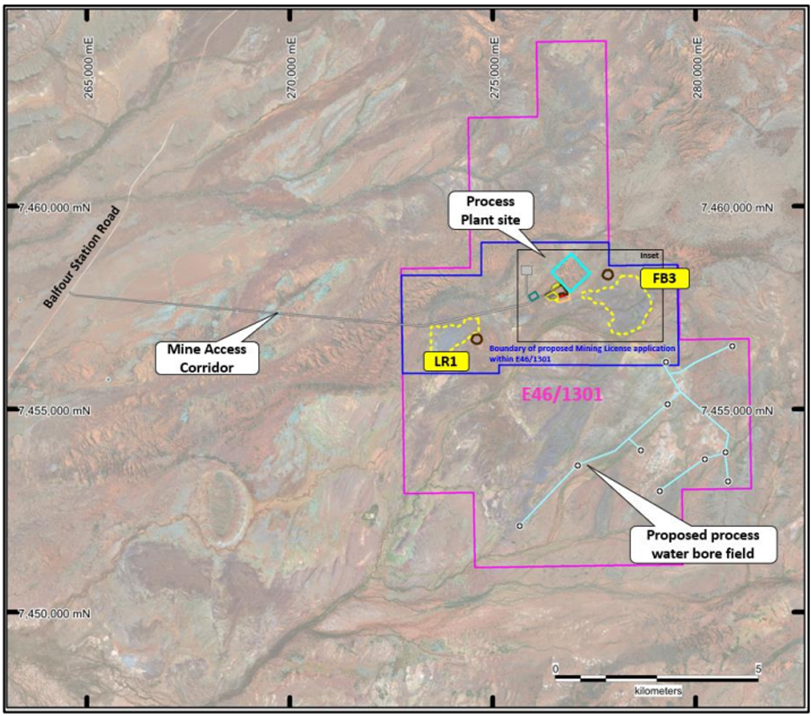 Overall Flanagan Bore project plan (Source: BCA Announcement)
BCA remains confident that the required funding for developing the project will be available when required based on the Company's capabilities and the robust outcomes from the Scoping Study.
The Company has also identified several project enhancement opportunities for further investigation, including the following: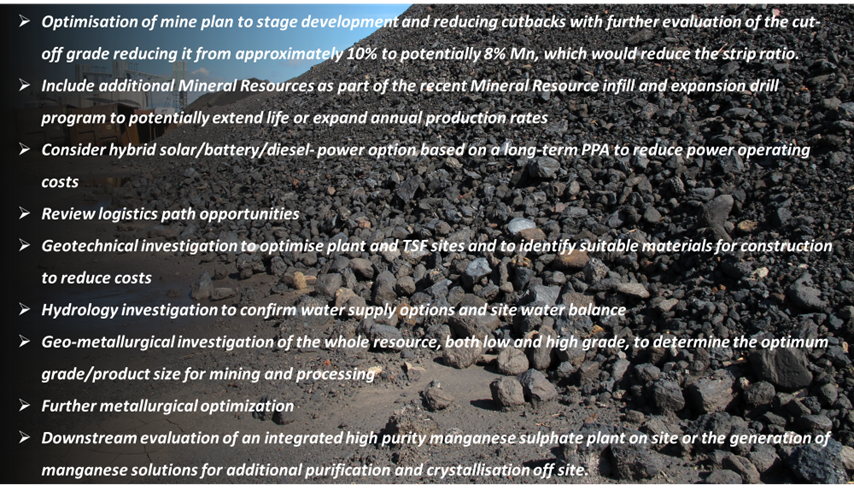 Data Source: BCA Announcement
Near-term plan and upcoming activities
Moving forward, the Company has developed a 30-month high-level project schedule; wherein the timeline of 18 months ranges from funding approval to conclusion of commissioning, given that all funding is in place and all permitting and approvals are finalised.

Source: BCA Announcement
The Company is also initiating ancillary mining requirement studies while engaging in planning and scheduling environmental studies. BCA is also looking to engage with stakeholders as the Company expedites ESG-related activities across the project area.
In tandem, BCA believes that it is suitably poised to assess the longer-term ambition of downstream processing manganese ores from the project to generate manganese sulphate for EV batteries.
The Company is nearing completion of the preliminary leaching test work and now looks to begin a comprehensive scope examining the leaching, purification and crystallisation of HPMSM.
BCA shares were trading at AU$0.250 midday on 22 August 2022.