Highlights

Latest assay results have delivered thick intervals of manganese enriched shale at the FB3 deposit, Flanagan Bore.
Manganese enriched shale has now been delineated from surface, stretching over 1000m x 1200m at the deposit.
Black Canyon expects the results to increase the FB3 MRE and grow the global mineral resources at Flanagan Bore.
Remaining assays are expected by end of this month.
Australian manganese explorer Black Canyon Limited (ASX:BCA) has shared assay results from reverse circulation (RC) drilling conducted at the FB3 deposit in May and June this year.
The FB3 deposit sits within the company's Flanagan Bore manganese project in the Pilbara region of Western Australia.
Even thicker zones of higher-grade manganese-enriched shale have been reflected in the results, depicting the potential to expand the FB3 Mineral Resource Estimate (MRE) and grow the global mineral resources at Flanagan Bore beyond the existing 104Mt @ 10.5% Mn (Indicated) that holds 11Mt of manganese.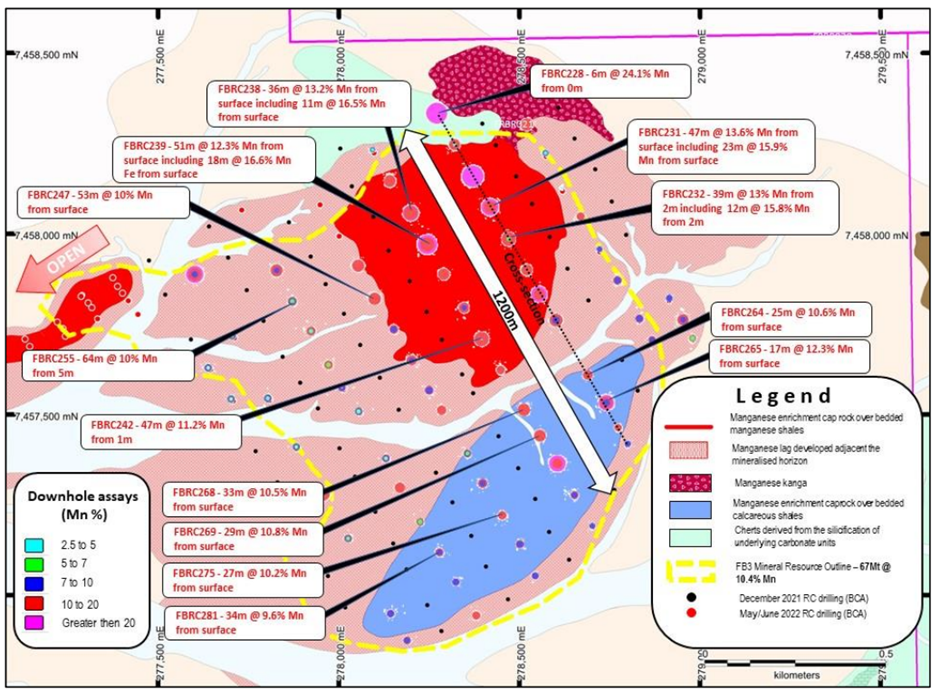 FB3 deposit drill plan showing significant drill results and downhole drill results projected to surface over mapped geology (BCA earning 75%)
Image Source: BCA update
FB3 Infill Mineral Resource Assay Results
Manganese enriched shale has now been delineated from surface at the FB3 deposit spanning over an area of 1200m x 1000m. The folded nature of the shales and manganese mineralisation that is plunging shallowly to the southwest, was confirmed in the assays received from the campaign.
Key results
47m @ 13.6% Mn from 0m (FBRC231), including 23m @ 15.9% Mn from surface
39m @ 13% Mn from 2m (FBRC232), including 12m @ 15.8% Mn from surface
51m @ 12.3% Mn from 0m (FBRC239), including 18m @ 16.6% Mn from surface
36m @ 13.2% Mn from 0m (FBRC238), including 11m @ 16.5% Mn from surface
64m @ 10% Mn from 5m (FBRC255)
53m @ 10% Mn from 0m (FBRC247)
47m @ 11.2% Mn from 1m (FBRC242)
6m @ 24.1% Mn from 0m (FBR228)
The company expects to receive assays from the balance of the May/June drill program, including drillholes from the FB2 prospect and drilling along the trend from L1 to TF1, later this month.
Flanagan Bore Project - FB3 & LR1 Mineral Resource outlines and additional drill targets at FB1, L1, TF1 and FB6 (Black Canyon (51%) earning up to 75%)

Image source: BCA update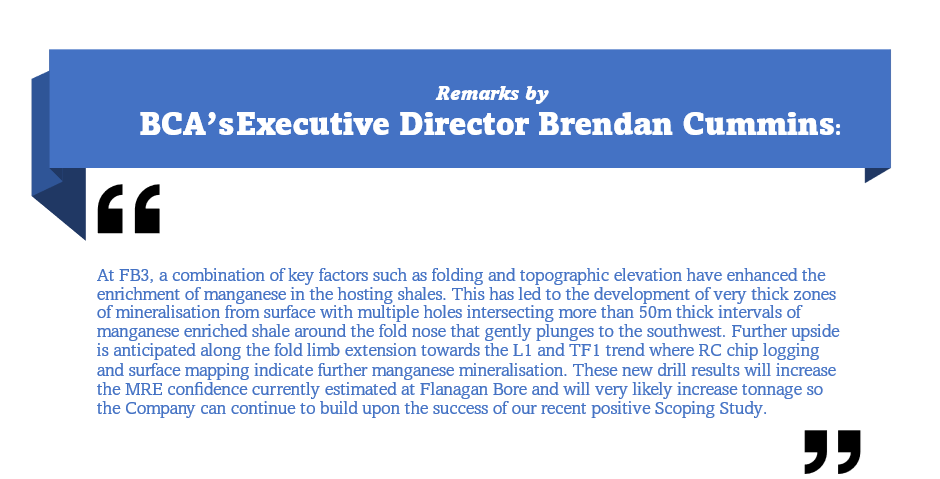 An overview of Flanagan Bore Drill Program
Flanagan Bore is based around 120 km north-east of Newman. It is a part of BCA's Carawine Joint Venture and is subject to a farm-in and JV agreement with Carawine Resources Ltd (ASX:CWX). Black Canyon has the option to earn up to 75% in the Carawine Project tenements by sole-funding an additional AU$2.5 million of exploration expenditure. As of now, the company has earned a 51% interest.
There has been reduction in overall drill spacing at FB3 and LR1 from 200m spaced lines and 100m centred holes to 100m spaced lines and 100m centred holes, following the completion of the RC drill program (181 holes for 7,534m).
Due to the doubling of the drill density, the current Indicated classified Mineral Resources may get upgraded to Measured, which is apt for detailed feasibility and associated mining and processing studies.
Black Canyon has received and compiled the assay results from the LR1 and FB3 deposit area only. Further results due from the westerly extension of FB3 along the L1 to TF1 trend are expected in late September.
BCA share information
BCA shares were trading at AU$0.260 midday on 15 September 2022, up nearly 2% from the last close.