First Au Limited (ASX: FAU), Western Australia focused gold and base metals explorer, announced the commencement of a high-resolution 3D induced polarization (IP) survey at the flagship Gimlet Gold project in the vicinity of Kalgoorlie goldfields. Kalgoorlie has established itself as synonymous to mega Gold operations in Western Australia, strongly supported by the exploration and production activities in the large goldfields.
The Horizon Minerals' Teal deposit and the Binduli mineralisation system which includes the Janet Ivey Deposit, south of Gimlet in the Yilgarn area, had been subjected to the induced polarization survey to identify anomalies. The flagship Gimlet gold project shares boundaries with Horizon' Teal gold mine and is located in one of the most mining matured regions of Western Australia. The mineralisation occurs along a 2.7 kilometres strike upon combining the Gimlet mineralisaiton zone and Horizon Gold's (ASX:HRN) Teal gold deposit to the south which holds mineral resources of 228,000oz gold.
IP Survey to Identify Further Drilling Targets
The IP survey aims to identify and map the disseminated sulphide zones which are potentially associated with the gold mineralisation at the Gimlet exploration ground. The Induced Polarization survey would include both Gimlet Resource region and the Horan's Dam Prospect.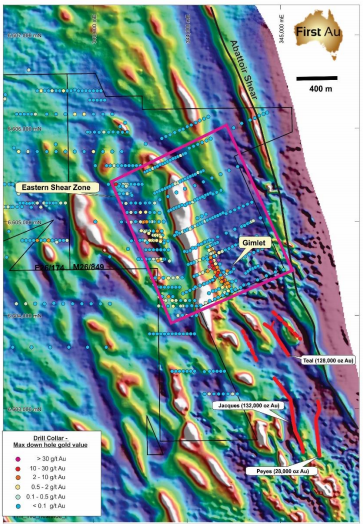 Approximate area of IP survey pink polygon at the Gimlet
Project Source: First Au Limited
The outcome of the Induced Polarization survey is expected in the next month, following which First Au may proceed with further drilling programs utilising the results from the survey. The expectation from the IP survey are as follows:
IP anomalies indicating the presence of known mineralisation beneath, assist in scheduling the deeper diamond drilling hole with the co-funding from the government. Further identification of IP anomalies would assist in targeting and scheduling future RC and Diamond drilling programs.
Identification of Parallel IP anomalism along the strike to the Gimlet deposit, providing further drill targets with the potential of new ore bodies.
Secures New Tenement Application E16/542: Expanding Prospectivity
Recently, First Au stretched its exploration ground in the Kalgoorlie region securing additional tenement application close to the existing White Flag Tenement E 24/215. A larger area pertains to larger prospectivity and value generation for the shareholders. Tenement Application E 16/542 extends over a 9 square kilometres area and is characterised by clastic sandstones and conglomerates of the Archean Kurrwang Formation. The tenement application is located on the North-Western end of First Au's exploration ground. It runs parallel to the Zuleika shear zone, which encompasses the Northern Star Resources' (ASX:NST) Kundana Gold camp.
First closed at $0.010 a share on 22 May 2020, an increase of ~11.11% against the previous close with a market capitalisation of $2.99 million.