Summary

Amid optimistic gold market, FAU expanding its portfolio with the acquisition of VicGold with significant historical gold mineral centres with assay results of 444 g/t Au.
FAU's 80% stake acquisition in Victoria Gold and its flagship Victorian Gold project is establishing the company as a probable major player in the Eastern Victorian goldfields.
First Au's flagship gold project, Gimlet holds early mining potential with viable toll treatment options existing.
Gold has been in a smart bull rally during the first half of 2020 supported by existing weak global economic conditions, the accommodative monitory policy adopted by many major central banks, and the coronavirus outbreak.
Gold spot prices are trading at multi year highs at US$1,774.33 an ounce and even higher in the Australian dollar terms at $2,560.39 an ounce, as on 3 July 2020.
The Australian DIIS forecasts the gold price to continue its bull run through the latter part of 2020 to average at US$1,630 an ounce, almost ~17% higher than the 2019 average gold prices of US$1,392 an ounce.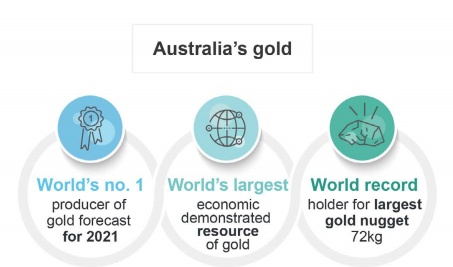 Source: Australia Energy and Resources Quarterly, June 2020
Global Demand Growing, Jewellery Demand to Resurge
Despite global lockdowns, the demand for Gold increased by 1.2% y-o-y, during the March quarter of 2020, to 1,084 tonnes upon strong demand from ETFs which experienced a record high net inflow of US$23 Billion.
With the demand increase so far in the year, further stronger gains are anticipated through 2021 and 2022 to 3,892 tonnes, registering an increase of 4.2% annually with a major boost backed by the revival of the jewellery demand.
On the supply front, the DIIS anticipates the recycle stream to slow down further while the social distancing rules still prevailing globally. Australia is gearing up to become the World's largest Gold producer with export values exceeding $30 Billion in 2020-21. Such a large volume would require higher production supply from existing miner and new prospective project from gold players such as First Au.
Let us flick through First Au and its key projects.
First Au: Key Gold Explorer with prospective gold projects
First Au Ltd (ASX:FAU), a gold and base metals explorer, is progressing on the flagship Gimlet gold project near Kalgoorlie Goldfields, Talga Au-Cu project in Pilbara region and the 80% owned Tambina JV Gold and Copper project in the Kalgoorlie Goldfields.
Recently, First Au announced entering into an agreement to buy 80% stake in the Victorian Goldfields (VicGold) in the Victorian Goldfields.
Gimlet Gold Project: Nestled in the neighbourhood mega Gold operations
The Flagship Gimlet Gold project is situated in the vicinity of the world-renowned Kalgoorlie goldfields with proximity to established gold operations backing early mining option for the gold project via toll treatment of ores.
Source: First AU Ltd
At present, an extensive Induced Polarisation survey is progressing to identify further sulphide anomalies at Gimlet. Gimlet is an advanced project with maiden JORC 2012 mineral resources of 69,000 ounces of Gold. The scale of opportunity can be evaluated from the fact that not too long ago, approximately 22,000 ounces of Gold from Gimlet was processed by Horizon at Paddington and Lakewood processing plants at an average cash cost of $1,100 an ounce, backing strong economic potential of Gimlet with minimum capital requirements.
While First Au reviews the early mining and toll treatment potential, the explorer has advanced on the potential strong mineralisation at depth. A further deeper drilling program is anticipated later this year with government assistance of $100,000, to identify the mega mineralisation extensions at depth.
Victorian Gold Project: Golden Feather in FAU's Cap
First Au is advancing on acquiring 80% stake in Victoria Gold and its flagship Victorian Gold project which holds five exploration license applications stretching over 2,250 square kilometres, establishing First Au as a probable major player in the Eastern Victorian goldfields.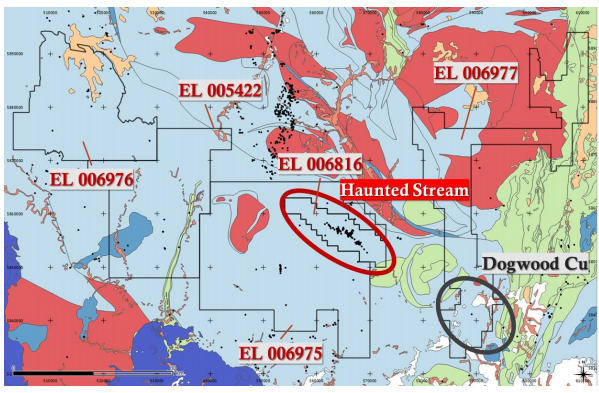 Victorian Goldfields tenements Source: First Au
The Victorian gold project includes vast historical gold workings dating back to as early as the 1880s with historic mining grades of 5 ounces of Gold per tonne at the Exhibition mine.
The highly prospective Haunted Stream area hosts vast historical mining centres and holds the ability for bulk gold mineralisation. The 2007 rock chip and sampling program by Mantle mining exhibited grades in excess of 444 g/t Au. VicGold has already progressed on compiling and interpreting historical results and plans to utilise it to identify prospective targets for initial exploration program by First Au.
First Au traded at $0.016 a share on 6 July 2020 at 2:39 PM AEST, with a market capitalisation of $5.6 million.
All financial information pertains to Australian Dollars (AUD) unless stated otherwise.