Summary

Australian housing prices may top growth of 20 per cent by 2021.
Record low interest rates and the government's stimulus measures have given a boost to the housing sector.
Low inventory levels, strengthening auction markets and new record high loan commitments indicate stronger recovery ahead.
While Australia marked a return to growth in the September quarter, the Australian housing market seems to be out of the woods. Housing prices in Australia are on the rise and can surge further going ahead. The housing prices can top growth of 20 per cent next year if the pandemic remains under control, as against the initial forecast of a 10 per cent to 20 per cent decline by property analysts.
The experts are of the view that tightening labour markets along with re-opening of state borders and credit flow are making buyers more confident than they were during the earlier phase of the pandemic.
Owing to measures such as record low interest rates, fiscal support and containment of coronavirus spread, the majority of economic indicators are indicating faster economic recovery. Hence, the housing sector can look forward to brisk recovery.
Property Market Rebound
According to the latest CoreLogic data, Australia's housing market is seeing a rebound. In November, the national house price index increased by 0.8 per cent. Even as the national index is still below levels seen in March, all capital cities saw a rise in property prices.
The national home value index rose yet again in November and settled sales in the previous three months are estimated to be nearly 1 per cent higher than the corresponding period year ago.
INTERESTING READ: How is Australia's property market scenario panning out?
Strengthening auction markets
The number of auctions is on the rise and expected to see a further hike in the first two weeks of December. The clearance rates held above 70 per cent in November, much above the decade average of 61 per cent, according to CoreLogic data.
Even the median selling time has come down to 42 days in November from 57 days in June. Similarly, the discount rates have come down to 2.8 per cent in November from 3.9 per cent in April.
First time home buyers
The number of first-time home buyers rose by 13,481 in the month of October, up 3.4 per cent from September. According to ABS, it was the biggest jump (30 per cent) as against any pre-COVID-19 month since 2009. Philip Lowe recently stated at a parliamentary committee that it is a good time for first time home buyers to purchase a property of choice.
READ MORE: What will Australia's housing prices look like in 2021?
New record high loan commitments
The new loan commitments for housing have also reached a record level. Both the total value of new loan commitments for housing and the value of owner occupier home loan commitments hit record highs in October, according to the ABS data.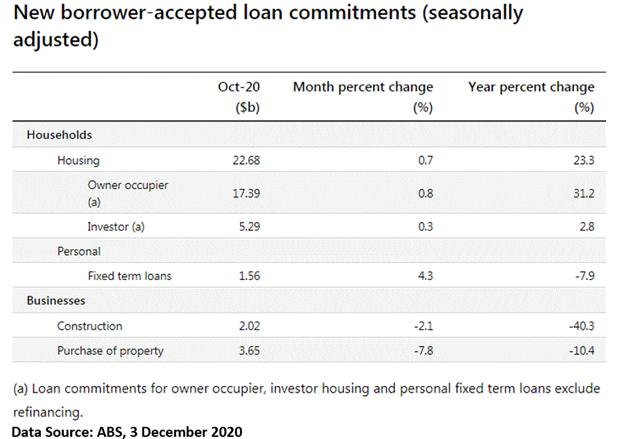 The total value of new loan commitments for housing surged 0.7 per cent to $22.7 billion in October (seasonally adjusted). The value of new owner occupier home loan commitments was up 0.8 per cent to $17.4 billion in October 2020, up over 30 per cent higher than October last year.
Record low interest rates
The Reserve Bank of Australia (RBA) has held the official cash rate at a record low of 0.1 per cent. Lower interest rates have partly driven the property demand as buyers have started to look at housing opportunities amid affordable borrowings.
Commenting on the decision to hold rates at a record low, RBA Governor Philip Lowe said that lowering of rates across the yield curve may help in recovery by reduction on finance costs for borrowers and support to the asset prices and balance sheets.
READ MORE: Residential real estate regains its shine as house approvals hit a 20-year high
Government stimulus
Stimulus in the form of ease in credit lending, such as the HomeBuilder scheme, helped to boost the property sector amid the pandemic. The scheme which provides $25,000 grants to eligible people for building a new home or renovating an existing one has been extended to 31 March 2021. But it has been done at a lower rate of $15,000.
Sharing his view on the move, Australian Prime Minister Scott Morrison said that the extension might result in another 15,000 construction projects, taking the total expected renovations or builds under the program to 42,000.
Even the incentives provided by the State governments such as changes to stamp duty and additional building grants boosted the market sentiments. According to the ABS data, the total value of construction loans surged 10.9 per cent in October, as against the last month. The value has risen 65.6 per cent since July.