The technology sector was amongst the best performing sectors in 2019, delivering a return of 33.47%. Subsequently, the sector witnessed some challenges from the mid of February 2020 amidst COVID-19 outbreak. However, the sector has showed some uptick off late with rise in digitisation, online streaming, internet demand and growing trend of online learning and work from home scenario.
Moreover, technology is likely to be in high demand over the near to medium term, with businesses on the tip to retain their sustainability with cost cutting and productivity enhancing initiatives.
The YTD performance of the Technology sector is better than the benchmark index. The YTD return of S&P/ASX 200 Information Technology in noted to be negative 13.10% while the YTD performance of benchmark index S&P/ASX 200 is negative 18.91%.
In the current volatile environment, the usual high valuation tech stocks are available at a lower price. Moreover, the sector seems to be well positioned amidst positive outlook in 2020 and beyond, supported majorly by four emerging technologies that include Artificial Intelligence, blockchain, IoT and quantum computing. The Government in 2019 introduced 8 AI Ethics Principle for the ethical use of the AI technology in Australia. The AI ethics principle was also supported by big players like Telstra Corporation, NAB, Commonwealth Bank, Microsoft & Flamingo AI.
Keeping all this in mind, let look at few tips for bargain buys:
Investment Tips for Bargain Buys
In Bargain Buys, the investor purchases an asset that is available at a lower price than its fair market value.
During the current unprecedented volatile market, one may follow the below guidelines/tips while making investment/portfolio adjustment decisions basis risk appetite and return expectations:
Look for undervalued stocks. In the present situation, while identifying the undervalued stocks keep three points in mind: Impact of COVID-19 on the business at present, expected COVID-19 impact in future and the financial stability of the company.
Invest in stocks with a clarity about the company, its business and industry dynamics.
While choosing stock available at a lower price, one should differentiate between the companies that have tumbled because of the panic situation in the market but possess stronger fundamentals and robust outlook, and the ones whose businesses are impacted by the headwinds from COVID-19 and are struggling with maintaining balance sheet strength and cash flows.
Maintain a diversified portfolio.
Stocks may look quite attractive when the prices drop significantly. In such a case, one should be aware of the reason of the fall and undertake rigorous fundamental/technical analysis before taking any investment call.
In the present situation, the investors may avoid over-buying or over-selling of any particular stock.
Let's look at some of the potentially attractive IT stocks available at a lower price, analyse their performance and look at any associated impact of COVID-19 on their business:
Megaport Limited (ASX: MP1)
Megaport Limited is the top global provider of Elastic Interconnection services. MP1's international portal allows its customers to quickly connect their network to other services across the company Network backed by SDN.
The shares of MP1 have delivered a YTD return of 12.2%, and in last one month, the shares soared up by 71.76%. MP1 stock traded at $11.430 on 22 April 2020 (3:46 PM AEST).
Q3 Highlights – Decent Financials, Cash Position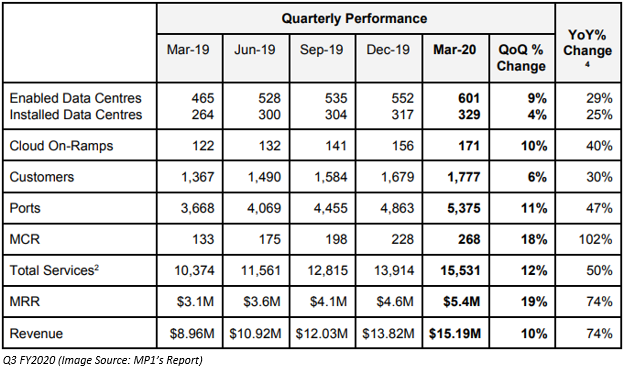 Cash Position of the company by the end of Q3FY2020 ended 31 March 2020 was $108.7 million.
Recently on 8 April 2020, the company completed $50 million Placement by issuing 5,263,158 fully paid ordinary shares in Megaport at $9.50 per share.
The placement funds are indicated to be utilised for accelerating platform expansion opportunities, sales product development., along with building funding capacity for future strategic opportunities.
In case COVID-19 prolongs for a longer time and operations are interrupted for a longer duration, then the company's operating and financial performance needs to be gauged accordingly.
Altium Limited (ASX: ALU)
Provider of the PCB design software, PCB parts as well as data management software, has generated a negative YTD return of 10.6%; however, in last one month, the shares have soared up by 24.4%. ALU stock traded at $30.700 on 22 April 2020 (3:46 PM AEST).
Operational Highlights:
A recent announcement made by ALU on 8 April 2020 confirmed that the company has a strong operational as well as market position. However, because of the rising COVID-19 cases and uncertainty surrounding it, ALU decided to withdraw its earnings guidance for FY2020.
The electronic design is expected to be comparatively strong to withstand the current & evolving market situations. ALU believes business model to be strong amidst current volatile scenario and can be adapted to the new global conditions. This is possible because the company's marketing as well as direct selling takes place over the internet and through the phone. Moreover, the company is accelerating the roll out of Altium 365 amidst growing cloud-based collaborative tools, along with online high volume selling approach.
1H FY2020 Highlights (Period Ended 30 December 2019):
Record growth in new Altium Designer seats of 19%.
Subscriber base grew up by 16% to ~46.7K subscribers.
All core business double-digit growth.
Audinate Group Limited (ASX: AD8)

Audinate Group Limited is the provider of professional audio networking technologies globally. The shares of AD8 delivered a YTD return of -40.8% while in the past one month the shares zoomed up by 88.84%. AD8 stock traded at $4.770 on 22 April 2020 (3:46 PM AEST).
COVID-19 Update:
In the present scenario surrounding COVID-19, the company seems to be well-positioned with a strong balance sheet and recent revenue growth. However, with the rising global cases of coronavirus transmission coupled with the rapid escalation in the Government responses, the company decided to withdraw its guidance.
Over the past six weeks, the primary focus of the company remained the safety and well-being of its employees, contractors and customers. The company has taken initiatives to reduce costs, moderating its near-term employment plans. Expenses on marketing and travel are reduced. It is examining all other discretionary expenses.
The company uses a HK listed contract manufacturer for its adapter as well as module products. The factories are located in mainland China and Malaysia. The reason for manufacturing the products in Malaysia was to reduce the impact of US trade tariffs on Chinese goods as well as to provide business continuity.
By the end of February 2020, the manufacturing facilities in China became operational. The company is hopeful that it would be able to compensate for losses stemming from the temporary Government mandated shutting down of Malaysian operations. Further, the management believes that these arrangements, along with the present inventory, would be sufficient to meet the demand of its clients.
Q3 Update and Cash Position Highlights:
Unaudited revenue for Q3 FY2020 ended 31 March 2020 increased by 14% to US$5.3 million as compared to the previous corresponding period.
It might be possible in the present situation of COVID-19 that customers could revise their ordering pattern during Q4 FY2020 because of the drop in demand and world events.
AD8 confirmed that it is strongly placed to tolerate considerable changes in the sector & economic conditions. The cash position as on 31 March 2020 was $30.9 million with no debt.
While innovation and changing technology landscape determines the near term operational stance of these tech players, unfolding of COVID scenario will further drive their market positioning.