Technology sector has commenced 2020 on a fabulous note after a great 2019. This year, the technology industry and technology stocks touched several milestones. Historically speaking, technology sector has bolstered to push themselves in global markets. From introduction of pioneering newest technologies to the implementation of their large scale known-how, the sector poses a huge growth prospect.
However, the question remains, will this upside persist in 2020. Although, the experts are split on their different judgments, here we give three drivers of technology industry as to why this space evolution is likely to continue in 2020.
Edge Computing
Cloud computing and artificial intelligence will once more control the technology world, but 2020 is likely to be a prospering year for edge computing.
The edge computing market is growing rapidly with the rising implementation of Internet of Things (IoT) throughout industries; growing demand for low-latency handling and real-time, enhanced automated decision-making solutions; and the need for overcoming huge data volumes and web traffic.
The IoT implies to connecting devices over the network or internet for the purpose of interaction. In IoT, tools and gadgets collect data and circulate the same accumulated information in cloud. This aids in faster analysing information and gaining more detailed insights.
Manufacturing enterprises have been very quick in adopting edge computing, thanks to the ever-growing IoT implementation. The move will enhance interoperability among IoT devices, cut down on unexpected idle time problems, and improve overall manufacturing productivity.
According to media sources, the worldwide edge computing market is expected to increase to US$9 billion by 2024, up from US$2.8 billion in 2019. This represents a Compound Annual Growth Rate (CAGR) of 26.5% during same period.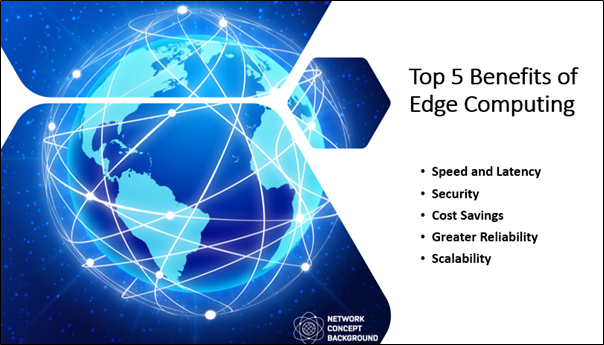 Edge Computing Benefits
Autonomous Driving
Autonomous vehicles are set to transform the idea of transport while adding substantially to the worldwide economy. The rapid expansion in the self-driving vehicle space can mainly be attributed to advances in technology, with the incorporation of vigorous AI and ML capabilities in advanced driver-assistance systems (ADAS).
Additionally, developing neural networking competencies and improvements in digital mapping and hurdle identification functionalities are likely to lead to securer navigation, decrease in number of accidents, and in increasing commuters' ease.
Markedly, growing recognition of mobility as a service (MaaS) solutions and enhanced implementation of 5G are expected to add to the positives. According to media source, self-driving car market is likely to increase at CAGR of 36.2% to reach $173.15 billion by 2023.
Benefits of Autonomous Driving
Extended Reality
Can we imagine a world to live and work in 2030 and beyond? Possibly, yes! Thanks to the innovations in extended reality (XR), which defines the enormous technologies that unites the physical and virtual worlds. More explicitly, it implies to virtual, augmented, and mixed reality.
Augmented Reality (AR) and Virtual Reality (VR) is seeing fast application, primarily attributed to the shift in consumer preferences and business requirements. With hardware prospects and digital facilities becoming more readily available and economical to the common people, AR/VR technologies have progressed extremely well for last few years.
Nearly all key sector including healthcare, retail, pharma, gaming, entertainment, automobiles and construction are using this technology to connect between the actual world and 3D virtual objects in real time.
Mixed reality (MR) is an expansion of AR, that implies customers can interrelate with digital objects placed in the real world.
According to media resources, extended reality market is projected to increase eight folds from 2019 to reach $209 billion by 2022.
Benefits of Extended Reality
Our Picks
At this moment, many stocks are accessible which looks desirable for future growth. However, we have highlighted three stocks that have skyrocketed in 2019 and still have potential for upside in 2020.
Telstra Corporation Limited (ASX:TLS)
One of the Australia's leading telecommunication company, Telstra Corporation Limited provides broad range of information and technology services like internet and pay television, and other mobile-related services. The company is improving opportunities for expertise and competencies in products and technologies that comprises of Internet of Things, cloud computing, machine learning and artificial intelligence and big data.
Telstra Corporation approaches turns out to rotate around four approaches. Firstly, the company seeks to streamline product offerings along with the establishing digital capabilities. Next, it aims on the creation of a separate infrastructure business division along with setting up of optionality after the rollout of nbn. Thirdly, the company is encouraged towards simplifying the overall commercial formation and the way people work to make a healthy business atmosphere, in order to better serve the customers. Lastly, the plan rotates around giving the cost-reduction programs along with strong portfolio management.
Stock Performance
Telstra Corporation has a market cap of $43.05 billion with ~ 11.89 billion outstanding shares. The company's stock was trading at $3.7 on 07 January 2020, up by 2.21% (at AEDT 3:45 PM).
The Citadel Group Limited (ASX:CGL)
The Citadel Group Limited is a software and technology company, which offers secure enterprise information management to improve decision making process throughout the Health, National Security, Defence and other companies. The company recently provided updates on its financial takeaways for FY2019:
The company reported revenue of $99.2 million, a decrease of 6.9% on a yearly basis. The company's EBITDA in FY19 stood at $23.3 million, a decline of 31.7% from FY18. Net profit after tax came stood at $10.9 million, which plumped 43.8% year over year. The company announced a final dividend of 6 cents per share in FY19. Gross profit margin for the period decreased from 52.1% to 45.4% in FY19. The company exited FY19 with cash and cash equivalents of $14.02 million. Total debt for the period stood at $12 million.
The company foresees an encouraging return to revenue and EBITDA in FY2020. It expects a Low double digit growth in organic revenue. The company anticipates FY20 margins to be in line with FY19.
The company is devoted for protecting people and safeguard data. CGL predicts to create shareholders' value in the days ahead. The company believes that SaaS and software-based services revenue, will witness expansion on the back of elevated implementation of Citadel 2.0 approach.
Stock Performance
The Citadel Group Limited has a market cap of $237.66 million with ~ 49.31 million outstanding shares. The company's stock was trading at $4.845, up by 0.519% (at AEDT 3:54 PM).
Appen Limited (ASX:APX)
Established in 1996, Appen Limited is a supplier and developer of data solutions for artificial intelligence and machine learnings applications. The company has >180 unique languages with a strong control in the AI-based data annotation platform in the industry.
During August 2019, the company provided financial performance for the half-year ended 30th June 2019. Some of the highlights from the same are as follows:
Appen Limited's revenues soared 60% year over year to stand at $245.1 million. Relevance revenue climbed 48% during the period to reach at $193.7 million. Underlying EBITDA was $46.3 million, an increase of 81% year over year. Underlying EBITDA margins increased from 16.8% to 18.9% in FY19.
Stock Performance
Appen Limited has a market cap of $2.68 billion with ~ 121.11 million outstanding shares. The company's stock was trading at $22.730 on 07 January 2020, up by 2.572% (at AEDT 3:58 PM).
---
Disclaimer
This website is a service of Kalkine Media Pty. Ltd. A.C.N. 629 651 672. The website has been prepared for informational purposes only and is not intended to be used as a complete source of information on any particular company. Kalkine Media does not in any way endorse or recommend individuals, products or services that may be discussed on this site. Our publications are NOT a solicitation or recommendation to buy, sell or hold. We are neither licensed nor qualified to provide investment advice.