The year 2019 remained a great year for the Australian technology sector. The S&P/ASX 200 Information Technology sector delivered a return of 32.96% during 2019, while the benchmark index S&P/ASX 200 delivered a return of 22.44%. This shows that the technology sector surpassed its benchmark index in 2019.
Before we comment on the technology sector future, let's take a look at the journey of the segmentin 2019.
During February 2019, Australian Tech sector received a $326 million investment from three international tech companies which targeted Australia for expansion.
Equinix - the US data centre giant spent $225 million in new Sydney facility to meet the improved demand for computing capacity.
Cisco provided $61 million into new plans to invest in local start up companies, develop critical infrastructure as well as assist in digitising government department.
Another fast-growing Indian software company, Zoho spent around $40 million to establish itself in Australia and bring jobs in the region.
Digital technology, during 2019, continuously provided Australian businesses, governments, individuals as well as communities the impetus to grow and innovate. As the emerging technology combines with the operations and day to day lives of Aussies, new ways will emerge that would help in the increasing productivity and also enhance the living standard.
As per the report 'Australia's Digital Pulse 2019' published by ACS (Australian Computer Society), the demand for technology workers is expected to rise by 100k between 2018 and 2024 in trend terms. The number of technology workers is also anticipated to increase to 792,000 workers.
During 2019, the pipeline of technology employees improved progressively. The admission in IT degrees by domestic university students went up by more than 50% since the low of the late 2000s. There has been an increase in the female representation in the technology staff as well.
The report also stated that there have been initiatives towards developing Australia's technology workforce. These include improving the flexibility of learning programs to educate workers in digital skills like mastery-based learning & better recognition of smaller flexible curriculums as formal credentials. The investment was also made for developing the foundation literacy, numeracy and digital skills of the workers that are required for technology-related reskilling.
In 2019, there were greater private and public investment in the enhancement of core smart city infrastructure such as reasonable, low-bandwidth wireless networks and sensors in the cities. There were also more technical support & funding for smart city initiatives at the local level. Standard roadmaps were developed to lessen the load of compliance and enhance the interoperability of smart city technologies.
Initiatives were taken to attract more digital investment in Australia.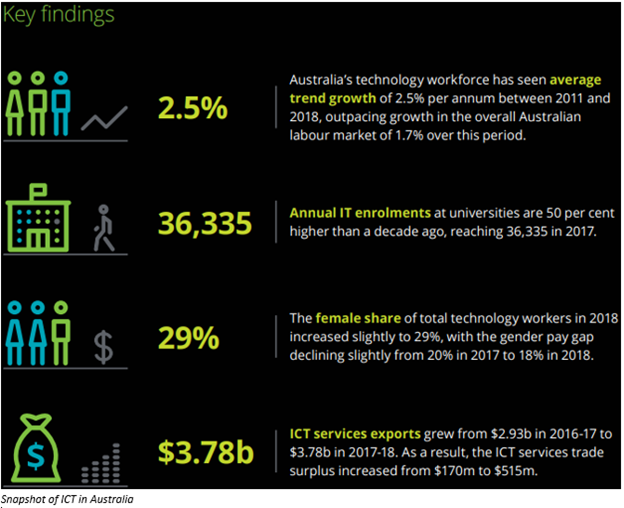 Melbourne is known as the technology hub of Australia and is the home to more than half of the top 20 technology companies in Australia.
As compared to other Australian cities, Melbourne produces more ICT graduates. The city has the nation's biggest pipeline of new ICT talent which is led by best universities & advanced technical colleges.
The region is known as the electronic games centre of Australia producing several popular games, learning apps, advertising campaigns, online retail solutions. It is the only global city beyond the United States to organise the world-renowned ultimate gaming expo.
Victoria's ICT (Information and Communications Technology) industry comprises of more than 8k organisations which include international firms like IBM, Intel & Microsoft as well.
Victoria's ICT industry is considerably big, and it generates annual revenue of $34 billion and employs approximately 91.3k individuals directly.
Some of Victoria's key ICT strengths includes Software development, Digital games, Mobility technology, Cloud technology, Data analytics & Social networks.
The Victorian state government also supports the ICT sector. The region has among the smallest rate of business tax of any Australian state & it gives investors with some of the most generous R&D assistance in a cost-competitive business atmosphere.
Australia's Technology Future
As per the report released by the Australian government, Australia would be able to maximise the opportunities of technological change by concentrating on four areas which are people, services, digital assets and maintaining the cyber security followed by reviewing the regulatory systems.
In the upcoming years, emerging technologies such as artificial intelligence, blockchain, IoT and quantum computing is projected to evolve & improve many basic tasks as well as interactions.
Artificial Intelligence (AI) is an emerging technology in Australia that is capable of automating the repetitive or any dangerous task. It helps in increasing productivity and will enable the development of innovative customer products. On a global scale, AI is expected to add trillions of dollars in the coming decades. On this front, the Australian government had introduced 8 AI Ethics Principles which was supported by some of the Australian players like Telstra, NAB, Commonwealth Bank, Microsoft & Flamingo AI.
Blockchain is a digital platform which records, verifies & stores transactions that are being shared throughout a network of computers as per a certain set of rules. Using the cryptography method, the transaction is made secured. This eliminates the need of verification made by the central authority.
Internet of things (IoT) refers to the growing applications of sensors that are used for recording things like sounds, touch, movement, temperature & chemical composition that is being used to gather data related to people, object and environment and transmit the data via the internet. The increasing use of this technology has made it possible to obtain sensors at a cheaper rate.
Another technology that would bring revolution in the fields of technology is quantum computing which is also an emerging technology that would increase the available computing power exponentially and assist in solving the problems that cannot be tackled with the present computers. Quantum computing is capable of cracking the code easily that has the potential to disrupt existing security methods.
It may also be of interest to know that Australia is known as a world leader in silicon-based quantum computing research. It is one of the most encouraging ways of developing a commercially feasible quantum computer. As a part of the National Innovation and Science Agenda, the government in partnership with leading academic institutions and businesses has invested $25 million in Silicon Quantum Computing Pty Ltd venture.
The year 2020 is the beginning of a new decade with a scope of bringing revolution to the technology sector. As highlighted above, the four technological advancements are expected to flourish and influence the technology sector in 2020 in Australia and across the globe.
---
Disclaimer
This website is a service of Kalkine Media Pty. Ltd. A.C.N. 629 651 672. The website has been prepared for informational purposes only and is not intended to be used as a complete source of information on any particular company. Kalkine Media does not in any way endorse or recommend individuals, products or services that may be discussed on this site. Our publications are NOT a solicitation or recommendation to buy, sell or hold. We are neither licensed nor qualified to provide investment advice.