Bitcoin:
Bitcoin is a cryptocurrency which is a type of electronic cash. It is a decentralized digital currency which does not require a central bank or any single administrator and can be transferred through the bitcoin blockchain network where there is no need of any mediation. Bitcoin, being a cryptocurrency, is difficult to imitate because of high levels of security.
Bitcoin is a digital currency that works on peer-to-peer technology. It is used for making faster payments.
Bitcoin came into existence in the year 2009 and was developed by a programmer, Satoshi Nakamoto; and slowly it became popular amongst the masses. Earlier, this technology had to face a lot of criticism and was considered as a scam amongst the people due to several negative factors perceived to be associated with it. However, after understanding the power of the digital currency, users started looking at it in a positive way.
Advantages and Disadvantages of Bitcoin:
Bitcoins are anonymous and private. It means that the bitcoin transactions cannot be identified, which makes it superior to the payment made through banks where it is easy to track and identify the transaction. The user of bitcoin knows the address of the bitcoin wallet at which the payment would either be sent or received.
Bitcoin requires no intermediaries. It can be transferred to any corner of the world.
It requires very less or no transaction fees. Fee depends on how fast the user wishes to process the transaction.
Bitcoin transaction involves fewer risks for the merchants as transactions are very safe to implement.
Transaction processed using bitcoins are generally faster as compared to internet banking.
The biggest advantage of bitcoin is that the payment information cannot be stolen from the merchants by other users.
Disadvantage of Bitcoin:
The biggest disadvantage of the bitcoin is that it is still not widely accepted by people. Thus, one cannot rely on bitcoins completely.
Since payment made via bitcoin cannot be tracked, it may be possible that the government may ask the merchants to stop the usage of bitcoins.
There are chances that the bitcoin wallet might be lost in scenarios when the system gets infected by a virus or the system crashes, or the wallet file gets corrupted.
Bitcoin value fluctuates as per the demand.
Any product purchased through bitcoin cannot be refunded as the transaction cannot be reversed in case the product is not up to the mark.
Bitcoin can only be used for online transaction. It cannot be used in case of any transaction done at a physical store.
Security Matters Limited
Security Matters Limited (ASX: SMX) uses chemical-based barcode technology to invisibly mark solid, liquid or gas. Through its technology, the company is able to track as well as trace the supply chain. The object marked using chemical-based barcode technology can be read using its proprietary reader, which makes possible to track the product throughout the supply chain.
All the details related to the supply chain gets stored through blockchain, ensuring that the transaction is safe and also transparent.
Stock Information:
By the end of day's trading on 20 September 2019, the shares of SMX closed flat at A$0.380. SMX has a market cap of A$41.77 million and approximately 109.91 million outstanding shares.
Identitii Limited
Identitii Limited (ASX: ID8) is a financial technology company, and it uses blockchain technology to minimize the risk associated with the sharing of data and documents between corporates and banks.
The company, through its platform Overlay+, helps banks as well as the corporates to improve their existing technology infrastructure and facilitates in exchanging the data and documents securely either internally or externally.
Overlay+ Features:
Its platform uses private blockchain which offers an auditable, time-stamped as well as a tamper-proof record of actions, thus helping improve the communication between banks and corporates.
The platform enables sharing of intelligent information with the organisation as well as trusted third parties, instantly.
The platform positions itself in the application layer. Thus, it gets connected through API.
It has unique identifiers which are known as Identitii Tokens, which unlock access to the blockchain.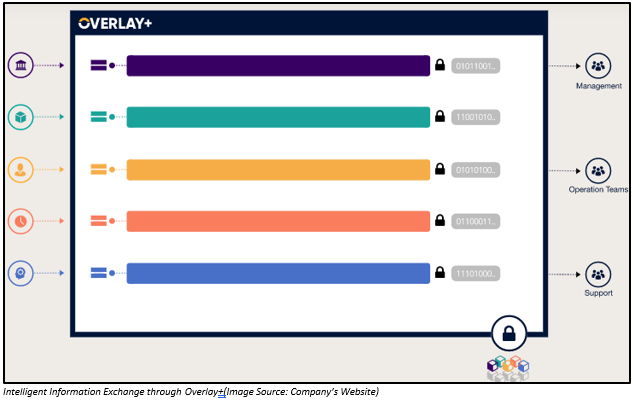 Stock Information:
The shares of ID8 traded last on 18 September 2019 at a price of A$0.270. ID8 has a market cap of A$14.72 million and approximately 54.52 million outstanding shares.
Kyckr Limited (ASX: KYK) is a company which provides international corporate intelligence from the world's most legitimate authoritative as well as compliant sources. Kyckr Limited is associated with more than 200 company registries of the world, across 120 nations and more than 170 million legal units.
The company, through its products and services, supports organisations with respect to regulatory, know your customer as well as compliance issues.
Solutions:
Kyckr for Business
Kyckr Perpetual KYC
Kyckr API
Kyckr Company Watch

Stock Information:
By the end of day's trading on 20 September 2019, the shares of KYK closed at A$0.240, up by 20% as compared to its previous closing price. KYK has a market cap of A$45.86 million and approximately 229.32 million outstanding shares.
DigitalX Limited
DigitalX Limited (ASX: DCC) is a Blockchain company, and its offices are located in Perth, Sydney as well as New York. The company is into the business of blockchain consulting and development services. It also provides asset management services which focusses on technology, which includes Blockchain along with other developing technologies.
Services:
Blockchain Consulting:
DigitalX includes deployment of smart contract, blockchain selection advice along with solution architecture, API incorporations as well as technical support for private and government sectors.
Asset Management:
The company, through its Internet-enabled sensors, autonomously gathers data from around the world and uses blockchain technology to enhance its ability to use this data for useful purposes.
?At DigitalX Asset Management, the company's portfolio management as well as research team members, look at technologies that create challenges as well as opportunities across multiple industries such as agriculture, supply chain, healthcare along with living environments such as smart homes and smart cities.
Stock Information:
By the end of day's trading on 20 September 2019, the shares of DCC closed at A$0.029, down by 6.452% as compared to its previous closing price. DCC has a market cap of A$18.48 million and approximately 596.22 million outstanding shares.
Yojee Limited
Yojee Limited (ASX: YOJ) is a logistics technology company. Its logistics software uses Artificial Intelligence (AI), blockchain technology and Machine Learning for optimizing as well as handling delivery operations. It charges an affordable rate on a monthly recurring license fee model. The company also provides opportunities to others to connect to the first collaborative cross border logistics network which connects shippers, carriers as well as freight forwarders in a very short span of time.
Product Overview:

Stock Information:
By the end of day's trading on 20 September 2019, the shares of YOJ closed at A$0.078, down by 6.024% as compared to its previous closing price. YOJ has a market cap of A$70.34 million and approximately 847.44 million outstanding shares.
Fatfish Blockchain Limited
Fatfish Blockchain Limited (ASX: FFG) was founded in the year 2011 and recognized as the incubator partner by the government of Singapore. It enters into partnership with the budding entrepreneurs and supports them in building and growing their internet ventures through co-entrepreneurship partnership. Under the partnership, FFG remains the strategic investor who supports the business in terms of funding, networks as well as corporate resources to speed up the growth of internet businesses.
Stock Information:
The shares of FFG traded last on 17 September 2019 at a price of A$0.009. FFG has a market cap of A$ 6.66 million and approximately 740.19 million outstanding shares.
Animoca Brands Corporation Ltd
Animoca Brands Corporation Ltd. (ASX: AB1) is a company which uses technologies such as gamification, blockchain, and artificial intelligence for developing as well as publishing a wide range of mobile products which comprises of games.
AB1's portfolio comprises of blockchain investments along with partnerships which comprise of Lucid Sight, Dapper Labs, WAX, Harmony as well as Decentraland.
Games: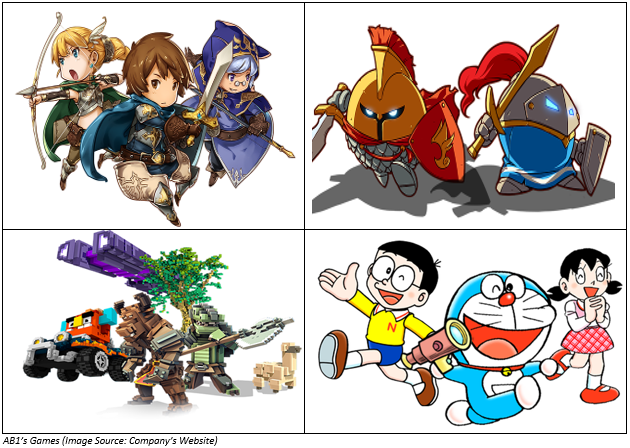 Stock Information:
The shares of AB1 are in suspended status. They traded last on 30 August 2019 at a price of A$0.180 per share and AB1 has approximately 896.47 million outstanding shares.
---
Disclaimer
This website is a service of Kalkine Media Pty. Ltd. A.C.N. 629 651 672. The website has been prepared for informational purposes only and is not intended to be used as a complete source of information on any particular company. Kalkine Media does not in any way endorse or recommend individuals, products or services that may be discussed on this site. Our publications are NOT a solicitation or recommendation to buy, sell or hold. We are neither licensed nor qualified to provide investment advice.