Have you heard Peter Lynch's famous advice to investors?
"Stand by your stocks as long as the fundamental story of the company hasn't changed"
If you have had not, we will tell you why the current times in the sinusoidal stock market are proving that these words are right- thanks to the famous FAANG stocks that have proved that there can be lucrative investment opportunities even when the markets are on a downward spiral and sell off spree.
FAANG Stocks- The Ideal Stay-At-Home Stocks?
The broad market sell-off lingers and has been taking a toll on investors even though there are sporadic corrections majorly at the back of government stimulus packages and ramping up of COVID 19 vaccine & treatment R&D across the world. The key indexes such as the Dow and S&P 500 have been down on a year to date basis, by 27 per cent and 24 per cent, respectively.
However, amid the slumped market trend, America's prominent technology companies, which constitute the FAANG- Facebook, Amazon, Apple, Netflix and Alphabet (formerly known as Google) have been talk of the Wall Street. Their popularity amid the crisis period has been widespread enough for them to be referred to as the ideal "stay-at-home stocks".
The below image explains briefly what could have possibly propelled the FAANG family to become the investors favourite in these crisis times-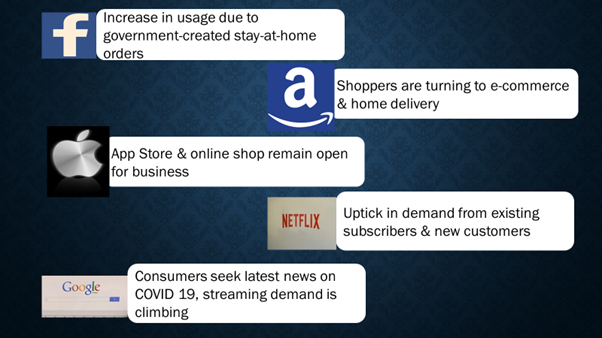 (Images Courtesy- Pixabay)
Primarily, we should acknowledge the fact that in the ongoing global environment, the concept of stay-at-home stocks makes perfect sense.
Moving on, there is a commonality between these stocks that might have them in the safe Stay-At-Home category- these are the companies whose products and services is expected to potentially benefit customers in a world of quarantine and self-isolation.
Another commonality is the strong business models that these five companies adhere to and their effective and efficient capacity to shift as per consumer or enterprise demand during challenging times.
Let's deep dive-
Facebook- The Network Connecting People Amid Self-Isolation
The social media titan, Facebook has been connecting the world as people adhere to government's stay-in orders. The medium not only is keeping family and friends in touch in the times of crisis but is also likely to have more daily active users in this period. If one adds the Company's other platforms -- Instagram, Messenger, and WhatsApp- it is pretty much established that currently, no other platform has the scale and user base to match Facebook.
Moving on to the corporate end, while announcing the financial results for the quarter and full year ended 31 December 2019, founder and CEO Mark Zuckerberg stated that the community and business continues to grow and the Company is focused on building services that help people stay connected to those they care about. Cash and cash equivalents and marketable securities amounted to US$54.86 billion as of 31 December 2019.
The Company is due to release its first quarter (2020) business report on 29 April this year.
Amazon- The Go-To-Store For Supplies
Experts opine that this e-commerce and home delivery giant can evolve as the biggest winner from the outbreak of coronavirus. Why? The answer is simple- people will rather order supplies online than visit stores and Amazon has a hoard of supplies to meet user demands. Sensing the expected rise in demand, the Company has been hiring new workers and has shifted its focus to consumer staples and medical supplies (few at lucrative offers too).
A major add on is Amazon's streaming service- Prime video which is garnering quite some existing and new user traction with stay-at-home measures on the rise. Not to forget the much-needed Amazon Web Services (AWS) cloud platform currently.
Net sales had increased 21% to US $87.4 billion in the fourth quarter of 2019 and 20% to US $280.5 billion for FY19.
Apple- Will Revenue Still Grow?
One would opine that with retail stores around the world shuttered and manufacturing industry experiencing a hard-hit from the virus plague, Apple might face a negative impact. A- no one will shell out cash for buying high-end devices and B- manufacturing momentum will need some time to kick back in.
But here is a brighter picture as to why Apple can be positioned as a stay-at-home stock- a chunk (almost one-fourth) of the Company's revenue come from services and wearables and the famous App Store and Apple's online shop remain open for business amid the coronavirus environment.
Here's another fact- last quarter, fiscal 2020 first quarter ended 28 December 2019, Apple recorded its highest ever quarterly revenue, catalysed majorly by solid demand for the iPhone 11 & Pro models, services and wearables. The all-time net income record registered was US $22.2 billion.
Netflix- And Chill, Because the World Surely Is!
Experiencing a surge in existing subscribers and new ones is Netflix, as users have been choosing it for its relatively inexpensive package options. Netflix has one if the highest number of options streaming online and has continued to introduce new choices for viewers as they sit back home, willing to Netflix & Chill.
Share market experts also opine that the stock can defeat modest estimates when it reports its first quarter for this year's earnings results on 21 April.
Google- Keeping You Informed Amid Pandemic
At present times, the need for search is greater than it has been in a very long time. A- COVID 19 updates are live and streaming on Google and B- people aren't really meeting one other to be aware of what's happening nor are able to learn new things via human interactions.
An icing on the cake is the increase in the streaming demand, as YouTube is the go-to option when it comes to seeking information currently.
Not to miss the rock-solid earnings results. In 2019, the Company delivered strong revenue growth, with revenues worth US $162 billion, up by 18% (on a y-o-y basis) and 20% (on a constant currency basis).
FAANG Stocks Recent Performance
Now that we understand that the FAANG family is proving to be a lucrative stay-at-home option in the current times, let us gauge over the respective stock performance (after market close on 13 April 2020)

---
Disclaimer
This website is a service of Kalkine Media Pty. Ltd. A.C.N. 629 651 672. The website has been prepared for informational purposes only and is not intended to be used as a complete source of information on any particular company. Kalkine Media does not in any way endorse or recommend individuals, products or services that may be discussed on this site. Our publications are NOT a solicitation or recommendation to buy, sell or hold. We are neither licensed nor qualified to provide investment advice.