The legal cannabis market in Australia is set to boom, and cannabis is turning out to be the one thing that wouldn't be hampered by seasonality. The country has one of the largest medicinal cannabis markets that is regulated by the federal government. The cannabis industry is one of the most disputed sectors throughout the world, and over the past few months, significant development has been observed in the industry.


                              
In the first few weeks of the COVID-19 pandemic, the government of Australia labelled specific "nonessential" sectors for applying constraints in the operations. However, the medical cannabis industry was not a part of that list suggesting that cannabis manufacturers and suppliers remained open during the lockdowns. Moreover, Australia recently reported the best month for medical cannabis concerning the number of patient approvals.
ALSO READ: Can Pot Stocks Survive Coronavirus?
Furthermore, industry group Medicinal Cannabis Industry Australia (MCIA) also stated that medical cannabis is eligible as an essential service under the public health orders announced by the state as well as the territory government. Hence, the cannabis industry is catching investor's eye amid the COVDI-19 pandemic.
In the given backdrop, we will highlight five ASX-listed cannabis stocks- AGH, LPG, EXL, BOT, AC8.
Althea Group Holdings Limited (ASX: AGH)
Little Green Pharma Ltd (ASX: LGP)
Elixinol Global Limited (ASX: EXL)
Botanix Pharmaceuticals Limited (ASX: BOT)
AusCann Group Holdings Limited (ASX: AC8)
Althea Group Holdings Limited (ASX:AGH)
ASX-listed licensed medicinal cannabis player Althea is engaged in the distribution of pharma-grade cannabis for patients with debilitating ailments. The Company currently operates in the cannabis market of the UK, Australia, and Germany, and it is planning to increase its operations into the Asian and European cannabis market.
Supply and Distribution Agreement in Germany
According to an ASX announcement dated 1 May 2020, Althea revealed that it had completed a supply and distribution agreement for a 3-year period with Nimbus Health GmbH, which is a pharmaceutical wholesaler in Germany with nearly 25% market share of medicinal cannabis sales.
Althea mentioned that with this agreement, Nimbus would distribute and sell the Company's comprehensive suite of medicinal cannabis formulations in Germany under the brand name of Althea starting in H2 CY2020.
Furthermore, the Company stated that it would receive payment for products supplied to Nimbus, in conjunction with the net profit of 50% on sales and it would preserve possession of all real-world anonymised patient information gathered through Althea Concierge™.
March Quarter Highlights:
On the cash flow front, the Company recorded unaudited revenue of nearly $1,52 million for the March quarter, demonstrating an upsurge of 39% from the December quarter. The cash receipt from customers in March quarter stood at $1.49 million.
The Company reported nearly 5.8k patients at the end of three months to March with 596 new added in March. The number of Healthcare Professionals (HPs) having prescribed Althea's the medicinal cannabis formulations also increased to 509, as of 31 March 2020.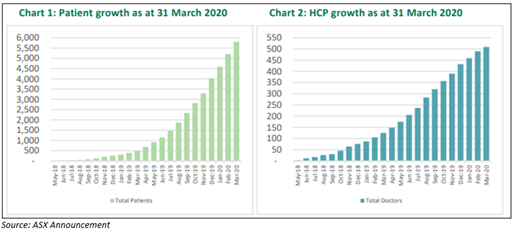 AGH stock rose by 5.128% to close the day's trade at $0.410 on 11 May 2020. With a market cap of $90.99 million, the Company has 233.31 million outstanding shares on the ASX.
Little Green Pharma Ltd (ASX:LGP)
ASX-listed medicinal cannabis player Little Green Pharma Ltd is into the cultivation and production of cannabis through to manufacturing and distribution. The Company has its indoor cultivation capacity in Western Australia, and an exclusive partnership with a GMP licensed pharmaceutical manufacturer for LGP branded medicinal cannabis formulations.
LPG granted Manufacturing Permit by ODC
On 11 May 2020, Little Green Pharma revealed that the Company had received a grant from the Office of Drug Control (ODC) over its manufacturing facility.
The Manufacture Permit will allow LGP to manufacture cannabis extracts for supply to holders of Therapeutic Goods Administration ("TGA") GMP manufacturing licences to produce finished medicinal cannabis products.
The Permit has been granted until 10 March 2021, which aligns it with the terms of LGP's ODC Medicinal Cannabis and Manufacture licences.
Financial and Operational Highlights-
On the operational front, the Company achieved a track record of growing patient access and reported robust growth in sales and patients using its products across Australia. In March, more than 3k patients have used LGP's products in Australia.
On the cash flow front, the Company generated revenue of $716,000 up by 188% for six months (H1FY20) vs 12 months to FY19.
The Company's financial as well as operational metrics reported being on a growth trend:
On 11 May 2020, LGP stock rose sharply by 16.418% to close the day's trade at $0.390. with a market cap of $44.72 million, the stock has 133.5 million outstanding shares on the ASX.
Elixinol Global Limited (ASX:EXL)
An ASX-listed global leader in the cannabis space, Elixinol Global Limited is into the business of cannabis-derived food, dietary supplements, including some other wellness products, as well as also involved in the cultivation and production of medicinal cannabis.
EXL Stock raised by 46.154% following the Class Action Dismissed-
On 5 December 2019, EXL updated the market regarding Elixinol, LLC (EXU) which is a Colorado Limited Liability Company. According to this update, EXL became concerned of a class-action suit filed in district court the US, for the Northern District of California claiming that EXU formulations are mislabeled as dietary supplements, and this might constitute deceptive conduct.
On 11 May 2020, Elixinol Global revealed that the class-action suit filed against EXU in the US District Court had been dismissed.
Sale of Nunyara Land:
On 7 May 2020, the Company disclosed the sale of the land owned by Nunyara Pharma Pty Ltd to a private individual for nearly $2.56 million. The settlement for the contract is scheduled to occur on 22 May 2020.
On 11 May 2020, stock of EXL skyrocketed by 46.154% to close the day's trade at $0.475. With a market cap of nearly $44.82 million, EXL stock has 137.89 million outstanding shares on the ASX.
Botanix Pharmaceuticals Limited (ASX:BOT)
ASX-listed health care player Botanix Pharmaceuticals Limited is a clinical-stage cannabinoid Company which is engaged in the development of cannabidiol based pharmaceutical products.
Quarterly highlights for the March quarter (ended 31 March 2020)
Botanix revealed that the recruitment of BTX 1801 Phase 2a clinical trial to recommence once the restrictions due to COVID-19 pandemic ease.
Grant of QIDP designation for BTX 1801- Botanix disclosed that US FDA granted QIDP designation for BTX 1801 after the quarter, enabling Botanix to an extra 5-years of market exclusivity, with the eligibility for FDA fast-track status.
BTX disclosed that the additional data released from the BTX 1503 Phase 2 clinical study and preparations in progress for the end of Phase 2 meeting with the FDA, targeting the end of the second quarter of the CY 2020.
Moreover, the Company mentioned that it remains in a robust financial position, with a cash balance of nearly $30.43 million as of 31 March 2020.
On 11 May 2020, BOT stock closed the day's trade at $0.044, down by 2.222%, with a market cap of nearly $43.77 million.
AusCann Group Holdings Limited (ASX:AC8)
Australian healthcare company AusCann Group Holdings Limited is into the development and distribution of cannabinoid-based medicinal products in Australia and globally. The Company offers stable, standardised and reliable cannabinoid-based therapeutic formulations to the physicians to treat patients.
Completion of recruitment and initiation of its first clinical evaluation
On 28 April 2020, AusCann disclosed that the successful completion of recruitment and beginning of its first clinical evaluation at Nucleus Network (an independent clinical site).
AC8 is conducting a phase 1 clinical study in healthy volunteers, which is an open-label, randomised, cross-over study for assessing pharmacokinetics of a single dosage of two orally administered formulations of THC/CBD combination.
Moreover, AC8 disclosed the primary endpoints of phase 1 clinical trial are the assessment of the pharmacokinetics of THC, CBD, and 11-hydroxy-THC (the main active metabolite of THC), after oral administration of THC and CBD in a ratio of 2.5mg:2.5mg and 10mg:10mg.
On 11 May 2020, AC8 stock closed the day's trade at $0.170, in line with the previous close. The stock has a market cap of nearly $53.9 million.