With the Australian equity market trading in the green zone today, investors are closely monitoring profitable options in the stock market, seeking positive returns. Amidst the mixed performance scenario of the companies in the ongoing reporting season, low interest rate regime, falling global bond yields, below are some of the stocks market players are keenly eyeing on-
Covata Limited
Australia-based Covata Limited (ASX: CVT) provides data-centric security software solutions enabling the clients to identify, classify, protect and control access to sensitive information. This ensures cost reduction, improved efficiency and risk reduction for the businesses and governments.
Prospectus Offer Extension- Recently on 8 August 2019, the company announced an update with respect to the proposed acquisition of dataglobal GmbH, including the Equity Offer capital raising ($ 13.7 million) as per the Prospectus lodged with ASIC and released to ASX on 26 June 2019. Accordingly, the closing date for the offer has been extended until Friday 13 September 2019 from 8 August 2019, following a strong and positive support received from the company's largest institutional investor and considerable interest from prospective investors, which calls for extra time to complete the raise.
The indicative timetable for the Offer is given below-

Business Update – Covata released its quarterly result for the three months to 30 June 2019 with the receipts from customers amounting to a record AUD 882K, compared with AUD 396K in the prior corresponding period (pcp), resulting in total receipts of AUD 1.87 million for the 12 months to June 2019. The product wise revenues comprised AUD 1.18 million from SafeShare/SafeShare for ITAR, AUD 639K from Eclipse and AUD 53k from Discover & Classify.
The June quarter was particularly major for the company with both new sales in the United States for its SafeShare for ITAR product as well as its first major European sale of the Eclipse SharePoint security product.
The Underlying operating costs for the June quarter were ~ AUD 1.82 million as compared to AUD 1.70 million in the March 2019 quarter. The company closed the quarter with AUD 979K cash (AUD 2.2 million as on 17 July).
The securities of Covata Limited has been in suspension since January 2019, last traded at AUD 0.015 (as at 1:36 PM AEST).
iSignthis Ltd
Melbourne, Australia-based iSignthis Ltd (ASX: ISX) provides remote identity verification and payment authentication along with e-money deposit taking, transactional banking and payment processing services for merchants via its Paydentity™ and ISXPay® solutions.
The company's market capitalisation stands at around AUD 1.06 billion with approximately 1.09 billion shares outstanding. On 9th August 2019, the ISX stock is trading at AUD 1.050, edging up 7.7% by AUD 0.0.075 (as at 1:36 PM AEST). In addition, ISX has delivered high positive returns of 490.91% in the last six months and 550% on YTD basis.
On 8 August 2019, iSignthis announced that it had entered into an Australian Principal Member licensing agreement with the Asia Pacific Singapore based regional subsidiary of Visa Inc. The agreement would enable the company to act as a merchant's card acquiring institution, and process card not present (online/remote) payments and make settlements on behalf of the merchant from cards issued anywhere globally by other Visa Principal or Associate member institutions.
The company's major source of revenue is the percentage fee known as the Merchant Discount Rate (MDR) charged to the contracted merchants on the sale amount processed on behalf of the merchant.
iSignthis also mentioned that the overall value of the card processing market in Australia was $ 748,110.6 million in 2017 across all card schemes, with the majority of that value being in retail point of sale as card present transactions.
FY2019 Q2 (H1) Investor Update – On 30 July 2019, the company disclosed its financial results for the second quarter of 2019, posting the revenues at $ 6.3 million, up 240 % from $ 1.85 million in Q1 2019. This takes the total revenue for the first half of 2019 (H1 FY19) to $ 8.173 million.
Besides, the company's Gross Processed Transaction Volume (GPTV) on the Tier 1 (Principal member) network remained steady with an Annualised GPTV of $ 690 million (as of 19 July 2019), up 81% from end Q1 FY19 GPTV of $ 380 million (based on actual weekly run rate).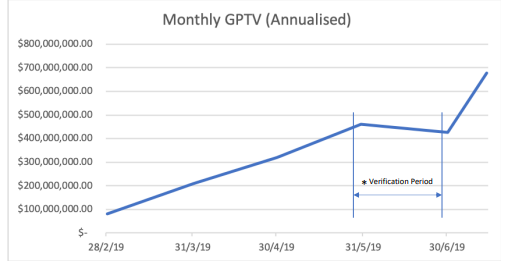 Source: FY2019 Q2 (H1) Investor Update
Animoca Brands Corporation Limited
Animoca Brands Corporation Limited (ASX: AB1) is engaged in the development of gaming products based on gamification, blockchain, and artificial intelligence technologies. Its extensive mobile products portfolio comprises games like Crazy Defense Heroes, The Sandbox, Crazy Kings etc as well as intellectual properties-based games like Garfield, Snoopy, Formula 1®, Thomas & Friends™ and others.
On 9 August 2019, the AB1 stock is trading at a market price of AUD 0.200 with ~821 million outstanding shares. In addition, AB1 has generated positive returns of 122.22% in the last six months and 100% on YTD basis.
Quidd Acquisition - The company recently informed the stakeholders that it had entered into a term sheet agreement, via its wholly owned subsidiary Animoca Brands Limited, to acquire 100% of the issued capital in the New York, US-based digital goods company, Quidd, Inc, subject to shareholder approval and due diligence. The company has also completed a strategic capital raising of AUD 8 million to support the progress of business opportunities as well as drive the expansion of Quidd.
The strategic rationale behind the acquisition is that Quidd has significant intellectual property (IP) and media relationships that offers Animoca Brands a great economic potential for expansion, upon addition of more than 325 of the globally renowned IP including properties from Marvel, HBO, CBS, Cartoon Network, the NBA, Disney, and several others.
Quarter Update – For the three-month period from 1 April 2019 to 30 June 2019, the company recorded cash receipts from customers of AUD 9.1 million for the quarter and AUD 13.2 million for the first half of 2019. There was a positive operating cash flow of AUD 2.9 million received during the Quarter while the unaudited revenues amounted to approximately AUD 8.7 million for the three months and AUD 13.0 million for the first half of 2019.
Prospa Group Limited
Prospa Group Limited (ASX: PGL) offers cash flow products and services to small business owners and has originated over $ 1 billion in loans across AU and NZ market as on March 2019 end. The company has ~19,000 unique small business customers. Prospa Group's market capitalisation stands at around AUD 692.19 million with ~ 161.35 million shares outstanding. On 9 August 2019, the PGL stock is trading at AUD 4.290 (as at 1:36 PM AEST).
The company recently debuted on the ASX in June 2019.
Recently on 8 August 2019, the company announced to have established its first warehouse facility, particularly to fund New Zealand small business loans, demonstrating an important move in line with its long-term capital management strategy. The initial capacity of the three-year committed facility would be around NZD 45 million with a design that allows for seamless scalability, quite similar to Prospa's Australian funding platform structure. Besides, the funding costs are broadly steady with the levels observed for Prospa's Australian market facilities.
For the above initiative, Prospa Group has established a partnership with a top-tier local funding partner who holds a long-term record of supporting the small businesses in the region and therefore, has a robust understanding of the small business segment. Further, the funding partner has contributed to Class B Notes in the New Zealand facility and provides a foundation for having superior Class A investors on-board in the future.
---
Disclaimer
This website is a service of Kalkine Media Pty. Ltd. A.C.N. 629 651 672. The website has been prepared for informational purposes only and is not intended to be used as a complete source of information on any particular company. Kalkine Media does not in any way endorse or recommend individuals, products or services that may be discussed on this site. Our publications are NOT a solicitation or recommendation to buy, sell or hold. We are neither licensed nor qualified to provide investment advice