While many ASX listed stocks were impacted by the COVID-19 pandemic and struggling to survive during the period, some companies took this time as an opportunity to evolve itself for a better tomorrow.
The initiatives and the progress made by them have given confidence to the viewers to think about these industries. In this article, we would be looking at some of the stocks to figure out the progress they made during the difficult period, how did they tackle the situation, and their performance.
CSL Limited Progressing towards immediate onshore development of an anti-SARS-CoV-2 plasma product:
On 6 May 2020, CSL Behring Australia, the subsidiary company of CSL Limited (ASX: CSL), a speciality biotechnology company to treat serious medical conditions, announced that it would be initiating the immediate onshore development of an anti-SARS-CoV-2 plasma product that is capable of treating people who are in a critical state because of COVID-19.
CSL Behring Australia would be developing COVID-19 Immunoglobulin at its advanced facility that is situated in Broadmeadows, Victoria. The research would take place in two phases. In the first phase, small batches of this product would be produced and would be used to develop tests to identify the presence of the antibodies that fight the SARS-CoV-2 virus that results in COVID-19. In the second phase, the product would be used in Australia's hospitals to prove the safety of the product.
The development of the product would be via the donation of the plasma from those people who have recently recovered from this disease. It is projected that nearly 800 plasma donations would be needed to produce adequate COVID-19 Immunoglobulin for treating 50 to 100 people who are in the critical stage and under clinical trial.
On 4 May 2020, CSL Limited provided COVID-19 update where it highlighted that it continues to provide medicines to patients globally. It is also focusing on the safety of its people, patients and donors and considers it to be its top priority. With the evolving cases of COVID-19, the Company is trying to give technical support to the University of Queensland to develop Covid-19 medicine and partnering with SAB Biotherapeutics to develop a novel immunotherapy targeting coronavirus and combined with other leading plasma companies to form CoVIg-19 Plasma Alliance.
Interesting Read: Search for COVID-19 Vaccine; Top 10 Names Across the Globe
New Debt Facilities to Strengthen Maturity Profile: CSL Limited announced that it priced a new USD 750 million private placement to take care of its current debt maturities and to be used for general working capital.
Stock Information:
CSL's shares have delivered a YTD return of 11.54%, the shares ended at $307.930, up by 0.375% on 7 May 2020.
JB Hi-Fi Limited; Scaled Its Online Business:
On 6 May 2020, JB Hi-Fi Limited (ASX: JBH), a company which is a collection of Australia's 2 well known retail brands sells an exhaustive range of whitegoods, appliances, consumer electronics etc, provided an update on Q3 FY2020 sales and the impact of COVID-19 on its businesses.
The company considers the health and the safety of its people, customers, business partners and the broader community as its top priority. On this front, the steps taken by the Company are:
These measures include:
Additional and rigorous cleaning of the stores, offices as well as the distribution centres.
Traffic limit in the store along with the management process.
Implementation of social distancing near counter queues.
All transaction was cashless.
Installation of protective screens at store counters as well as distribution centres.
Installed permanent hand sanitiser at the entry of the store.
Restricting travel & meetings.
Adopting a flexible working plan.
Australian Business scaled its online business:
During the period, JB HI-FI Australia and The Good Guys retail stores, online and commercial businesses were open and provided people with all the essential items that require to live, work, and learn.
The online business performed extremely well and could maintain a high level of customer service & on-time delivery though there was a considerable increase in the volume.
New Zealand Business could not make a material financial contribution:
Early initiation of the alert level 4 restriction on all non-essential businesses in New Zealand, JBH's 14 stores, online and commercial operations were closed on 26 March 2020. Whereas on 2 April 2020, the online as well as commercial businesses resumed trading and provided people with a limited quantity of essential products by contactless home delivery.
Q3 FY2020 Sales Update:

Stock Information:
JBH shares in the last one month has delivered a return of 14.22%. JBH shares closed at $33.990, down by 3.162% on 7 May 2020.
Bubs Australia Limited, entering into new Supply Agreement:
Bubs Australia Limited (ASX: BUB), providing a range of premium infant nutrition, has signed a new supply agreement with Coles Supermarkets Australia. As per the agreement, 482 Coles supermarkets will have Bubs Organic® Grass Fed Infant Formula delivered. The initial orders would be processed in mid of May 2020 and would reach the stores during the early June 2020.
Other than this, Bubs has also signed an agreement with Baby Bunting, which is the largest nursery retailer in Australia. Under the agreement, Baby Bunting would range a total of 16 products which includes Bubs® Goat Milk Infant Formula, Bubs Organic® Grass Fed Infant Formula, and Bubs Organic® baby food pouches & cereals in 52 stores. The initial orders have been produced, and as projected by the company, the product would reach the store in May 2020.
Earlier, in February 2020, it had also entered into a supply agreement with Woolworths to increase the store range for Bubs Organic® Grass Fed Infant Formula from 700 to 800 stores in numbers.
Stock Information:
BUB shares have delivered a negative YTD return of 1.55%. However, in the last one month, the shares have provided a return of 42.86%. BUB shares closed at $0.990, up by 4.211% on 7 May 2020.
Evolution Mining Limited; Reported $257.4 million as Cash Flow via mine operation
The gold mining company, Evolution Mining Limited (ASX: EVN) in its Macquarie Australia conference highlighted that none of its employee or contractor was tested COVID-19 positive. It also highlighted that there was no material impact on the operations. Protocols were developed to minimise the risk of the virus spread. It also provided support to the community by providing them with educational material, donating PPE and sanitisers to the hospital, offered temporary employment, and provided iPads to the aged care facility.
March 2020 Quarter Highlights:
Cash Flow through mine operation was $257.4 million.
Net mine cash flow was $159.7 million.
Group free cash flow was $111.5 million.
Paid $119.3 million as dividend.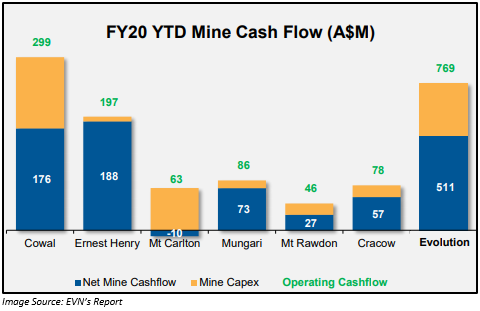 Stock Information:
EVN shares have delivered a YTD return of 39.73%. In the last month, the shares have provided a return of 23%. The shares closed the trading session at $5.380, up by 2.672% on 7 May 2020.
BINGO Industries Limited; Reported Strong Performance in Q3FY2020
Recycling and waste management company, BINGO Industries Limited (ASX: BIN) in its Macquarie Conference Presentation released on 6 May 2020 confirmed that its well-positioned because of strong fundamentals & is well placed in an industry that has positive long-term structural and regulatory foundations.
Waste being an essential public service allowed the Company to maintain its business continuity even after the COVID-19 restrictions imposed by the government in March 2020. The waster industry remains to be considered as favourable long term structural & regulatory drivers that are supported by the Federal and the State governments.
Business Highlights:
During Q3FY2020, the financial performance of the company remained on track to provide the stated market guidance before the coronavirus outbreak. BIN expects an impact in Q4FY2020.
BIN reported strong performance in Q3FY2020, with EBITDA margin above 30% & improved cash conversion.
Balance Sheet remains strong with adequate headroom against $500 million debt facility. As at April 2020, the company has net debt of $340 million.
BINGO's Response to COVID-19:
BINGO took proactive measures to safeguard the safety of its people, sustained services to its customers, and simultaneously manage business performance.
BINGO expects its outlook to be strong in the medium term.
Stock Information
BIN shares have delivered a negative YTD return of 23.59%. In the last month, the Company had a return of 13.02%. The trading session ended at $2.05, down by 5.53% on 7 May 2020.
Zoono Group Limited
The global biotech company, Zoono Group Limited (ASX: ZNO) in its update on 5 May 2020 highlighted that ZNO invoiced business to business sales of above NZ$11 million in April 2020, excluding online consumer sales.
Zoono has recently entered into various new distribution agreements in the UK and Europe, which includes a deal with UK based, global distribution companies operating in the hygiene and sanitisation markets:
Rentokil Initial plc
Bunzl Health and Hygiene
Atalian Servest Ltd
Whereas the Company also signed a new distribution agreement in Australia with Johns Lyng Group (ASX: JLG).
Stock Information:
ZNO shares have delivered a YTD return of 173.72%. The shares closed at $1.805, down by 3.733 % on 7 May 2020.