A genie has been set out of the bottle, in the form of an unprecedented virological threat. Amid the pandemic, does the opportunity for healthcare sector surpass the challenges it is facing? 5 ASX minnows from ASX healthcare space are demonstrating this as they tackle COVID-19.
While health truly is wealth, it is unquestionable that the health of any economy is very sensitive to macro and micro economic events and plays a vital role in the development of the country. Currently, as the world faces the extraordinary and challenging times that it has been unwantedly exposed to, countries have been thriving to overcome the crisis- be it by inculcating lockdown and social distancing norms or conducting rigorous candidate vaccines trials.
According to a WHO report, a robust vaccine for the novel coronavirus is at least 11 months away. This makes us fathom two dimensions- the grim side wherein medical science of contemporary world is giving the hardest test in medical history and the amiable side that our profound medical scientists, researchers and doctors have been given the chance to rack their capabilities to its maximum potential.
GOOD READ- Gilead's Investigational Antiviral Drug Remdesivir Obtained FDA Emergency Use Authorization for COVID-19 treatment
While vaccines across the world remain in preclinical and clinical evaluation, 5 ASX listed healthcare minnows have been noticeably driving disruption-
Let us deep dive into these updates that seem to be fetching quite a bit of market attention for their developments-
Nanoveu Receives Positive Results For Antiviral Technology Against Coronaviruses
Nanoveu Limited (ASX:NVU) recently intimated that it has received encouraging results from independent testing of its anti-viral smartphone screen and cover prototype. The testing, conducted by one of the world's top research institutions, National University of Singapore, placed a solution containing MHV-A59, a coronavirus strain emerging from mice, on a thin film containing the Company's antiviral technology.
Results show that the number of viable or infectious coronavirus particles was reduced by 90% in 10 minutes. This translates into the fact that NVU's technology is well positioned to revolutionise safety for all mobile phone users and is a timely product in today's evolving world impacted by COVID-19.
The technology is deemed to be capable of breaking down the large viral envelope of proteins that all coronaviruses exhibit, effectively killing the virus and reducing active coronavirus particles by a factor of 10 in just 10 minutes.
Further independent tests are ongoing at a well-regarded laboratory in the US and results are anticipated shortly.
Zoono Group: Soared B2B Sales, New Agreements, Online Store Up, Production Increases
The global biotech company that builds, produces and supplies scientifically-validated, long-lasting and environmentally-friendly antimicrobial solutions, Zoono Group Limited (ASX:ZNO) experienced increased B2B sales, in excess of NZ$11.0 million (unaudited) in April 2020 (besides the online consumer sales, which were closed for all but the last seven days of the month due to heavy demand).
Strong sales in excess of NZ$2 million have been generated in India and China. While Sales are being made to several major airlines, Healthy Giant, a distributor in Hong Kong, is supplying Company products and fogging services to Hong Kong Airport authorities.
Besides this, Zoono Animal Health Limited and Apiam Animal Health Limited (ASX: AHX) have reported strong sales in excess of NZ$1.5million in the animal health markets in Australia, USA and the EU.
The Company has also signed new distribution agreements in the UK and Europe-
Rentokil Initial plc; Bunzl Health and Hygiene; and Atalian Servest Ltd- UK-based global distribution companies operating in the hygiene and sanitisation markets
West Yorkshire Police that use ZNO's hand sanitiser. A non-binding agreement exists to supply additional 140k 50ml hand sanitiser units and refills to support front line UK Police Officers (once further packaging is available)
A new Australian distribution agreement with Johns Lyng Group Limited (ASX: JLG) for B2B market
London Underground and UK and German mainline trains and stations are also being treated with the Company's long-lasting surface sanitiser on monthly basis.
In Australia, the TGA has already approved an amendment to allow the Company to claim that that its Z-71 Microbe Shied Surface Sanitiser is an effective disinfectant for hard surfaces against germs, bacteria, and COVID-19.
Moreover, the Company re-opened its online NZ store on huge demand. Production and order fulfilment capabilities have been increased and raw material supplies have been secured for well into the future. Manufacturing of plastic bottles is currently being established in NZ to reduce dependency on imports (which have been impacting supply).
Holista's Busy and Successful March 2020 Quarter
A natural wellness company, Holista Colltech Limited (ASX:HCT) released its quarterly performance update on 29 April 2020 highlighting the fact that COVID-19 environment has kept the Company busy. For instance, NatshieldTM, HCT's all-natural and alcohol-free sanitiser opened up during this quarter. The Company witnessed NatshieldTM Sanitiser inventory face a run due to the virus outbreak.
The Company thrives to establish NatshieldTM as the preferred natural sanitiser globally as it is more than 99.99% effective against feline coronavirus, as affirmed by a leading UK Bio-safety Lab.
HCT believes that the acceptance and significant sales of NatshieldTM along with growing demand for Holista's 80LessTM and other food ingredient products make HCT a much stronger company now than how it started as this quarter.
Besides this, HCT raised ~A$4.32 million from the CPA with Acuity Capital and a further A$2.2 million on 21 April 2020. It booked a total cash inflow from customers of $1.98 million for the quarter.
The Company has managed to secure bottles and the bottling capacity in America by applying part of the funds raised to deliver the product to a USA distributor. similar arrangements have been completed in Malaysia and Philippines as well while HCT taps potential distributors in new international markets.
GMV Bags TGA Approval for G Medical Extended Holter Patch
A medical device and telehealth company, G Medical Innovations Holdings Limited (ASX:GMV) opines that its products are effective and relevant in the current COVID-19 pandemic and equally important for monitoring and remote patient management of patients with chronic diseases and other specific medical indications.
Recently, the Company secured TGA (Therapeutics Goods Administration) approval for its GMP (G Medical Extended Holter Patch). This translates into the fact that GMP has the green signal for launch and commercialisation in Australia, a significant milestone for the Company.
CEO Dr. Yacov Geva added that the Company continues to pursue regulatory approvals for both the GMP and the Prizma device in its target markets.
Respiri Limited's Virtual Presentation at NWR Virtual Health Conference
A respiratory eHealth SaaS Company that has been extending patient care beyond the clinic, Respiri Limited (ASX:RSH) recently presented at the NWR Virtual Health Conference on 1 May and 4 May 2020, explaining its intention to be an effective asthma management Company while underlining the fact that telehealth is an important channel given latest developments.
The Company affirmed that the wheezo® breath sensor manufacturing package has been completed and the Supply chain management remains in progress. The initial batch of 500 slated for production work by SRX Dandenong were due through April/May this year.
CE Mark & TGA Approval has been granted and FDA 510(k) is likely to be lodged in 3 weeks with approval expected in late 2020.
RSH notified about the change in its strategy, shifting from Device Manufacturer to eHealth SaaS. The only 2020 Commercialisation focus is the market of Australia (with launch expected in Q4 2020 period). The Company is in talks for well advanced MoU regarding a potential partnership with the local subsidiary of a multinational pharmaceutical company to act as its marketing/distribution partner in the pharmacy channel.
Advanced discussions persist with the local subsidiary of another multinational pharmaceutical company to partner in helping position RSH's eHealth SaaS platform and device as an accepted part of asthma management to Respiratory Physicians.
RSH is also developing a continuing annuity stream from App subscription.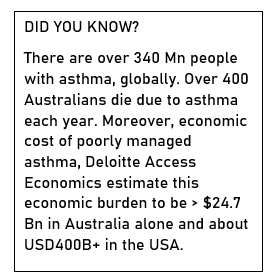 With these companies thriving to make a difference in a world, which is in dire need of medical support, it seems like opportunities in the healthcare space surpass the challenges being thrown constantly on it as progress and developments have been well paced.