Knowledge and skills these days provide investors with a lot of strategies to make money in the stock market. Businesses are expanding with higher profit margins and the ones which are not distributing dividends are offering higher share price resulting in higher returns via capital appreciation. Growth stocks are a segment which offer unique opportunities. Thus, we can say that growth stocks are stocks which grow at a faster rate than the industry with sustainable and positive cash flows and revenues. But it is important to note that high growth companies entail higher risks too! Thus, it is important for an investor to keep in mind the essentials of a growth stock and take steps to minimise the risks before investing in them.
If you noticed that companies which are huge and rewarding these days were not prominent in an earlier period of time, for instance, Google, Facebook, Amazon, Netflix and the list goes on! These were small players at some time but evinced investor amongst investors from then onwards. The investors who would have purchased equity interest in these companies must have been rewarded handsomely. But where to look for stocks that have a potential to grow? One of the most familiar places is to look for your credit card bills. Check if there is any retail store you are visiting very often that you did not before! A rapid internet search on such companies might help you answer your question!
The first basic rule, as mentioned above, is to look for stocks that are growing at a faster pace than the industry, but there are a few other traits as well such as market opportunities the stock offers and business model followed by the company. Here are a few tips and tricks to identify which growth stocks to invest in!
Keeping an eye on the macro trends: Often the companies with a good growth potential are affected by the changes in the economy and they succeed when try to capitalise on such changes. For Instance,
The Rise in Online Advertising! No one likes random calls and spam emails and hence people use ID supportive applications which enable them to avoid such spams. This is when advertising comes into the picture, helping firms to get their message out to customers.
The rising trend of Online Payments: The use of cash and cheques is declining, and people are switching to cards and apps to make even the smallest amount of payment. This is resulting in growth of many online payment apps and credit/ debit card companies.
Keeping a watch on such trends can you help you pick stocks that will benefit with the changes in the trend.
Looking at the Fundamentals: Going through the fundamentals and the outlook of a company can help you choose a winner. Some important areas which are to be covered are:
Balance Sheet: This shows the status of assets and Liabilities at a particular point of time. Increase in cash with a fall in debt shows a stability in the company's financial position.
Income Statement: This shows the position of profit or loss taking on account the revenue and expenses. The company with consistent rise in profits over the years is a stable company.
Cash Flow: This statement shows inflow and outflow of cash from the company, giving the idea of the ability to generate positive cash flows.
Taking into consideration the assets and liabilities, profit/loss, cash flows and position of debt, one can easily judge the financial condition of the company. If you think that the company is fundamentally strong, then investing in the stock is right decision but if in case you are in doubt, even a small mistake here can result in losing money in no time.
Upward trend in the share Price: Most indices shows the performance of the company over the years. One can easily have a look on the trend the stock price is following. To achieve a clearer vision of stock's performance one can also have a look at technical indicators and dig deeper into that. The market has already incorporated all the news and is consistently processing all of the information. It is advised to start looking for the stocks which are appreciating, and the chances are that you won't go wrong.
Learn from some famous investors: Investors who continuously trade have an idea what is likely to happen. While it is good to use your own judgement sometimes, taking cue from the famous traders and investors can be beneficial. Apart from these, there are several websites which track what big investors are doing. One can have a look at these and have an idea about the stocks that have been recently bought and sold.
Stock Screener: One alternative way to find a stock with higher earnings growth is to use a screener. This will offer you a wide variety to choose from. Some filters which can help you set up the screen are as follows:
Market Capitalisation: The companies with slightly higher market capitalisation have a better chance to stand out and perform well.
Growth in Sales: As mentioned earlier, the companies offering consistent revenue growth are capable of converting their sales into profit.
Profitability: The companies offering stable profits turn out to less risky than the companies with negative earnings.
Let us see if a growth stock fits into the above description!
Baby Bunting Group Limited (ASX: BBN)
Baby Bunting Group Limited (ASX: BBN) is a retailer of baby merchandise and caters to parents with children up to three years of age. As on 13 December 2019, the market capitalisation of the company stood at $413.31 million. In the recently held Annual General Meeting of the company, the top management in its presentation stated that the company witnessed a pro-forma sales growth of 19% and EBITDA growth of 45.9%. During the year, the company also declared a final dividend of 5.1 cents per share.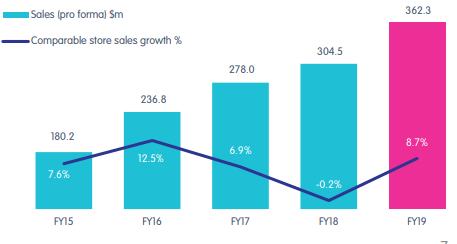 Sales Performance (Source: Company's Presentation)
What to Expect: Financial Year 2019 delivered a platform for growth and the company is committed to providing value to its customers. In the upcoming year the company prioritises to accelerate investments in Private Label products. It will also capitalise on the shopping centre opportunities and expects the gross margin to be greater than 36% in FY 2020. It also gave the guidance for its pro-forma net profit and expects its to be in the range of $20 million to $22 million.
Stock Performance: As per ASX, the stock of BBN gave a return of approximately 58% in the past one year, 43.3% on the YTD basis and 53.59% in the last 6 months. The stock closed at $3.210 on 13 December 2019. In terms of valuation, it is trading at a P/E multiple of 32.760x and is earning an annualized dividend yield of 2.62%.
As per the requirement of Growth stocks, BBN has a moderate market cap with substantial rise in sales and EBITDA. The company has also declared a dividend and has witnessed a growth in earnings per share. It further plans to capitalise on the opportunities and has provided a guidance of higher gross margin in the upcoming year. Talking about the returns, it has offered positive returns over the course of one year and has provided a dividend yield of 2.62%.
Thus, we can say that Baby Bunting Group Limited fits in our criteria of a Growth stock.
---
Disclaimer
This website is a service of Kalkine Media Pty. Ltd. A.C.N. 629 651 672. The website has been prepared for informational purposes only and is not intended to be used as a complete source of information on any particular company. Kalkine Media does not in any way endorse or recommend individuals, products or services that may be discussed on this site. Our publications are NOT a solicitation or recommendation to buy, sell or hold. We are neither licensed nor qualified to provide investment advice.