Based in West Perth, Great Western Exploration Limited (ASX: GTE) is a gold and base metal exploration company with primary focus on the Northern Yilgarn area. The company is working on Yandal West Gold Project in the region, in addition to four other projects, namely Yerrida South Project, Yerrida North JV Tenure, Lake Way Potash and Lithium Brine Project, and Fairbairn Project.
Apart from gold, GTE projects are believed to host attractive commodities like copper, vanadium, cobalt, nickel, potash and lithium. With this backdrop, let us discuss the current stage of the projects.
Yandal West Gold Project: Yandal West Gold Project is located within the world-class Yandal gold belt, comprising of 100% owned Ives Find historical goldfield and 80% owned Harris Find historical goldfield. GTE has identified three gold-bearing shear zones, namely, Ives Find Shear Zone (IFSZ), May Queen Shear Zone (MQSZ) and Harris Find Shear Zone (HFSZ), indicating strong alteration with large gold mineralising pathway.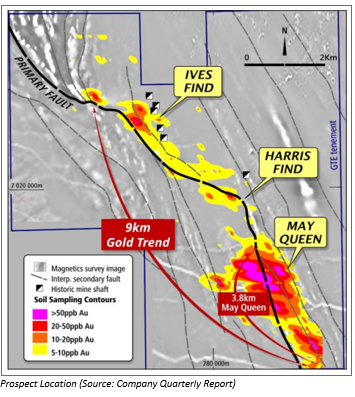 Ives Find Prospect– Located north-west of the Yandal West Gold Project, work done by the company as of now at the Ives Find prospect has identified a highly prospective continuous gold trend of at least 1.3 km of strike with multiple high-grade gold targets. The untested quartz veining has also been located, returning 6g/t gold in rock chips at 450m north, suggesting it may be up to 1.8 km long.
During the September 2019 quarter, drilling targeting the high-grade Bell Miner lode at the prospect was extended and delivered results at a cut-off of 0.5g/t gold.
IFRC001: 1m @ 7.28 g/t gold from 43m
IFRC003: 7m @ 2.52 g/t gold from 34m (incl 2m @ 4.8 g/t)
IFRC004: 4m @ 9.03 g/t gold from 38m
IFRC005: 3m @ 52.38 g/t gold from 34m
IFRC016: 2m @ 2.96 g/t gold from 33m (incl 1m @ 5.03 g/t)
IFRC017: 6m @ 4.72 g/t gold from 54m (incl 2m @ 13.025 g/t)
IFRC087: 3m @ 15.02 g/t gold from 51m
IFRC088: 2m @ 5.87 g/t gold from 74m (incl 1m @ 11.1 g/t)
Below is the map of 1.3km high-grade gold trend lodes intersected in drilling and untested outcropping gold veins
Also, the lode remains open down plunge with "Visible Gold" associated with this lode.
May Queen Prospect– The May Queen prospect has high-grade visible gold at both HFSZ and MQSZ shears, running parallel to each other and co-incident with a 3km2 gold-in-soil anomaly. The recent drilling results strengthened the association of gold with the HFSZ and there exists substantial continuous gold mineralisation over at least 550m at May Queen with the grade in the range of 5.01 g/t @ 3m followed by 2.51 g/[email protected] 4m, 2.22 g/t @ 2m and 1.28 g/t @ 5m.
The sample results announcement in December confirmed the evidence of a gold trend at least 550m long that remains open along strike and at depth via three additional RC holes along the HFSZ. Of the three holes, two were drilled to test under a 4.19 g/t gold rock chip encountered near the surface high-grade gold, while the last hole was drilled to test the outcropping 31.1 g/t gold mineralisation.
Result from the two holes drilled: 2m @ 3.89 g/t (incl 1m @ 7.3 g/t) gold from 3m
Harris Find Target– The high-grade gold mineralisation has been confirmed with drilling results of 1m combined with the rock chips, upgrading the prospect to a high priority target. Two RC holes were drilled, intersecting the main gold mineralisation target zone to the south. The third hole to test the gold mineralisation at depth under the workings from the footwall resulted in the more than anticipated shallower gold mineralisation. However, the third hole failed to reach the target and would need to be re-drilled at a shallower angle. The result of the first two holes were:
2m @ 7.75 g/t gold from 20m and 2m @ 1.38 g/t from 52m
4m @ 0.54 g/t gold from 28m
Also, rock chips sampling resulted in the gold trend south to approximately 340m strike with the result as: -
New rock chip results: 28 g/t gold, 19.8 g/t gold and 0.65 g/t gold
Please read Rich gold grade at Yandal West: Sampling Confirms to know more about the sampling result.
Also, sampling confirms new high-grade target identified near 2km north strike of HFSZ, resulting in rock chip high-grade veining of 23.5 g/t gold.
"The gold prospect in the projects make the tenements of highest priority, considering the strong positive outlook for the strategic commodity"
Good Read: Get Ready to Pay ~2.8k for 24k Gold; Gold Bulls Break the Gated Cage
Yerrida South Project: The project is 100% owned by the company, covering 5,400km2 area of the Proterozoic Yerrida Basin located near Wiluna, Western Australia. It has numerous vanadium gossans with vanadium grades up to 1.6% V2O5 along with large areas of laterite with surface sampling in the range of 0.3% to 1.0% V2O5.
During the September 2019 quarter, a soil sample program was completed over an area that was identified as a prospective sedimentary hosted copper target.
"Vanadium prices and demand are expected to increase in future due to growth in the construction and infrastructure sectors."
Yerrida North JV Tenure: The company entered into a JV with Sandfire Resources NL (ASX: SFR) via an earn-In agreement, whereby SFR can earn up to 70% by exploring at the investment of at least $1.7 million over three years and delineating at least 50,000t in-ground copper Mineral Resource.
Presently, geological mapping program is in the process to provide comprehensive geological mapping and facilitate comparison with prospective Bryah basin, VMS-host stratigraphy.
The tenure consists of copper-gold, copper-cobalt, nickel-cobalt and gold mineralisation.
"Price of Copper, Cobalt and Nickel is anticipated to increase due to expected surge in demand from EVs in future"
Lake Way Potash and Lithium Brine Project: The project is 100% owned by the company, comprising 415 km2 area located near Wiluna, Western Australia. It was originally acquired after the identification of the area as potentially prospective for lithium brines by Geoscience Australia research.
Lake Way is emerging as one of the premium potash districts of Australia after the identification of very high-grade potash brines at a nearest project by Salt Lake Potash Limited (ASX: SO4). The GTE project falls at the downstream of the main basal channel that SO4 is targeting. At the boundary, historically grade reported as K205 @ 200 kg/m3.
"Lithium price is expected to recover in 2021 with the cessation of oversupply market and demand for potash may remain stable in the near future"
Fairbairn Project: The project encompasses 1,377 km2 area situated ~170 kilometres north of Wiluna. GTE believes that the project has the potential to be a world-class base metals district containing sedimentary hosted copper-cobalt, Mississippi style lead -zinc, porphyry copper and epithermal gold.
Good Read: Overview of Gold and Base Metal Explorer, Great Western Exploration Limited
Stock Price Information – The share price of GTE soared by ~33% on 07 January 2020 from previous day and settled at $ 0.004. On 8th January 2019, the stock traded flat at $ 0.004 with a market cap of $ 5.01 million.
---
Disclaimer
This website is a service of Kalkine Media Pty. Ltd. A.C.N. 629 651 672. The website has been prepared for informational purposes only and is not intended to be used as a complete source of information on any particular company. The above article is sponsored but NOT a solicitation or recommendation to buy, sell or hold the stock of the company (or companies) under discussion. We are neither licensed nor qualified to provide investment advice through this platform.