Highlights

The rising US Treasury bond yield has spelled trouble for some stock segments.


After touching over 1.6%, the 10-year yield retreated to below 1.55% this week.


When inflation rises, bond prices fall, and the yield goes up.
The US 10-year Treasury bond yield touched record levels last week, rising over 1.6%. Although it retreated to below 1.55% this week, analysts expect the Fed to increase the interest rates.
Rising bond yields can affect each sector differently. For example, a rise in yields may prompt investors to withdraw from stocks and invest money in fixed interest instruments where the gain is limited.
Whether stocks are overvalued or not, their financials, asset quality, revenue mix, and prospects affect the overall stock performance, including the impact of a yield spike. For instance, the rising treasury yield led to gains for financials but losses for the tech stocks.
Also Read: Top 7 REITs with over 50% YTD returns to explore
When there is inflation, bond prices fall, and yields go up, making the currency expensive. Therefore, people invest in fixed income securities. Also, in such a scenario, some sectors might benefit while others may falter, creating more confusion for investors.
For example, technology stocks may face a headwind while financial stocks may accelerate.
In addition, individual investors might be worst affected by inflation or rising interest rates, mainly those invested in the housing market. It is because mortgage rates may follow the yields and go up. Analysts forecast that the 10-year yield might hit 2% by 2022-end.
Here we discuss seven S&P stocks that might benefit from rising yield.
Also Read: Six investment myths one should stop assuming about
Source – Pixabay
Also Read: Top stocks with digital asset exposure to keep an eye on
Marathon Petroleum Corporation (NYSE: MPC)
Marathon Petroleum is an independent refiner with 13 refineries in the US. The Findlay, Ohio-based company's current market capitalization is US$42.3 billion.
The stock gained about 59% YTD. Its revenue was US$29.6 billion, and the net income was US$8.5 billion for the June quarter of 2021.
Its revenue and net income have been rising for the last four quarters. Its third-quarter results are expected on November 2, 2021.
Also Read: 7 hot S&P 500 companies that gave over 30% return in 3 months
Qorvo, Inc. (NASDAQ: QRVO)
This North Carolina-based capital good company specializes in radio frequency filters, smartphone front-end modules, and power amplifiers.
The stock fell 0.60% YTD. Its market capitalization is US$18 billion, and P/E is 20.58.
Its revenue has been increasing over the past four years. For the quarter ended July 2021, the company posted revenue of US$1.11 billion and a net income of US$285 million.
Also Read: 5 industrial stocks with over 40% YTD returns to explore
NXP Semiconductors N.V. (NASDAQ: NXPI)
The semiconductor company supplies high-performance mixed-signal products. The company has captured a significant market share in the automotive industry after acquiring Freescale Semiconductor in 2015. The stock gained about 21% YTD.
Its products are used in industrial, Internet of Things, and communications infrastructure.
The Netherlands-based company has a market capitalization of US$51 billion and a P/E ratio of 52.43. Its dividend yield is 1.12%, with an annualized dividend of US$2.25.
The revenue and net income for the quarter ended July 4, 2021, were US$2.6 billion and 397 million, respectively. It will announce the third-quarter results on November 1, 2021.


Also Read: Top artificial intelligence stocks to explore amid AI boom
General Motors Company (NYSE: GM)
The automaker company had emerged from bankruptcy in 2019. The stock of this Detroit, Michigan-based automobile company gained about 30% YTD.
GM has a market capitalization of US$78.77 billion and a P/E ratio of 6.28.
Its revenue was US$26.8 billion, and net income was US$2.4 billion for the three months ended September 30, 2021. The company will also produce electric vehicles.
Also Read: US markets scale fresh highs on upbeat earnings, housing data
United Rentals, Inc. (NYSE: URI)
The Stamford, Connecticut-based URI is an equipment rental company. It provides industrial equipment, aerial work platforms, general tools, light equipment, trench safety equipment, and fluid solutions equipment. The stock increased about 49% YTD.
Its market cap is US$25 billion, and P/E is 25.22. The company posted third-quarter revenue of US$2.596 billion, including rental revenue of US$2.277 billion. Its net income was US$409 million.


Also Read: GM sees sharp fall in Q3 revenue, upbeat on full-year results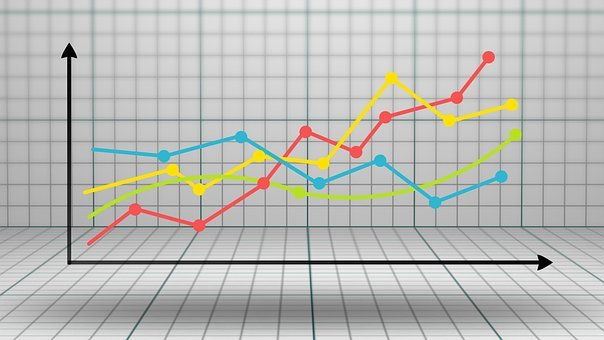 Source – Pixabay
Also Read: Thermo Fisher (TMO), Boston Scientific (BSX) lift guidance after Q3 results
Equinix, Inc. REIT (NASDAQ: EQIX)
The stock gained about 15% YTD. Equinix provides properties to enterprise tenants, like data centers, to keep their servers and other networking and related equipment.
The REIT operates 227 data centers in 63 markets globally. The REIT might benefit from a rising yield, which impacts mortgage rates. The company is based in Redwood City, California.
Equinix's market capitalization is US$2.3 billion, and the P/E ratio is 216.49. The dividend yield is 1.4%, and annualized dividend is US$11.48. The company earned a net income of US$68 million on revenue of US$1.66 billion in the June quarter of 2021.
Also Read: Fiserv (FISV) profits soar, Spotify (SPOT) subscriptions, ad sales grow
F5 Networks, Inc. (NASDAQ: FFIV)
The stocks gained about 22.78% YTD. The technology company sells products for networking security, traffic, and policy management worldwide.
The Seattle, Washington-based company was founded in 1996. It has a market cap of US$13 billion with a P/E ratio of 40.23. For the June quarter, 2021, its revenue was US$651 million, and net income was US$90 million. Its revenue has been increasing for the last four years.
Also Read: McDonald's (MCD) Q3 profits soar as global store sales grow
Bottomline
Technology stocks are currently expensive, which means investors are paying more to buy them. However, a potential rate hike might spoil the chance of a bigger return. Typically, when yields rise, growth stocks or overvalued shares tend to underperform.