S&P 500 and Dow Jones closed at record highs for the second consecutive day on Tuesday, October 26, while Nasdaq rallied as quarterly results kept the markets in high spirits.
The S&P was up 0.18% to 4,574.79. The Dow Jones Industrial Average rose 0.04% to 35,756.88. The NASDAQ Composite Index gained 0.06% to 15,235.71, and the small-cap Russell 2000 was down 0.72% to 2,296.08.
Traders were further encouraged by the Commerce Department's positive economic data, which showed new home sales jumped 14% to 800,000 units in September, the highest level since March. However, higher home prices still remained a major worry.
Top global cues to know before the ASX opening bell
Energy and utility stocks led gains on the S&P 500 index, while industrials and communication services stocks were the bottom movers. Nine of the 11 sectors of the index stayed in the positive territory.
General Electric Company (GE) stock rose 2.19% in intraday trading after reporting its third-quarter earnings. Its adjusted profits were 57 cents per share, above the analysts' estimates of 43 cents a share. However, its revenue fell by 1% YoY to US$18.4 billion in the quarter.
Shares of United Parcel Service, Inc. (UPS) were up 7.38% after reporting better-than-expected results. Its revenue increased by 9.2% YoY to US$23.2 billion in Q3, FY21.
Lockheed Martin Corporation (LMT) stock tumbled 12.48% after it trimmed its revenue forecast. Its net sales fell to US$16.02 billion in Q3 from US$16.49 billion in the year-ago quarter. In addition, it lowered its revenue forecast for FY2021 due to supply woes.
In the energy sector, Exxon Mobil Corporation (XOM) surged 2.30%, EOG Resources, Inc. (EOG) rose 1.39%, and Occidental Petroleum Corporation (OXY) gained 1.28%. Devon Energy Corporation (DVN) and Baker Hughes Company (BKR) rose 2.37% and 2.88%, respectively.
In utility stocks, NextEra Energy, Inc. (NEE) increased by 1.57%, Southern Company (SO) jumped 1.03%, and Exelon Corporation (EXC) rose 1.10%. DBA Sempra (SRE) and AES Corporation (AES) advanced 1.24% and 1.59%, respectively.
In the communication sector, Alphabet Inc. (GOOGL) rose 1.33%, Facebook, Inc. (FB) fell 4.52%, and Twitter Inc. (TWTR) declined 1.27%. Match Group, Inc. (MTCH) and News Corporation (NWS) plummeted 2.51% and1.17%, respectively.
Also Read: General Electric Co (GE) revises guidance upward after Q3 profits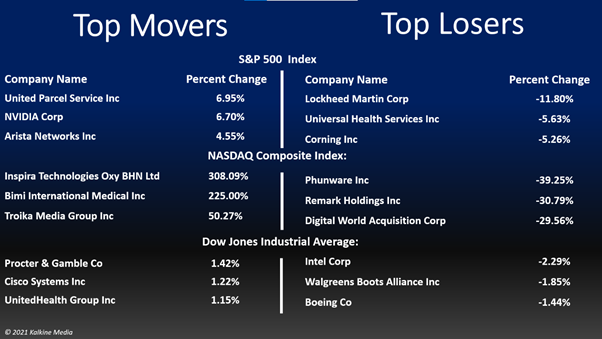 Also Read: Raytheon (RTX) raises sales guidance, 3M (MMM) narrows EPS outlook
Also Read: Eli Lilly (LLY), Novartis (NVS) profits up on robust sales growth
Futures & Commodities
Gold futures were down 0.70% to US$1,794.10 per ounce. Silver decreased by 1.55% to US$24.212 per ounce, while copper fell 0.71% to US$4.4958.
Brent oil futures traded flat at US$85.44 per barrel and WTI crude was up 0.85% to US$84.47.
Bond Market
The 30-year Treasury bond yields were down 2.06% to 2.042, while the 10-year bond yields fell 1.55% to 1.610.
US Dollar Futures Index increased by 0.15% to US$93.953.