Benchmark US indices closed higher on Thursday, December 2, as stocks across all sectors, including financial, energy, healthcare, and technology, moved higher after Omicron concerns waned.
The S&P 500 rose 1.42% to 4,577.10. The Dow Jones surged 1.82% to 34,639.79. The NASDAQ Composite was up 0.83% to 15,381.32, and the small-cap Russell 2000 increased 2.74% to 2,206.28.
WHO said on Thursday the existing covid vaccines might give some protection against the Omicron variant, although studies continue. Meanwhile, US officials hinted at tightening travel rules for foreign visitors. In addition, wearing a mask will be mandatory for all US travels.
Global Markets see a steady movement
All 11 sectors of the S&P 500 stayed in the positive territory. Financial, energy, and industrial stocks were the top gainers. Healthcare, technology, and consumer discretionary stocks also advanced.
Snowflake Inc (SNOW) stock surged nearly 14% after raising sales guidance.
Dollar General Corporation (DG) stock fell around 3% after its third-quarter profit declined and lowered the full-year guidance.
Kroger Company (The) (KR) stock rose over 11% after reporting third-quarter results. The company has increased its full-year guidance.
Boeing Company (The) (BA) rose 6% after Chinese regulators greenlighted its 737 MAX services.
In the financial sector, Morgan Stanley (MS) grew 4.36%, Charles Schwab Corporation (SCHW) rose 4.95%, and Well Fargo & Company (WFC) surged 3.88%. Black Rock Inc. (BLK) and Citi Group Inc. (C) jumped 2.23% and 2.38%, respectively.
In the energy sector, Hess Corporation (HES) stock surged 6.46%, Valero Energy Corporation (VLO) rose 6.18%, and Phillips 66 (PSX) grew 4.22%. Halliburton Company (HAL) and Exxon Mobile Corporation (XOM) were up 4.16% and 2.91%, respectively.
In the healthcare sector, Moderna Inc. (MRNA) declined 2.89%, Pfizer Inc. (PFE) fell 2.66%, and Biogen Inc. (BIIB) decreased 0.56%. Merck & Company Inc. (MRK) was down 0.20%, and Johnson & Johnson (JNJ) fell 0.64%.
The global crypto market was down 1.34% at 3:20 pm ET.
Also read: Five key US economic sectors to keep an eye on in 2022
Also read: Microsoft's (MSFT) new Teams Essentials is dirt cheap – know features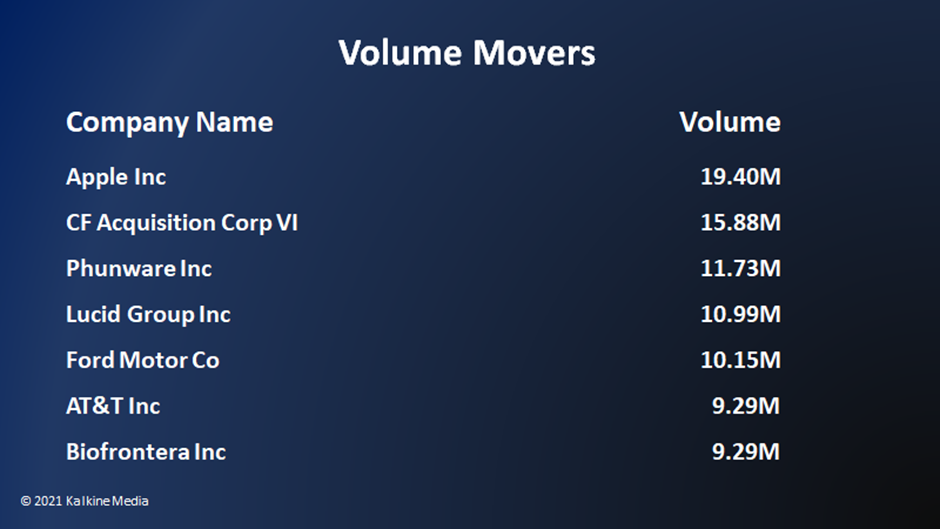 Also read: Seven hot penny stocks to watch in December
Futures & Commodities
Gold futures declined 0.87% to US$1,768.85 per ounce. Silver futures increased by 0.28% to US$22.402 per ounce, while copper grew 0.99% to US$4.2895.
Brent oil futures increased by 1.90% to US$70.18 per barrel and WTI crude futures were up 2.10% to US$66.95.
Bond Market
The 30-year Treasury bond yields decreased 0.76% to 1.764, while the 10-year bond yields were up 0.48% to 1.441.
US Dollar Futures Index increased by 0.09% to US$96.110.