US Markets: Broader indices in the United States traded in red - particularly, the S&P 500 index traded 36.73 points or 0.87 per cent lower at 4,185.13, Dow Jones Industrial Average Index dipped by 416.60 points or 1.23 per cent lower at 33,406.85, and the technology benchmark index Nasdaq Composite traded lower at 14,081.77, down by 79.58 points or 0.56 per cent against the previous day close (at the time of writing - 12:40 PM ET).
US Market News: The major indices of Wall Street traded in a red zone after Federal Reserve official James Bullard raised concerns regarding inflation figures. Among the gaining stocks, Smith & Wesson (SWBI) shares surged by about 17.62% after the Company had reported better-than-expected top-line business and bottom-line business for the latest quarter. Adobe (ADBE) shares rose by about 2.15% after the quarterly profit came out to be more than the consensus estimates. Fox Corp (FOXA) shares grew by about 1.26% after the Company had raised the stock repurchase program by USD 2 billion to a total of USD 4 billion. Among the declining stocks, Orphazyme (OSPH) shares plunged by around 46.22% after US FDA had rejected the experiment treatment for a genetic disorder.
UK Market News: The London markets traded in a red zone after the release of UK retail sales data. Moreover, the Office for National Statistics had reported a monthly drop of 1.4% in UK retail sales during May 2021 when compared with the prior month. It had shown a monthly gain of 9.2% during April 2021.
Global Market Round Up || Why Did US Markets End Week In Red, Dow Jones Down 500 Points?
FTSE 100 listed Tesco shares dropped by about 4.07% even after the Company had reported a marginal growth in like-for-like sales for the first quarter, benefitted by the relaxation of the Covid-19 restrictions.
Car Dealer Inchcape had stated that the full-year pre-tax profit would remain significantly ahead of the consensus estimates boosted by the better-than-expected performance during H1 FY21. Moreover, the shares climbed by approximately 3.08%.
Rotork shares grew by around 0.18% after the Company was upgraded by Morgan Stanley to "overweight".
Fresnillo shares went up by around 2.26% and remained the top performer on the FTSE 100 after a surge in the gold price.
European Indices Performance (at the time of writing):

FTSE 100 Index One Year Performance (as on 18 June 2021)
1 Year FTSE 100 Chart (Source: Refinitiv)
Top 3 Volume Stocks in FTSE 100*: Lloyds Banking Group Plc (LLOY); Vodafone Group Plc (VOD); BP Plc (BP.).
Top 3 Sectors traded in red*: Energy (-3.41%), Consumer Cyclicals (-2.05%) and Financials (-2.04%).
London Stock Exchange: Stocks Performance (at the time of writing)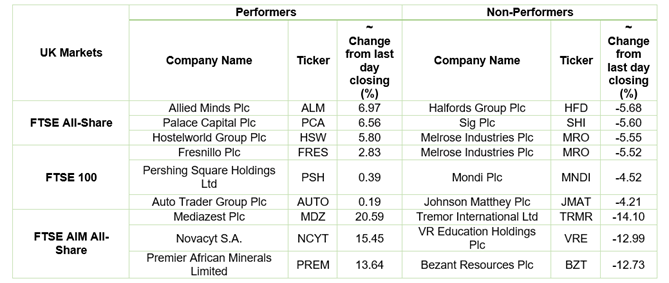 Crude Oil Future Prices*: Brent future crude oil (future) price and WTI crude oil (future) price were hovering at $73.54/barrel and $71.69/barrel, respectively.
Gold Price*: Gold price was quoting at US$ 1,771.65 per ounce, down by 0.18% against the prior day closing.
Currency Rates*: GBP to USD: 1.3826; EUR to GBP: 0.8587.
Bond Yields*: US 10-Year Treasury yield: 1.453%; UK 10-Year Government Bond yield: 0.7570%.
*At the time of writing