Highlights

In the World Economic Forum 2022, global leaders are joining forces to discuss global issues developing due to unfavourable factors.
The pandemic was succeeded by supply-side snags and geopolitical tensions in Ukraine, which quickly resulted in a slowdown in the global economy.
Australia's situation is much like the global economy, though a tighter labour market could push wages higher.
The World Economic Forum (WEF) 2022 started at Davos on May 22 and will continue till Thursday, May 26. Global leaders are joining forces to discuss issues such as the situation developing in Ukraine, climate change and other important factors in the current world economy.
This time's WEF meeting is especially significant as these world leaders are meeting after more than two years. The meeting of 2021 could not take place physically, while the meeting of 2022 was postponed due to the outbreak of COVID-19 cases. Usually, the meeting takes place in January, but this year it is being held under exceptional circumstances.
How Will New Government Impact Australia-China Relations?
The theme of this year's summit is "history at a turning point", which essentially marks the world's rebound from the pandemic and its shift towards gradual recovery. The talks this year will be dominated by discussions around policy reforms, business strategies, tensions in Ukraine and other geo-economic challenges. With a lesser number of participants this year than usual, the summit is expected to bring forth new solutions to existing problems and a potential answer to the question: are we headed for a recession?
GOOD READ: How Will New Government Impact Australia-China Relations?
What are leaders at WEF worried about?
With many concerning issues plaguing the global economy, leaders at WEF prioritised talks about where the global economy was headed in an increasingly unaffordable environment. Basic sustenance in the current environment has become highly difficult, depriving many of necessities such as food and shelter.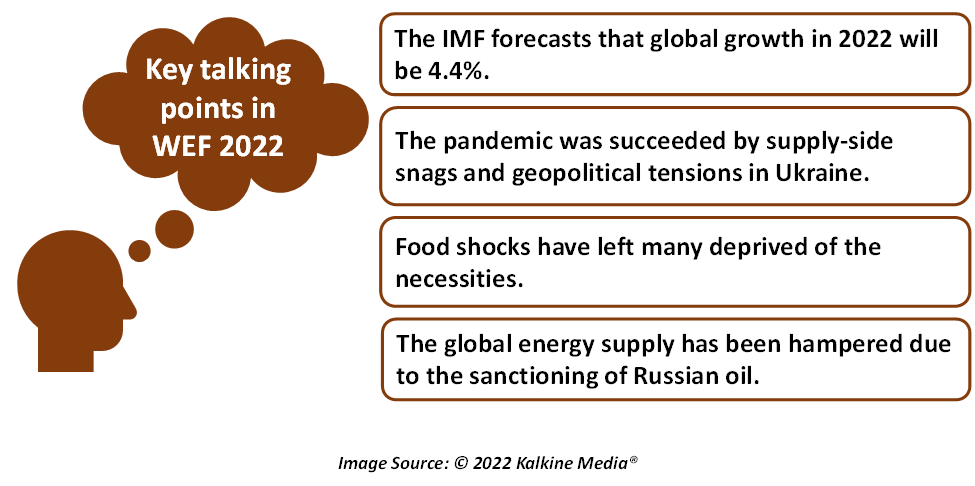 The pandemic was succeeded by supply-side snags and geopolitical tensions in Ukraine, which quickly resulted in a slowdown in the global economy. Heavy sanctioning of Russian oil hampered the global energy supply, and a food crisis emerged out of the closed ports across Ukraine. These factors have once again brought forth talks of a recession, ultimately prompting the WEF leaders to host a panel discussion on its prospects.
Dubbing recession as the scary "r-word", leaders are certain that a global recession is a possible outcome of present circumstances. Another aspect appearing in the current uncertain context is interest rate hikes by central banks. Most economies across the globe are in a monetary tightening phase, under which central banks are rapidly raising interest rates to combat inflation.
For mortgage or loan holders, rising interest rates could add to soaring living costs. Overall, a bleak outlook dominates the global economic forecast, making the case stronger for a recession in the coming period.
ALSO READ: What to expect from Australian economy as new government takes charge?
Where does Australia stand as recessionary concerns surmount globally?
Australia seems to be in the same boat as most other nations. Following the US Federal Reserve, the Reserve Bank of Australia announced its first interest rate hike in May. The rate hike is surrounded by much of the same concerns as discussed in the WEF meeting.
Most importantly, declining affordability has pushed many out of their homes into less expensive living arrangements, while some are left homeless as rents climb to unexpected levels. The International Monetary Fund (IMF) forecasts that global growth in 2022 will be 4.4%, with a downward revision seeming possible for this figure. As is the case with many other global factors that have travelled across the world into Australia, these recessionary fears might also show an impact on the Australian economy.
Rampant inflation, deteriorating standards of living and slow wage growth are some of the concerning factors in the Australian economy at present. However, the record-low unemployment rate is likely to pave the way for higher wages in some time. RBA's monetary policy tightening is also expected to resolve much of the momentum in the mortgage markets.
However, most WEF leaders agree that recession talks in the present era are relatively less threatening than the actual recessionary periods that resulted from previous shocks. The dot.com bubble, the 2008 financial crisis and even the pandemic brought the economy down to an all-time low. However, this time the world might just be able to manage the existing uncertainties.
DO NOT MISS: Labor win: Here's what Australian investors can expect?