Highlights

Macy's has launched its Thanksgiving balloons as NFTs, with money raised going into charity
Macy's NFTs will use Polygon, and 10 NFT balloons are up for bidding
From Martha Stewart to Jack Dorsey, NFTs are finding many takers for their blockchain aspects
The non-fungible token (NFT) craze is real. As we step into the festive season before we bid goodbye to 2021 – which saw NFTs like Beeple's Everydays digital artwork and CryptoPunk characters selling for millions of dollars – big names are increasingly warming up to the space.
Macy's, a one-and-a-half century old retailer, is turning its Thanksgiving Day 2021 balloon designs into NFTs.
Also read: Top 5 most expensive NFTs ever sold including CryptoPunks
Macy's Thanksgiving parades and balloons
Macy's Thanksgiving celebrations have a rich history of nearly 100 years. The parade is an annual event, and the first such parade happened in 1924.
Thanksgiving & NFTs – Macy's, Martha Stewart join the craze
Macy's parade in the New York City is touted as the largest in the world. Not many know that the initial few years included live animals in the parade. This changed in 1928 when Macy's replaced them with life-size balloons as a representation of animals. From black cat and blue hippo to Spiderman and Superman, these balloons have had diverse shapes.
Also read: Top 5 NFT marketplaces to create & trade original work by creators
Macy's balloons and NFT
Macy's has decided to jump onto the NFT bandwagon by announcing its first foray into blockchain-based ownership records for its iconic balloons. The retailer will convert some of its balloons into NFT, which will be auctioned for charitable purposes.
Macy's has roped in REOMETRY, a digital art company, to design these NFTs using archival content. Ten such NFTs will be auctioned, and the earnings will go to Make-A-Wish Foundation, which will use them for children suffering from critical illnesses. Macy's is also working on 9,500 other NFTs that will be handed over on a first-come-first-serve basis. A separate page is available on Macy's official website for NFTs.
Macy's NFTs are built using Polygon (MATIC). Polygon converts Ethereum's blockchain into a multi-chain network. From Beeple's Everydays to Jack Dorsey's first tweet NFT, most of these digital assets are built on Ethereum.
Martha Stewart's NFTs
Martha Stewart, an entrepreneur and influencer, is also launching an audio file as NFT for Thanksgiving. She is reportedly using her own NFT platform for the launch. The audio file will have her recalling an old memory about Thanksgiving.
Also read: Explained: Cryptocurrency categories – DeFi, NFT, Metaverse
The NFT craze
A lot many people may be viewing NFTs with the cryptocurrency lens, but they are not the same. In fact, NFTs just a proof of ownership, recorded on blockchain, over any digital asset, and that is it. Blockchain is the sole common thread between NFTs and cryptocurrencies like Bitcoin and Dogecoin.
NFTs usually sell through auctions. The auctions are now moving from traditional houses like Christie's to new digital players including OpenSea and Rarible. These online NFT platforms may or may not have a native token.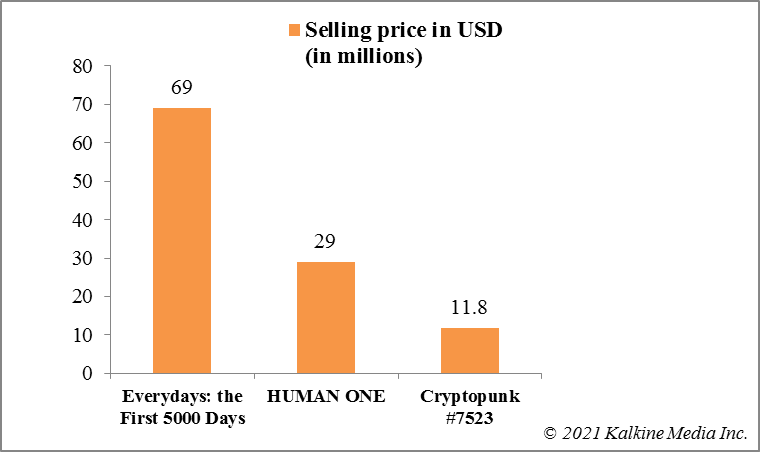 NFTs are on a rise
Much of the NFT craze owes to the popularity of blockchain technology. However, with the new curiosity in metaverse, a virtual reality fantasy world, NFTs are drawing more investor interest. Blockchain games like Axie Infinity and Decentraland give users the option to own NFTs. PolkaCity is a metaverse where people can own gas stations and banks as NFTs and earn revenues.
SoftBank has recently invested US$93 million in The Sandbox, which is a metaverse project with NFT underpinnings. A separate project, Royal, which is a platform for minting music as NFT, has also raised US$55 million this week.
Also read: 5 breakout altcoins with metaverse underpinning
Viewpoint
Macy's plunge into NFTs can add more sheen to these blockchain-based tokens. Macy's Thanksgiving parade balloons have a long and rich history. This is the approach Macy's is using to tap the youth that prefer online shopping over physical stores.