Highlights

NFTs like Cryptopunks and Beeple's digital artwork have fetched millions of dollars in auctions
It is likely that these listings and auctions may shift decisively to dedicated NFT marketplaces
Minting is a process by which any original artwork is given the shape of an NFT with ownership registered on blockchain
Non-fungible tokens (NFTs) are the latest newsmakers in the cryptocurrency universe. No, these aren't exactly a crypto token like Bitcoin or Dogecoin, but they share one attribute with cryptos – blockchain.
NFTs are 'non-fungible', which means each underlying asset like an artwork is unique. For example, each character among 10,000 Cryptopunk characters is unique. Same goes with the characters of Bored Ape Yacht Club project. Blockchain becomes a part of the NFT world by enabling ownership on decentralized peer-to-peer network, thereby making it immutable.
We know NFTs have sold for millions of dollars each in 2021. The top NFT in the list is the Everydays: the First 5000 Days, which sold for a whopping US$69.3 million in a March auction. In another auction, the first tweet of Twitter's Jack Dorsey, a known cryptocurrency backer, sold for US$2.9 million. NFTs of the Cryptopunk project have also fetched high prices.
But the question is 'which is the best marketplace to list and sell NFT'? Should original creators and other sellers rely solely on auctions by Christie's and Sotheby's? Today, there are multiple emerging platforms that are working exclusively in the field of NFT trade. Let's know more about the best NFT marketplaces.
Also read: Top 5 most expensive NFTs ever sold including CryptoPunks
1. OpenSea
OpenSea is arguably the most prominent player in the NFT space. The company claims to be the first and the world's largest marketplace that enables NFT trade.
OpenSea provides an opportunity to original creators to list their work on the platform and find a patron. In subsequent sales, the seller can list the NFT on OpenSea and seek application of price. There is also room for developers to build integrated marketplaces for a variety of digitally stored assets.
OpenSea claims to be supporting multiple blockchains. It also claims best prices for digital assets, which is now being challenged by new entrants that feature in our list. The platform has a collection of over 34 million NFTs, and the cumulative volume traded is in billions of dollars. The company is said to have over 300,000 users.
Also read: NFTs are on a wild ride. Is it a bubble?
2. SuperRare
It's all about rarity in the world of NFTs. More the uniqueness of the digital asset more can be the price that it commands in the NFT market. SuperRare has 'rare' in its name as a clear sign it wants to disrupt the NFT world.
The platform claims to be the 'Instagram meets Christie's' kind of marketplace. Unique artworks can be listed and traded on SuperRare with all payments made in Ether cryptocurrency. It is notable that almost every NFT platform uses the Ethereum's services, which can be on reason why Ether prices are rising.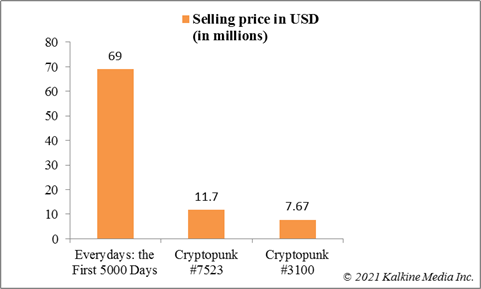 SuperRare claims that it presently has only a few artists, however new creators can submit a request for a listing of their artwork. The marketplace charges a three per cent fee on transactions, and a 15 per cent commission is also payable. The platform supports ERC-721 assets.
Also read: Top NFT projects to watch as we enter 2022
3. Rarible
Rarible is another emerging marketplace for ERC-721 tokens. For the uninitiated, these tokens are always stored on Ethereum's blockchain. Rarible allows 'minting' of any artwork. This typically means creating an ERC-721 token out of the artwork and listing it as NFT.
The platform claims to evolve as Decentralized Autonomous Organization (DAO). DAOs give rights to users to make changes to the governance and design of the platform. For this, Rarible has come up with its RARI token. RARI holders can participate in the voting process and decide how the marketplace is designed.
Minting carried out on Rarible can be followed by listing the asset on OpenSea marketplace. Rarible says that any purchase of such an asset can be done using RARI token besides Ether.
4. Foundation
Yet another marketplace for listing original creations, Foundation began in February 2021. The platform is open to creators through an invitation model where existing members can add new ones. The minting of an NFT on Foundation needs a MetaMask wallet.
The creators can add their work and mint it in the form of an NFT. The price of the NFT is decided by the creator and it is upto buyers to make a purchase. All prices on Foundation NFT marketplace are quoted in Ether. The creator receives 85 per cent of the sales price and any subsequent trade of the NFT results in a 10 per cent royalty for the original creator.
Patrons can use the marketplace to bid for any listed NFT. Foundation marketplace claims to have helped creators earn nearly 41,000 Ether as of today.
5. Axie Infinity
Axie Infinity is unlike any of the above four. It is a blockchain-based game, with Axie creatures helping the gamers enter into combats. Each Axie is an NFT, and it can be traded on the platform. This essentially means that Axie Infinity NFT marketplace is dedicated to the platform's own Axie creatures.
The year 2021 has been phenomenal for Axie Infinity. The native token of the platform, AXS, has gained immensely and is trading at over US$150 as of now. The market cap of AXS crypto is over US$9 billion.
It is notable that AXS started the year 2021 with a price tag of mere US$0.54. The appreciation in price can be attributed to craze for blockchain gaming and NFTs.
Read more: FB's metaverse can be a blessing for these 5 blockchain games
Bottom line
NFTs have had a phenomenal ride so far in 2021. In a recent development, SoftBank has invested in an NFT-based project, Sandbox. The US$93 million funding by SoftBank's Vision Fund 2 corroborates how people are backing projects that are underpinned by virtual reality. Facebook recently changed its name to reflect its shift toward metaverse. NFTs are an important part of virtual reality, and platforms that help in minting and trading of NFTs are likely to attract more interest in near-future.