Highlights

Cryptos are not a single umbrella, but a diverse world with a common thread – blockchain
Bitcoin has been here for long, but emerging categories like metaverse and NFTs are now gaining prominence
Within NFT, there are sub-categories like NFT marketplaces and NFT minting platforms
No, not every digital currency powered by blockchain falls under the same umbrella. The cryptocurrency universe is as diverse as the real universe, which we define as the 'totality of existence'.
Explained: Cryptocurrency categories – DeFi, NFT, Metaverse
Regardless of whether a person is a cryptocurrency backer or not, mainstream media's coverage of crypto space has made terms like non-fungible tokens (NFTs) and metaverse a part of family dinner conversations. The diversity within the cryptocurrency world must be studied to make informed investment decisions. NFTs are definitely a wild craze, but they are definitely not cryptocurrencies, which are 'fungible' tokens.
Here are some key crypto project categories and the most prominent players in each category.
Also read: 7 cryptos beyond Bitcoin set to fight for top spots in 2022
1. Bitcoin
Bitcoin is undeniably a category in itself. Most of us know that any blockchain-based digital currency that is not Bitcoin is an alternative coin or altcoin.
Bitcoin, in essence, is competing with fiat currencies like the dollar and yen. Bitcoin aims to become that medium of exchange, which does away with intermediaries like central banks, and reduces the turnaround time and costs. Any transaction is recorded on distributed ledger, which is peer-to-peer reviewed. This is what backers say makes records immutable.
As of now, Bitcoin is trading at nearly US$65,000. This is more than double the price at the start of 2021. But the interesting aspect is that constituents of other categories have given better returns than Bitcoin.
Also read: 5 ways in which Evergrande crisis can impact cryptocurrencies
2. Decentralized Finance (DeFi)
DeFi can be understood as a facilitator that liberalizes financial assets and frees them from the clutches of intermediaries like banking institutions.
Confused? Think of these market participants – buyer and seller. In traditional finance, the two cannot connect without an intermediary like a bank. In decentralized finance, they can connect peer-to-peer with the help of a system that runs on blockchain network. Within this decentralized system, parties can enter into blockchain-recorded smart contracts that again need no enforcing authority.
DeFi is an emerging technology in finance with little or no regulatory supervision. The following DeFi projects have had a great year in 2021.
· Terra (LUNA)
From US$0.6 on January 1 to US$48 as of now, LUNA was one of the best performing altcoins of 2021. What adds to the appeal is very high market cap of nearly US$23 billion.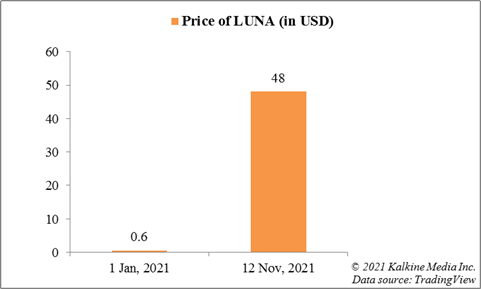 Terra is a DeFi network, which relies on stablecoins – pegged to fiat currencies – to provide a stable and fast payments system. The network is said to have forged ties with multiple payments platforms. In South Korea, Terra is working with a payment app, Chai, to enable blockchain-based e-commerce payments.
· Avalanche (AVAX)
DeFi relies on blockchain-stored smart contracts, and Avalanche's network is rivaling the Ethereum's in this space. The network consists of three blockchains, one to trade the native token, AVAX, and the remaining two to provide smart contract and validation services.
Avalanche is also said to be working to provide interoperability by enabling Ethereum integration. In 2021, the price of AVAX token is up nearly 2,500 per cent. This price appreciation corroborates the craze for DeFi in the cryptocurrency world.
Also read: What does 'fungible' in NFTs mean?
3. Non-fungible token (NFT)
You might think that NFT is an easy-to-understand category, but it is not. Within it, there are a lot of sub-categories that include NFTs like Beeple's Everydays and CryptoPunks, NFT exchanges like OpenSea, NFT minting platforms like SuperRare, and NFT gaming platforms like Axie Infinity.
An artwork is not an NFT unless the ownership is recorded on blockchain. This ownership record makes a CryptoPunk or Bored Apes character an NFT.
OpenSea is a marketplace for NFTs where original creators and subsequent owners can list their NFTs to find patronage. Minting refers to the process of converting an artwork into an NFT, and it is enabled by platforms like SuperRare. Blockchain games use NFTs to allow users to play and earn simultaneously. In 2021, Axie Infinity (AXS), which has Axie characters as NFTs, has gained nearly 25,000 per cent.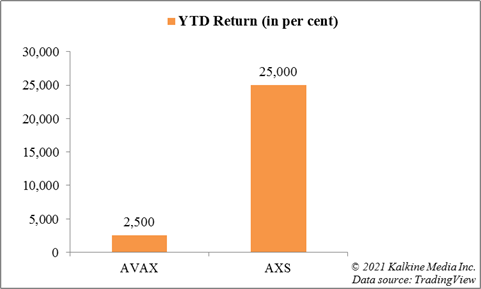 Decentraland (MANA), which allows users to own parcels of land as NFT, is another blockchain-based game.
Also read: Top 5 NFT marketplaces to create & trade original work by creators
4. Metaverse
Metaverse is a virtual reality space where users can create and sell digital tokens. It is a fictional world, which may or may not have blockchain links.
Recently, tech giant Facebook's entry in the metaverse category has lifted the status of metaverse coins.
· Enjin Coin (ENJ)
From US$0.13 on January 1 to US$3 as of now, ENJ token has had a great year in 2021. The network is an enabler of blockchain gaming with features that help users to create clans and websites. Enjin Coin is an Ethereum-based network and the ENJ crypto is an ERC-20 standard token.
Also read: 5 breakout altcoins with metaverse underpinning
· The Sandbox (SAND)
Thanks to Facebook's recent name change, metaverse tokens like SAND have gained more than Bitcoin or Ether over the past few weeks. On January 1, SAND was priced at nearly US$0.035, which is US$2.5 as of now. The Sandbox is a decentralized autonomous organization, which lets users to decide on how the network is designed. This is done by staking SAND tokens and participating in the voting process.
Also read: FB's metaverse can be a blessing for these 5 blockchain games
5. Ethereum
Ethereum also makes a separate category within cryptocurrencies, thanks to its wide adoption. Ether, the linked token of Ethereum is second only to Bitcoin by market cap. While Bitcoin is a typical blockchain-based digital currency, Ethereum is a network that allows smart contracts to be built on it. Ether serves as the native currency of Ethereum's blockchain and is used for payment of fees by users.
Bottom line
The cryptocurrency world is diverse, with sub-categories within categories. Any investment decision can be termed informed only when the investor can differentiate the preferred token from other cryptos. NFT and metaverse are two of the emerging categories, both of which use blockchain. Others like Bitcoin and DeFi apps have been trending for quite some time, but emerging categories are mounting a formidable challenge.