Dogecoin was launched in 2013 initially as a joke. It was based on a popular meme featuring the Japanese dog breed Shiba Inu. Dogecoin has a picture of the meme on it.
Over time, Dogecoin became more than a 'comical' cryptocurrency as its odd branding made it popular. Billy Markus and Jackson Palmer then developed Dogecoin as a peer-to-peer decentralized virtual coin.
Dogecoin's algorithms are based on the Luckycoin blockchain. Its low price and unlimited supply make it attractive. Tesla founder Elon Musk called the meme-coin a Bitcoin rival in his tweet last year.
READ MORE: Can Dogecoin make millennials rich? How much would it be worth by 2030?
What led to Dogecoin's rally in 2021?
This cryptocurrency was trading at around a fraction of a penny until January 2021. Earlier this year, Dogecoin joined cryptocurrencies such as Bitcoin and Ethereum in the rally. In addition, Dogecoin gained traction from a series of celebrity endorsements.
Dogecoin rose 800 per cent to 8.2 cents on January 29 amid the Reddit frenzy. The Reddit community expected it to gain over US$1. The coin's value grew further in February following a series of tweets by Musk. In one of the tweets, Musk said, "Who Let the Doge Out." Dogecoin got a sentimental push after Musk highlighted it as people's currency.
READ MORE: What Is Dogecoin & Why Is Elon Musk Tweeting About It?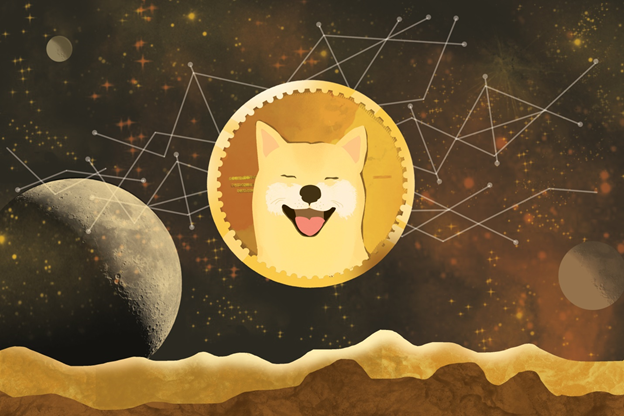 Copyright © 2021 Kalkine Media
In the same month, Dogecoin received another push after popular American rapper Snoop Dogg tweeted in favor of the meme-coin. Musk's earlier plans to accept cryptocurrency as payments for its cars also fuelled Dogecoin's rally.
Dogecoin's market capitalization hit the US$50 billion mark in April, surpassing the valuation of several large-cap companies in the US. At one point, mobile stock trading application Robinhood had to lower the minimum order size for Dogecoin following a heavy influx of investors,
READ MORE: Dogecoin Soars By 240%: What's Behind This All-Time High Rally?
Dogecoin is too volatility for a price projection
Dogecoin soared over 3688 percent year to date. The price is currently around 19 cents and has a market capitalization of US$25.3 billion. During the last 52-week period, Dogecoin skyrocketed to 73 cents from less than a penny.
Earlier, some investors were expecting Dogecoin to reach the US$1 mark by the end of this year. However, it seems difficult to make a price projection considering the coin's highly volatile nature.
It rallied following high popularity and subsequent demand. Any negative news can pull down its value. On several occasions, Dogecoin appeared to increase purely on speculation.
In May, Dogecoin crashed from its all-time high after Musk called it a 'hustle' in a live show. One of Musk's tweets reads, "Cryptocurrency is promising, but please invest with caution!"
READ MORE: Dogecoin nosedives on Musk's remarks; what does it mean for the cryptocurrency?