Highlights

Bitcoin is a digital currency while Apple is a tech giant, but both are assets for investors.
The dust around regulatory crackdowns on Bitcoin and altcoins might settle in 2022.
BTC's price doesn't rely much on fundamentals, which is the case for the stocks of big tech companies.
Bitcoin dominates headlines. The digital currency's rise has spawned altcoins like Ethereum's Ether and Dogecoin. According to CoinMarketCap, Bitcoin had a nearly 47 per cent share in the combined market cap of the cryptocurrency world as of October 12, which clearly means altcoins are fast catching up.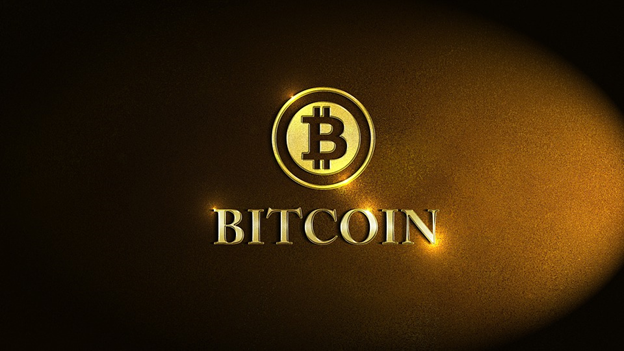 Source: Pixabay.com
That Bitcoin has surpassed technology giant Facebook in market cap was a hotly discussed subject lately. Will the momentum sustain in 2022? Let's find out.
Bitcoin vs. Facebook by market cap
Asset Dash now places Bitcoin (BTC) above Facebook, Inc. and even other biggies like Warren Buffett's Berkshire Hathaway and Chinese conglomerate Tencent. With a market cap of nearly US$1.08 trillion as of now, Bitcoin ranks sixth in the list of most valuable assets.-
Also read: Can Bitcoin be termed as the 'asset of the century'?
Amazon, Alphabet (Google's parent), Saudi Aramco, Microsoft, and Apple sit above Bitcoin. The nearest competitor is Amazon, which has a market cap of nearly US$1.64 trillion as of now. Both Microsoft and Apple command a 2-trillion plus dollar market cap each, and the former joined the 2-trillion club only recently.
Can Bitcoin surpass Apple's market cap in 2022 after it did Facebook?
The strangest element in the list of top assets is that Bitcoin and Ether are the exceptions in the top 20. These two are cryptocurrencies, while all others (except SPDR S&P 500 trust which is the world's largest ETF) are companies producing goods or services. Nevertheless, cryptocurrencies are more an asset than a digital currency. El Salvador's adoption may be the beginning of a new chapter for Bitcoin in the legal tender space.
Bitcoin as the most valuable asset
There are convincing reasons to forecast Bitcoin's further rise in the coming months. And maybe, in 2022, it may be more valuable than even Apple.
First, Bitcoin is not just retail investors' favorite. It has attracted a lion's share of institutional investors. It is true that most big asset managers are yet to park money in cryptos, but they have jumped onto the bandwagon in a different way. Big banks in the US and elsewhere are providing cryptocurrency exposure to clients, and the world's first Bitcoin ETF was approved and launched in Canada.
Also read: 10 most profitable DeFi cryptos of 2021
According to CryptoTreasuries.org, publicly traded business intelligence company MicroStrategy holds 114,042 Bitcoins. Tesla is another big-ticket BTC investor with 38,300 BTC in its kitty. The point is that MicroStrategy's BTC holding was acquired for an average cost of US$27,713 per BTC. For Tesla, it was US$34,700. With Bitcoin currently trading at nearly US$57,500, the returns for both the backers are too high to ignore.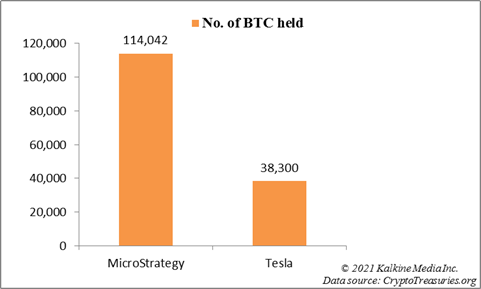 Other influential players are also active. S&P Dow Jones now has indices to track the movement in the prices of BTC. Similar indices were also launched for Bitcoin's nearest competitor, Ether.
Bitcoin vs. Apple by market cap
An intriguing question today is whether Bitcoin can topple Apple from the top position.
According to CoinMarketCap, BTC entered 2020 with a price tag of nearly US$7,200. On December 31, 2020, it was priced at nearly US$29,000. This was nearly 300 per cent growth in the full year of 2020. Did you know that Netflix was the best performing stock of the last decade with a nearly 4,000 per cent return? BTC might even surpass this record.
Here's why. Be it Netflix, Apple or Facebook, the stocks of these companies rely on fundamentals. A new product launch, increase in market share or a major acquisition deal usually compels investors to increase their holdings in these stocks. These three stocks form part of the famous acronym 'FAANG'. In the case of BTC, the story is a little different.
By mid-April 2021, one BTC was trading at nearly US$64,500. It means that in fewer than four months, the price had more than doubled. For BTC, it was never about fundamentals. Bitcoin is not a company. It is a single product that is powered by blockchain technology to compete with fiat currencies. The asset is not like any typical stock, and much depends on investors' sentiments. The FOMO (fear of missing out) factor has gripped many retail investors, who choose to hold onto BTC even when its price is falling sharply.
In July 2021, the price of one BTC declined to below US$30,000. This was in the backdrop of China's crackdown on Bitcoin mining and trading and concerns over excessive power consumption.
Also read: 3 reasons why Bitcoin is going down at any point in time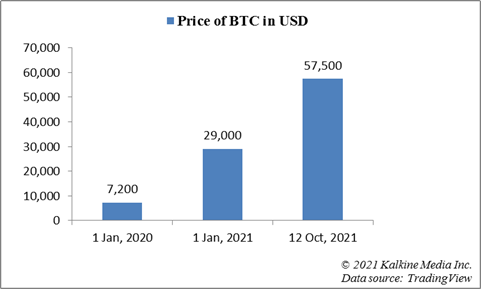 The bearish trend was however short-lived. Bitcoin has gained nearly 90 per cent since the July lows.
Bitcoin in 2022
2022 can be a decisive year for Bitcoin. First, El Salvador's Bitcoin adoption to make remittances faster and cheaper might start yielding results next year. Second, the dust around regulatory crackdowns on BTC, which is making a few investors anxious, might settle in 2022. And third, altcoins like Ether, ADA and Tether, which are serving as BTC alternatives for investors, might become a driving force in the price of BTC. This is because their high valuations can make the cryptocurrency space even more enticing.
Bottom line
Bitcoin's lead over Facebook is no surprise. The only element that calls for attention is that Bitcoin is just a cryptocurrency and Facebook is a company providing tech services to users. In 2022, Bitcoin may become a challenger to Apple as dust around multiple aspects might settle next year.
By the end of 2021, BTC may regain the price it commanded in mid-April, and from thereon, it may become the most valued asset. But, extreme volatility has to subside in order to let BTC backers actually win the game.