Highlights

It is the last quarter of 2021 and time to know which may be the best cryptocurrencies in 2022
Bitcoin and Ethereum serve different purposes. Both can see further adoption in 2022
Dogecoin and Axie Infinity bring unique aspects to the world of blockchain and are an interesting watch
The year 2021 has so far been a mixed bag for cryptocurrencies. It was the year when Bitcoin touched a new high of nearly US$65,000. This was followed by a crash and Bitcoin lost almost half of its value.
But the crypto world is not about Bitcoin alone. The most important term is 'decentralization'. With the best use of underlying blockchain technology, new platforms with their own native tokens are emerging. These are trying to weed out the role of intermediaries and centralized authorities from finance.
Best Cryptos to watch in 2022
Not just these decentralized finance (DeFi) platforms, even DeFi games captured investors' attention in the year 2021.
Against this backdrop, let us find out which can be the top five cryptos of 2022. Now that we are into the last quarter of 2021, these five can be an interesting investment destination.
1. Bitcoin (BTC)
As stated earlier, cryptos aren't about Bitcoin alone. But, the crypto world is virtually nothing without it.
At the time of writing, Bitcoin's dominance in the cryptocurrency space was nearly 44 per cent. The total market cap of all cryptocurrencies was nearly US$2.28 billion. Bitcoin alone added US$1.01 billion to it.
That's the power of Bitcoin. There are several reasons why Bitcoin will be an interesting watch in 2022. First, China's renewed crackdown last month did not dent investors' confidence. At the time of writing, BTC had gained nearly 20 per cent on a 30-day basis. Second, institutional interest in Bitcoin is refusing to recede. In a tweet, MicroStrategy's Michael Saylor confirmed buying 5,050 more Bitcoins last month.
Also read: Can Bitcoin be termed as the 'asset of the century'?
That aside, on the legal tender front, Bitcoin took a quantum leap in 2021. El Salvador declared BTC as a legal tender. The reason cited was the need to save on remittance costs. This is exactly what Bitcoin aims to deliver in the long term. Twitter's Jack Dorsey has claimed that Bitcoin can be the native currency of the internet.
At the time of writing, BTC was trading at nearly US$54,000 apiece.
2. Ethereum (Ether)
Yes, Ether is the second on the list of cryptocurrencies by market cap. But, it is not because of this alone that Ether features in our list of best cryptos for 2022.
Ethereum's blockchain has such wide use in the crypto world that it is impossible to imagine a world sans Ether. Did you know Dogecoin (DOGE), one of the top ten cryptos by market cap, is an Ethereum-based ERC-20 token? There are many other ERC-20 tokens that in themselves command high market cap.
Ether is not a typical fiat currency challenger like Bitcoin. Instead, it is the native crypto of Ethereum's open-source blockchain. Native token is used to pay fees and carry out other transactions. Ethereum can be said to have brought smart contracts in the limelight.
One of the reasons why Ether will be an interesting watch in 2022 is the growing list of its challengers. Rival blockchains like Chainlink (LINK) have come up with their own unique features like integration of off-chain data.
At the time of writing, Ether was trading at nearly US$3,500. The market cap was nearly US$420 billion.
Also read: Top Ethereum-based DeFi platforms of 2021
3. Dogecoin (DOGE)
If GameStop was the meme stock that dominated stock markets in 2021, Dogecoin was the meme crypto that emerged from nowhere to becoming a top altcoin in 2021.
Bitcoin uses the proof-of-work consensus to record transactions on the blockchain. Dogecoin, however, uses the 'scrypt' consensus protocol. Its use also differs from other cryptos. Dogecoin is primarily used to tip users on platforms like Reddit and Twitter. Dogecoin featured in the tweets by multi-billionaire CEO Elon Musk. Musk even accepted to be working with Dogecoin developers to improve efficiency.
The year-to-date (YTD) return of Dogecoin, at the time of writing, was nearly 5,000 per cent. This is no mean feat in the volatile world of cryptocurrencies. The point is Dogecoin is trading at nearly US$0.24 apiece and it still likely has the capacity to go further.
Also read: Top 5 cryptocurrencies available for under $1
4. Axie Infinity (AXS)
Did you know that blockchain could be used in gaming industry? Yes, not just finance, blockchain has a lot many uses, and the gaming industry fully embraced it in 2021.
What Axie Infinity does is it allows gamers to earn the AXS token through in-game battles. These tokens can be used to govern the infrastructure of the game. This effectively means that users have a control over design and other aspects. Not only this, each Axie --creatures within the game -- is a non-fungible token (NFT). NFTs, we know, were the other dominant force in cryptos in 2021.
Axies are unique and their value is decided by the features they possess.
On January 1, 2021, AXS was trading at nearly US$0.5 apiece. At the time of writing, it was trading at nearly US$123 apiece. Axie's popularity owes to the enthusiasm of gamers and their inclination toward the blockchain tech. If the momentum sustains, 2022 can be another big year for AXS.
5. Binance Coin (BNB)
No crypto enthusiast can claim to have not heard about Binance. It is one of the leading cryptocurrency exchanges. The year 2020 was a mixed bag. Multiple regulatory authorities cracked down on Binance and it had to halt trading in some jurisdictions.
Despite these negative sentiments, Binance is an interesting watch. Why? Because it aims to provide a complete ecosystem that would include Binance Chain and other research services.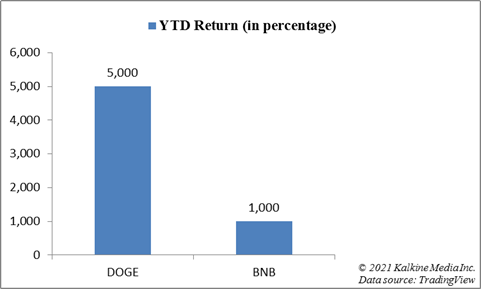 At the time of writing, BNB was trading at nearly US$435 apiece. It had a market cap of nearly US$73 billion. BNB gave its backers a whopping 1,000 per cent YTD return.
Also read: 5 top-rated cryptocurrencies with over 7,000% YTD returns
Bottom line
Calendar 2021 was the year when cryptocurrencies finally moved from the fringes to becoming a mainstream asset for both retail as well as institutional investors. But the crypto world is not a homogeneous group. If we have a fiat currency challenger, Bitcoin, we also have AXS, which is the governance token of a gaming platform powered by blockchain. The above five are likely the best cryptos to watch in 2022.