Highlights

Coinbase, a crypto trade platform, has begun an NFT marketplace to compete with OpenSea

NFTs of BAYC, Beeple's, and CryptoPunk are popular, but they may be overpriced, some say

NFTs differ from fungible cryptoassets like ETH, which makes the former collectible item
Non-fungible tokens (NFTs) are not cryptoassets like native tokens, but they command a high status in the digital asset world.
Though both cryptoassets and NFTs are volatile, and value can change in a very short time, many investors are adding them to their portfolios.
Coinbase, an exchange for cryptoassets, has started a Web3 NFT marketplace. As a lure for enthusiasts, the platform has even announced no fee for a limited time. The announcement includes the option to users to create and collect NFTs, with projects like Doodles NFTs and Cool Cats NFTs listed.
In this space, Coinbase is set to compete with OpenSea, besides some other marketplaces like Rarible and SuperRare, which have their own tradable native tokens.
NFTs vs. cryptoassets
Cryptoassets like Bitcoin (BTC), Dogecoin (DOGE), and Solana (SOL) are all fungible. It means that one unit is exactly identical to the other existing units. For example, any new BTC mined will share the same features as already-mined BTCs.
Also read: Why are NFTs valuable?
In contrast to this, NFTs are non-fungible, with no unit exactly identical to its peers. For example, take the Cool Cats NFT project, which has 9,999 Ethereum-based NFTs.
Though all are cats in digital form, their features like costumes and accessories differ in a way that no two NFTs of the project are identical. Cool Cats NFTs are also listed on OpenSea, where the price is denominated in ETH.
3 popular NFTs
NFTs of certain projects have sold for a very high price in the past. Hereunder are some popular NFTs.
Bored Ape Yacht Club (BAYC)
According to the market cap estimated by CoinMarketCap, BAYC NFTs are at the top. Last month, the project also launched a new token ApeCoin, which surged on debut. Yuga Labs is the developer, and it has 9,999 NFTs having varying features, according to CoinMarketCap.
Also read: What is ApeCoin crypto & its link to the BAYC NFT project?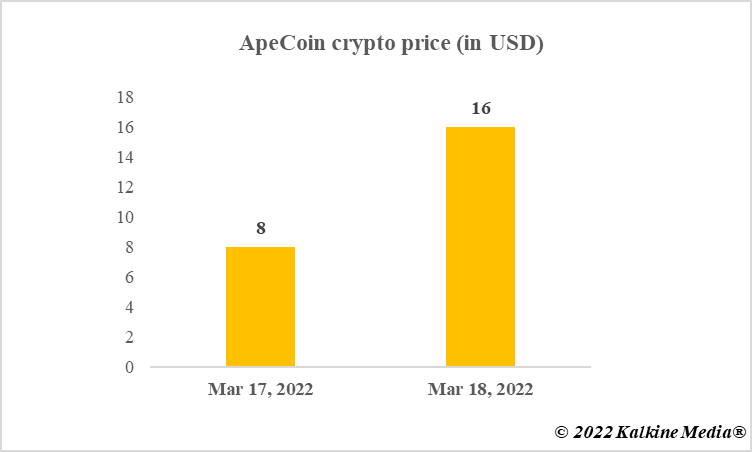 Data provided by CoinMarketCap.com
CryptoPunks
Some of the CryptoPunk NFTs have sold for millions of dollars each. A project by Larva Labs, one of its digital assets, CryptoPunk #5822, sold in February 2022 for nearly US$23.7, according to reports. A few others, including #7523, #3100, and #7804, are also said to have sold for millions of dollars.
Doodles
Doodles, also on Coinbase marketplace, also has a high estimated market cap, CoinMarketCap suggests. A total of 10,000 assets exist in the project. It is said to include hand-drawn aliens, cats, and apes.
The project mentions Burnt Toast as the designer. Doodles is a comparatively new NFT project as compared to the above two.
Are NFTs safe?
Some experts believe that NFTs may be overpriced, with their high values a sign of speculation.
NFTs are a mere record of ownership on any blockchain network, some experts say, which cannot add much utility. For now, NFTs seem to have become digital collectible, and caution must be exercised before one makes any decision.
Bottom line
Coinbase NFT platform may now compete with OpenSea, Rarible and other marketplaces. CryptoPunk and Beeple NFTs have sold at high prices in auctions, and the launch of ApeCoin token added popularity to the BAYC project.
NFTs use blockchain in a different manner than cryptoassets, in that the former is only a blockchain-based record of who owns the digital asset. How NFTs fare in the long run cannot be accurately predicted.
Also read: Top 5 most expensive NFTs ever sold including CryptoPunks
Risk Disclosure: Trading in cryptocurrencies involves high risks including the risk of losing some, or all, of your investment amount, and may not be suitable for all investors. Prices of cryptocurrencies are extremely volatile and may be affected by external factors such as financial, regulatory, or political events. The laws that apply to crypto products (and how a particular crypto product is regulated) may change. Before deciding to trade in financial instrument or cryptocurrencies you should be fully informed of the risks and costs associated with trading in the financial markets, carefully consider your investment objectives, level of experience, and risk appetite, and seek professional advice where needed. Kalkine Media cannot and does not represent or guarantee that any of the information/data available here is accurate, reliable, current, complete or appropriate for your needs. Kalkine Media will not accept liability for any loss or damage as a result of your trading or your reliance on the information shared on this website.