Highlights

The ApeCoin crypto is linked to the BAYC NFT project, which may add to the token's status
The APE token is a new entrant in a pretty over-crowded territory, and hence caution is the key
APE crypto's primary function is said to be a governance token, besides incentivization
Though non-fungible tokens (NFTs) and cryptocurrencies are different in that the latter are essentially fungible, the two names are often taken in the same breath. To understand the difference, let's take one unit of BTC and one CryptoPunk NFT.
A BTC unit would always share the same features as other BTC units, and there can be, as claimed, a maximum of 21 million units in existence. A CryptoPunk NFT, say #5822, cannot be exactly identical to other CryptoPunk units. It is for this claimed individuality of each and every NFT that buyers are perhaps ready to purchase them at very high costs.
But NFTs and cryptocurrencies arguably make for a good combination, and the ApeCoin crypto project seems to be heading in this direction.
Bored Ape Yacht Club (BAYC) NFTs
Created by Yuga Labs, these NFTs are pretty popular among enthusiasts. One NFT, BAYC #8817, was reported to have sold for nearly US$3.4 million in October last year.
In total, there are 10,000 NFTs in the BAYC project, all of which have some or the other unique feature. BAYC uses Ethereum in that all its NFTs are ERC-721.
What is ApeCoin?
ApeCoin is a new entrant in the cryptocurrency universe. Linked to the BAYC NFT project, the crypto with the ticker APE is an ERC-20 token, which is set to have a maximum supply of one billion tokens.
Also read: What is Tectonic crypto lending protocol & its TONIC token?
The ApeCoin crypto, according to the project's website, would add decentralized autonomous organization (DAO) characteristics to the project, which means APE holders would vote on how things are run.
The ApeCoin crypto, the project claims, would be distributed to BAYC and Mutant Ape Yacht Club NFT (MAYC) holders, besides being allocated to Yuga Labs, founders of BAYC, and early backers. Distribution to BAYC and MAYC holders would commence on March 17, 2022, according to the project's website.
Also read: What does Military.Finance & MIL crypto claim to do?
ApeCoin crypto use
The project states that holders of the ApeCoin crypto would be given access to exclusive things like events and games. Besides, the APE token would be used to incentivize developers that add APE to their games and other apps. But primarily, the APE crypto would act as the governance token of the ecosystem.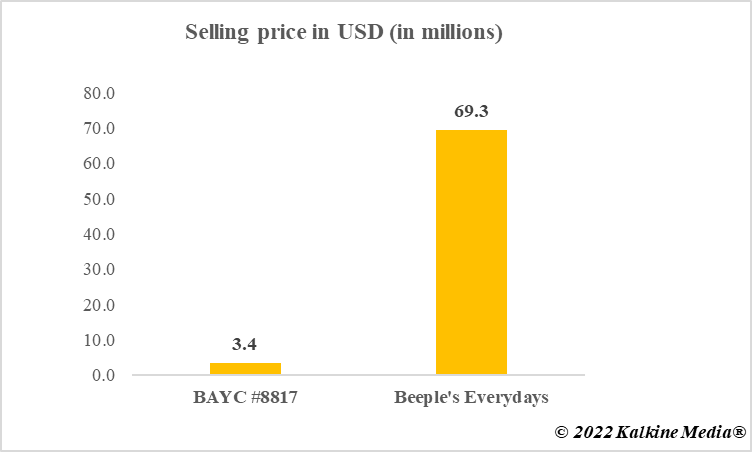 Also read: MFC, Couche-Tard (ATD) & Reuters (TRI): 3 TSX dividend stocks to buy
Bottom line
First, NFTs and cryptos are not the same. ApeCoin adds cryptocurrency to the BAYC NFT project, and what this combination leads to is a wait-and-watch scene as of now.
That said, NFTs of BAYC seem to be competing with Beeple's and CryptoPunk's NFTs. This may lead to the interest of a few crypto enthusiasts in the APE crypto.
Some experts say NFTs are overrated, and the sector may not sustain in the long run. For now, the launch of the ApeCoin crypto should be viewed with caution.
Risk Disclosure: Trading in cryptocurrencies involves high risks including the risk of losing some, or all, of your investment amount, and may not be suitable for all investors. Prices of cryptocurrencies are extremely volatile and may be affected by external factors such as financial, regulatory, or political events. The laws that apply to crypto products (and how a particular crypto product is regulated) may change. Before deciding to trade in financial instrument or cryptocurrencies you should be fully informed of the risks and costs associated with trading in the financial markets, carefully consider your investment objectives, level of experience, and risk appetite, and seek professional advice where needed. Kalkine Media cannot and does not represent or guarantee that any of the information/data available here is accurate, reliable, current, complete or appropriate for your needs. Kalkine Media will not accept liability for any loss or damage as a result of your trading or your reliance on the information shared on this website.