Highlights

Demand for energy will never stop to cease as energy stocks are the backbone for industrial growth.
Trustpower reveals the appointment of GM, Corporate Services.
Z Energy will pay an interim dividend of 7.0 cps on 8 December.
Energy companies are the prime drivers of the industrial advancement of an economy. Investing in them is always lucrative as there is a continuous demand for energy and its use is very much likely to grow in the future.
Moreover, as per reports, global energy demand will increase by over 30% by 2035 and electricity prices are estimated to climb by 15% by 2035.
With this backdrop, let us look at the five popular NZX-listed energy stocks before the end of this year.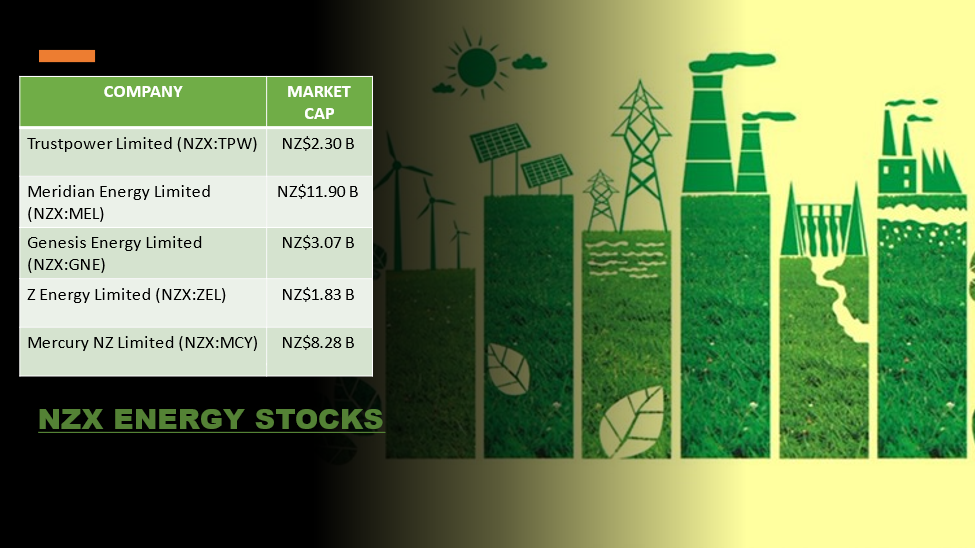 Image source: © 2021 Kalkine Media, data source- Refinitiv
Trustpower Limited (NZX:TPW)
First on the list is Trustpower Limited. Recently, the Company has announced the appointment of GM, Corporate Services, Phil Wiltshire.
He would take charge of the office from February onwards and would oversee TPW's finance, technology, people, and business performance functions.
At the end of the trading session, on 30 November, Trustpower was up by 0.97% at NZ$7.300.
Related Read: Are these 5 NZX mid-cap aiming to become large-cap stocks?
Meridian Energy Limited (NZX:MEL; ASX:MEZ)
Next comes Meridian Energy Limited, which generates all its energy from renewable sources. Lately, the Company has notified its stakeholders that it was done with its LTI share buyback pertaining to FY22.
Do Read: Are these the 5 most active stocks on NZX?
The said scheme is intended to attract and retain key employees, and MEL has acquired 418,384 ordinary shares under this scheme.
At the end of the trading session, on 30 November, Meridian Energy jumped by 5.79% at NZ$4.750.
Genesis Energy Limited (NZX:GNE; ASX:GNE)
We will now talk about Genesis Energy Limited, which is a diversified energy company. A few days ago, GNE announced that Nigel Clark and James Magill, its Chief Operations Officer and Chief Digital Officer, respectively, would seek a departure from the Company.
While Clark would leave in June 2022, Magill would step down in February 2022.
At the end of the trading session, on 30 November, Genesis Energy dipped by 0.68% at NZ$2.920.
Must Read: 5 NZX stocks with a healthy dividend yield
Z Energy Limited (NZX:ZEL; ASX:ZEL)
Coming up next is Z Energy Limited, supplying fuel to numerous retail and commercial customers across the country.
It has declared an FY22 interim dividend of 7.0 cps, payable on 8 December, majorly on account of solid earnings recovery due to increased refining processing volume.
Also, it has set its foreign exchange rate at AU$0.9616 for the payment of the said dividend to its Australian investors.
At the end of the trading session, on 30 November, Z Energy climbed by 0.58% at NZ$3.490.
A Quick Read: Z Energy (NZX:ZEL): The Company expands exclusivity duration with Ampol
Mercury NZ Limited (NZX:MCY; ASX:MCY)
Topping off the list is Mercury NZ Limited, generating electricity from hydro and geothermal sources. Recently, the Company announced that global credit rating agency, S&P Global Ratings, had affirmed MCY's corporate credit rating as BBB+.
It is noted that the said rating exhibits a stable outlook of the Company.
At the end of the trading session, on 30 November, Mercury NZ gained by 2.91% at NZ$6.020.
Bottom Line
Investing in energy stocks is lucrative as they generally reap benefits in the long run.